3 Steps to Easy Entertaining with Electrolux Ultimate Taste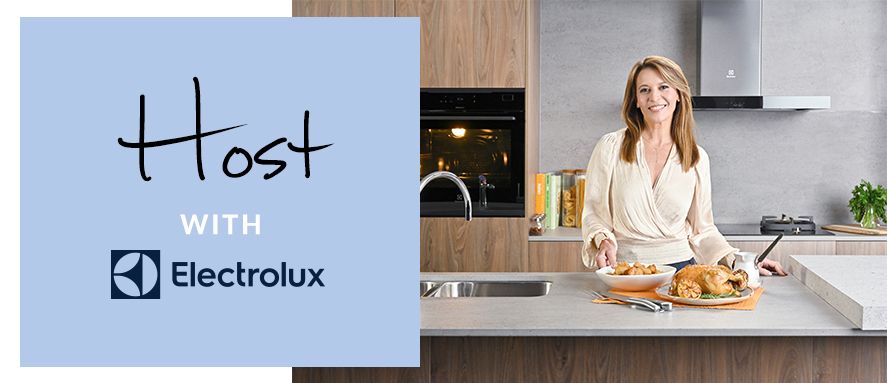 Looking for some inspiration in the kitchen? Electrolux's new range of Ultimate Taste kitchen appliances are here to help! Combining innovative technologies with stunning design, the Ultimate Taste collection ensures everyone can make home dining an experience that is healthy, tasty and sustainable.
The Ultimate Taste collection features fridges for optimal food storage and reduced food waste, and cooking appliances like cooktops and ovens; which ensures food can be enjoyed to the fullest. We'll show you how easy it is to make delicious and nutritious meals for your next dinner party with Ultimate Taste kitchen appliances and matching recipes.
Step 1: Keep Food Fresh
The first rule of making and serving delicious dishes is by having the freshest ingredients. Cool food that remains fresh for longer with TwinTech Cooling technology found in Electrolux's 609L French Door Fridge. As food's colours, textures and nutrients stay fresh for a longer, confidently buy now and cook later, all the while reducing food waste.
This spacious fridge boasts a convertible TasteSeal Flex compartment that's perfect for meeting specific cooling needs or cooling while entertaining. The compartment's 5 preset settings let you store everything from Wine to Meat, Seafood and Deli Snacks or use it as additional freezer space.
Make drinks easily with the fridge's plumbed water and ice dispenser; with ice available in two sizes: cubed or crushed. Smart enabled, this connected fridge can be monitored and remotely controlled via the Electrolux Life App. Keen to give the fridge a try? Test it out with this No-Bake Lemon & Mango Cheesecake; just make it now, freeze and serve when it's dessert time.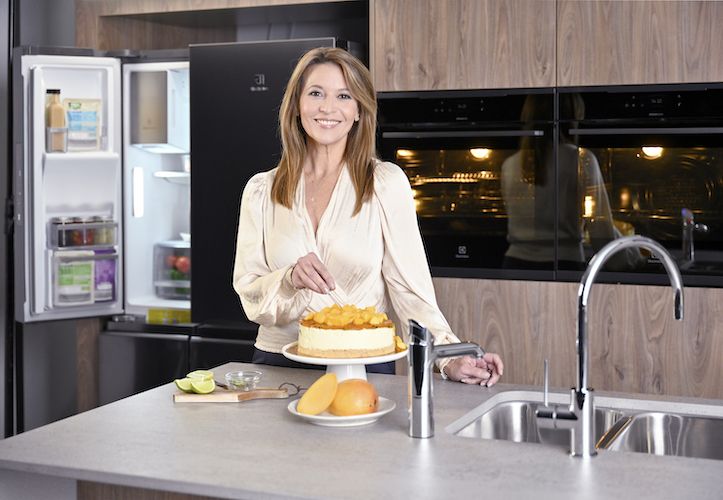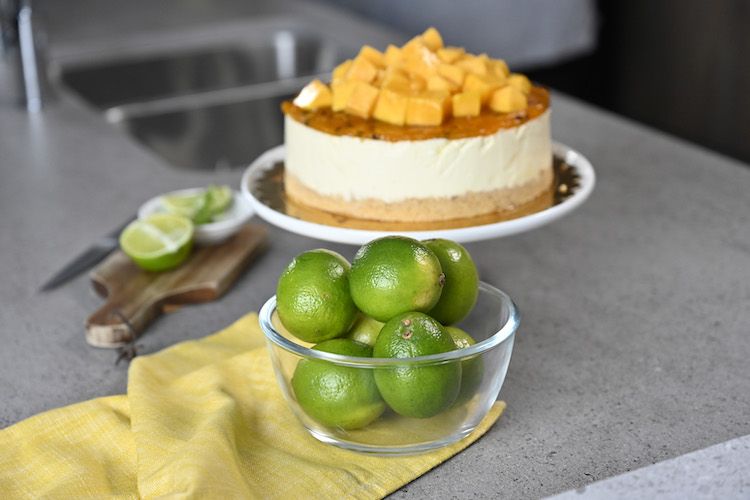 No-Bake Lemon & Mango Cheesecake
Serves 8
Total Cooking Time: 8 mins
Difficulty Level: Medium
Ingredients:
Bottom layer
85 g soft fresh dates
1 tbsp coconut oil
2 tbsp water
⅔ cup toasted rolled oats
¾ tsp cinnamon
⅓ tsp cardamom
⅕ tsp vanilla powder
⅕ tsp salt
Top Layer
¾ cup + 1 tbsp raw cashew nuts, soaked overnight
1 cup chopped mango
Zest from 1 organic lemon
7 tbsp lemon juice (about 2 lemons)
2 ½ tbsp agave syrup
⅕ tsp vanilla powder
Pinch of salt
Method:
Prep by soaking cashews overnight in water.
In a food processor, mix the pitted dates with coconut oil and water to a smooth paste. Add the (lightly toasted) oats and spices and mix quickly again until combined. You want a slightly textured batter that comes together to a ball. Press into a small spring pan so it covers the bottom.
Discard the cashew soaking water. In a blender, mix cashews with mango and the rest of the ingredients, to a velvety smooth consistency. Add a splash of water if your blender has trouble making the mixture completely smooth.
Pour the mixture on top of the bottom layer. Place in the freezer for at least 4-6 hours. Take it out 15-20 min before serving. Decorate with lemon slices and/or berries.
Step 2: Slow Cooked Sensation
Who said you need a slow cooker to craft a perfect melt-in-your-mouth dish? At your next get-together, why not try out Massimo Mele's Gnocchi with Slow Cooked Pork Cheeks, Onions and Pecorino. Beautifully put together over the cooktop, this dish will be a crowd pleaser! Check out the recipe below. Electrolux's 90cm Ultimate Taste Dual Fuel Cooktop is the ideal cooktop for entertainers, delivering the best of induction and gas cooking from the one unit. There's a total of five cooking zones, including a high-powered 24MJ/hr wok burner to meet any need, from simmering sauces with low heat to whipping up a stir fry with the wok burner's searing heat.
This Dual Fuel Cooktop provides an intuitive cooking experience with its SenseFry function which senses heat levels and automatically adjusts them to deliver even cooking results, minus any burning. The Bridge function lets you combine induction zones to create a bigger one to cook on trays and griddles. A range of other convenience features like Pause, PowerBoost and Hob2Hood compatibility makes this cooktop a joy to use.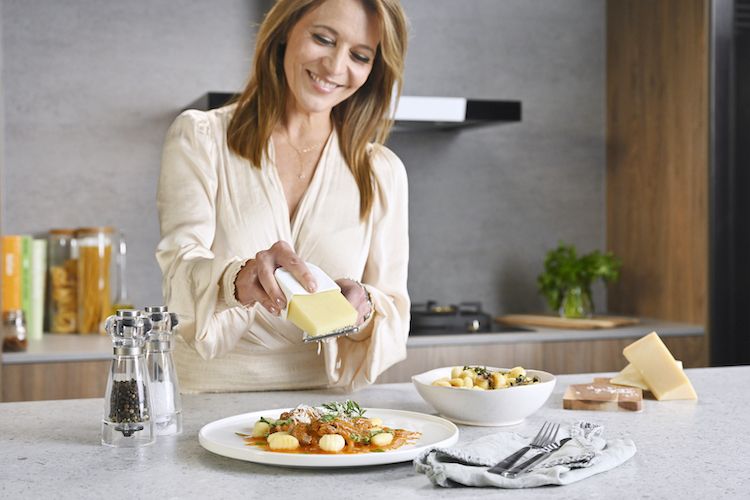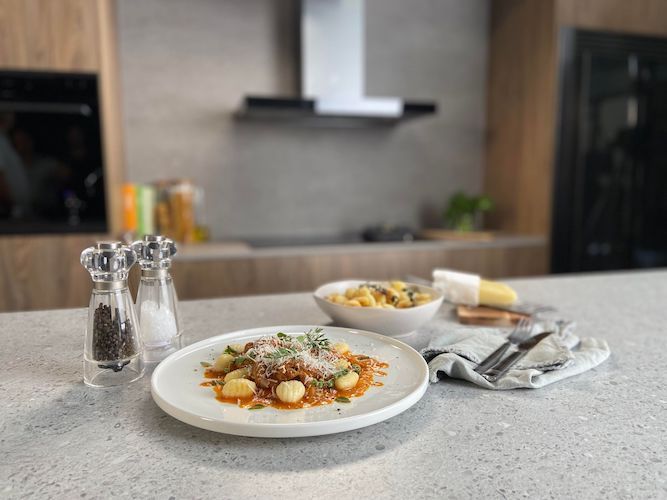 Massimo Mele's Gnocchi with Slow Cooked Pork Cheeks, Onions and Pecorino
Serves 5
Total Cooking Time: 360 mins
Difficulty Level: Medium
Ingredients:
100g delicate extra virgin olive oil
1 tablespoon of lard (optional)
500g pork cheeks
1 cup dry white wine
1 tablespoon tomato paste
3 bay leaves
3kg of white onions (sliced thinly)
120g whole milk
1 tablespoon salt (plus more to taste)
Grated pecorino cheese
Grated parmesan cheese
500g fresh gnocchi
Pork Rind Roll
1 pork rind
1 clove of garlic, sliced
7-8 leaves of flat parsley
Salt (enough to cover the pork rind)
Freshly ground black pepper (enough to cover the pork rind)
Method:
Pork Rind Roll
Stretch out the slab of pork rind.
Sprinkle the slab with the garlic, parsley, cheese, salt and pepper.
Roll up and tie with twine.
Sauce
In a large saucepan heat the oil and lard. Add the meat and brown.
Deglaze with the wine over high heat, scraping any bits from the bottom of the pan.
Lower the heat to medium and add the tomato paste and bay leaves.
Cook for a few minutes to lightly toast the tomato paste.
Add the onions and the milk. Add the pork rind roll if using. Stir until everything is mixed together.
Cover with foil and cook on low heat until the onions no longer release any liquid.
Lower to a simmer and cook until the mixture becomes a thick sauce and the colour becomes amber (4-5 hours).
Remove the meat and slice/shred.
Add meat back to the sauce.
Cook pasta according to instructions and then add to the sauce.
Garnish with a mix of grated parmigiano and pecorino cheese.
Step 3: Steam Oven Perfection
There's nothing easier when it comes to entertaining than with oven cooking. Just place your dish into the oven and let it do all the hard work. The Electrolux 60cm Built-In Pyrolytic Oven will delight in that department with its all-in-one design; with conventional oven functions, as well as air frying, steam cooking and pyrolytic cleaning to make for effortless cleaning.
The oven has an 80L cooking capacity and 19 functions, ideal for families and entertainer alike. There are four steam assisted cooking functions to help produce professional results at home: SteamRoast, Steam Cooking, Steam Reheat and Bake +Steam for baked goods and bread. Enjoy simple control with the touch screen panel while the Smart Food Probe records the food's internal temperatures to cook to your desired results. In a Dark Stainless Steel body with slim bar handle, this gorgeous oven is one to have.
Give this Electrolux Ultimate Taste oven a try with the below Roast Chicken recipe. As the chicken harnesses the power of SteamRoast, the chicken is perfectly crispy outside with a juicy centre. Yum!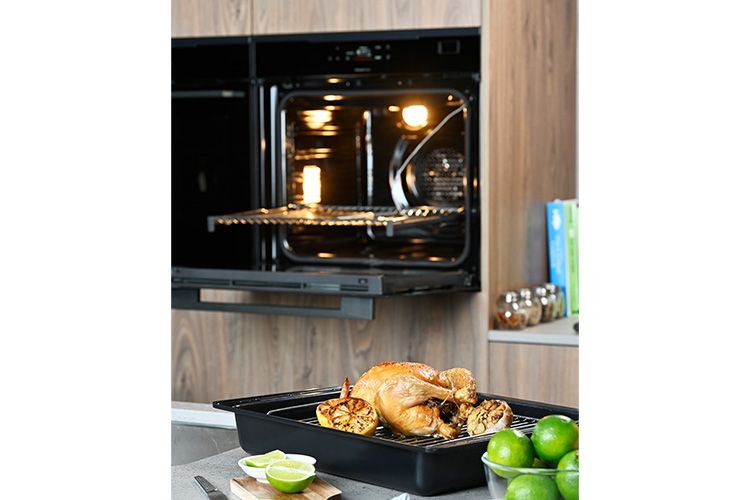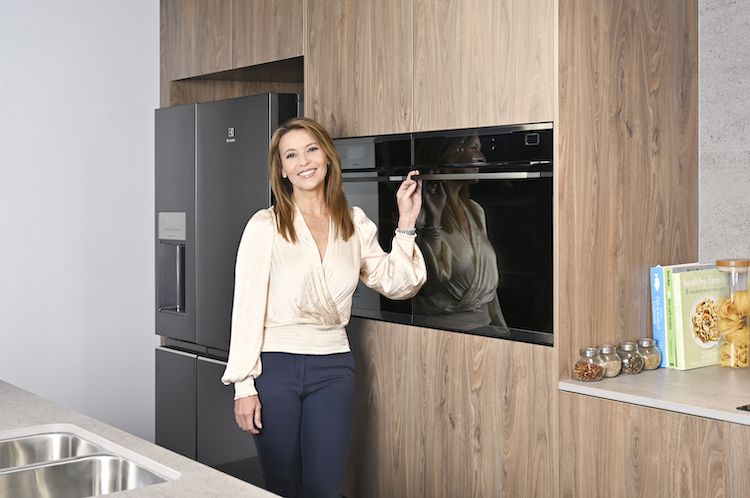 Roast Chicken
Servings: 1 whole chicken
Prep Time: 15mins
Cook Time:1 hour 20mins
Total Time: 1 hour 40mins
Ingredients:
6kg chicken
Sea-Salt flakes and freshly ground black pepper, to season
20 ml olive oil
Zest of ½ lemon
2-3 sprigs Marjoram
3 sprigs parsley
3 gloves garlic, crushed
Gravy, to serve
Tools:
Roasting tray with wire rack
Notes:
To test if cooked: Insert a fork into chicken leg and hold up to allow some of the juice to run out, if the juice is clear, the chicken is cooked.
Method:
Preheat oven to 230°C steam roast. Clean and pat dry chicken with paper towel. Season, inside and out. Brush or spray with oil.
Stuff cavity with lemon zest, marjoram, parsley and crushed garlic. Put chicken on wire rack over roasting tray.
Roast for 13mins then turn oven down to 185°C and roast for a further 70 mins.
Remove from oven, cover with foil, and rest for 10mins.
Carve chicken and serve with gravy.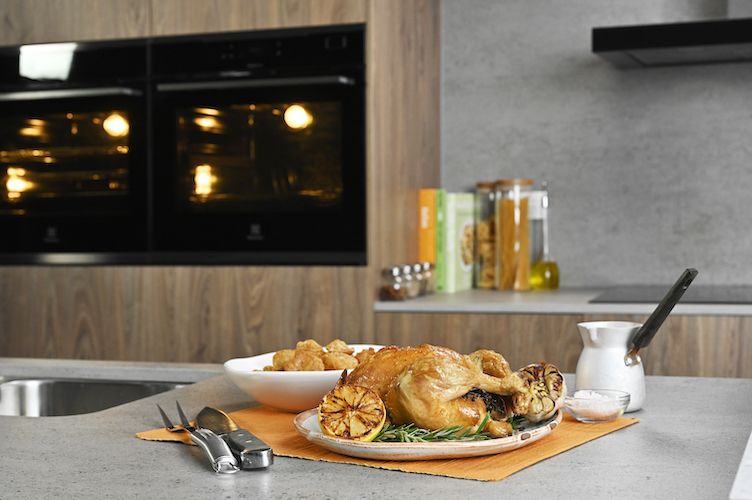 Keen to find out more about the featured Electrolux kitchen appliances? Simply click on the links below to view in-depth information, product specs and find out your nearest retailer to make your purchase.