A Comparison: Coffee Machines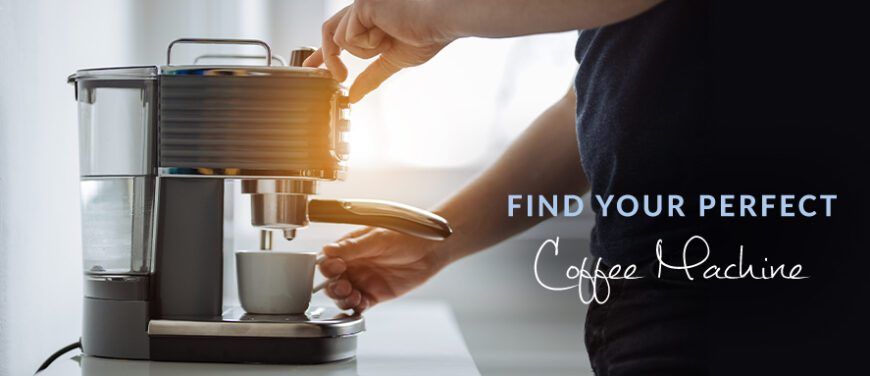 Are you looking at buying your first coffee machine? Perhaps you're in need of an upgrade. With an ever-expanding market and many options, brands and sizes available, there is a coffee machine for every person, kitchen and budget.
If you're wondering how to find the coffee machine of your dreams, then you're in the right place. Pod, automatic or maybe a built-in coffee machine, we'll guide you through each type of coffee machine, so you can find your perfect match!
What types of coffee machines are available?
There are a wide range of coffee machines available on the market, these include:
Automatic Coffee Machine:
Enjoy great coffee minus the hard labour. Automatic coffee machines takes care of it all, from grinding the beans to brewing the coffee and frothing the milk, just choose your desired coffee drink and the machine does it all!
Manual Coffee Machine:
Have control over every aspect of your coffee, from the bean grinding, the strength of the coffee and even your milk temperature and texture. With a manual coffee machine, you're the barista.
Pod/Capsule Coffee Machine:
Quick and convenient, coffee pod aka capsule machines are ideal for time poor coffee drinkers. The machine uses highly sealed, single serve coffee pods, so you can create a cup of coffee at a touch of a button.
Built-In Coffee Machine:
Built-in coffee machines are often powered by an Automatic Coffee Machine and are built into your kitchen cabinetry (like an oven). Built-in coffee machines help free up your kitchen's benchtop and can be added value to your home.
What type of coffee machine should I buy?
The coffee machine you purchase should meet your specific coffee drinking habits, your budget, space and lifestyle. It's worth knowing the type of coffee drinker you (or they) are to help you make the right purchase. Let's explore the various kinds of coffee drinkers below:
Eddie Espresso: You like to have total control over every aspect of your coffee. You experiment with beans, adjust the temperature and coffee strength and even create coffee art with your frothed milk. A Manual Coffee Machine is best suited to you.
Armchair Aficionado: You know a good cup of coffee when you drink one, but if you had to start adjusting knobs to get one, you may as well visit the local café. You enjoy having choices and prefer to press a button for instant barista-like coffee. A Fully Automatic, Built-In or Pod Coffee Machine is ideal for you.
Busy Barista: You make a lot of coffee. Whether it's for you, family or visitors, you often need to make multiple brews at a time. Flavour and frothed milk is important to you, but your machine needs to be easy to use while you concentrate on your conversation. A Fully Automatic or Built-In Coffee Machine is perfect for you.
Refined Robusta: Flavour is important to you, as is variety and simple no-mess coffee making. It's either coffee for one or two in your home and the most important part is the drinking, not the labour. A Pod Coffee Machine is your best match.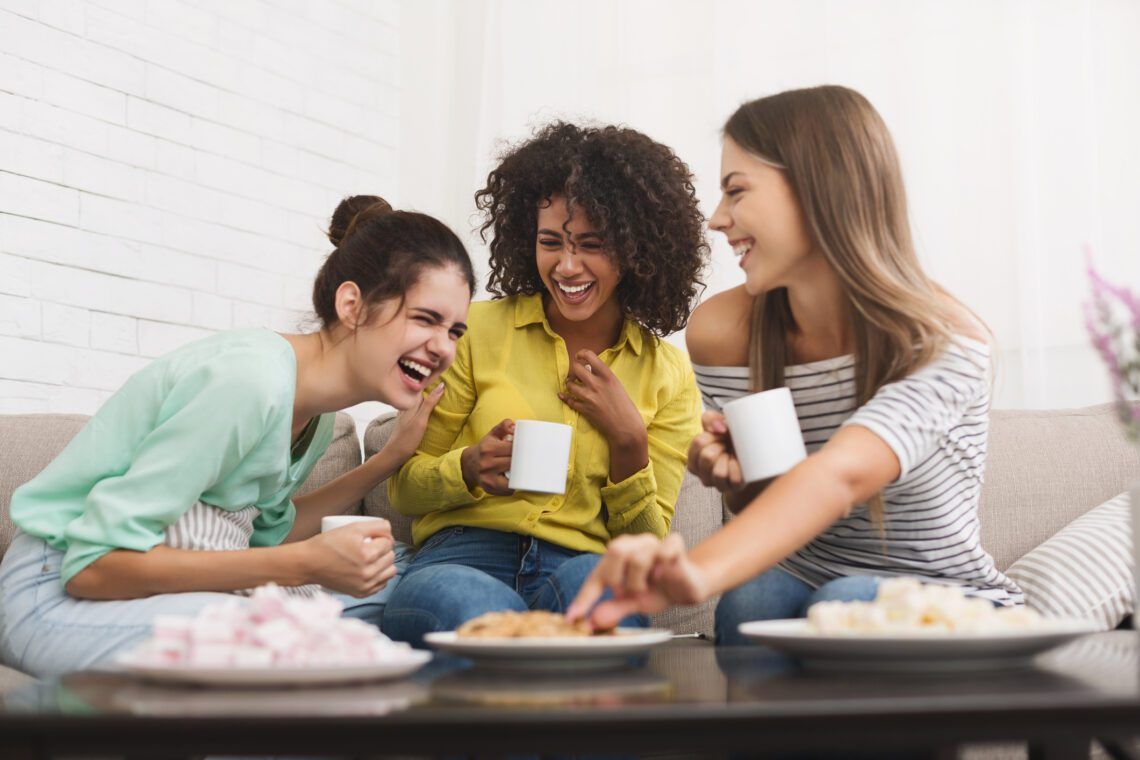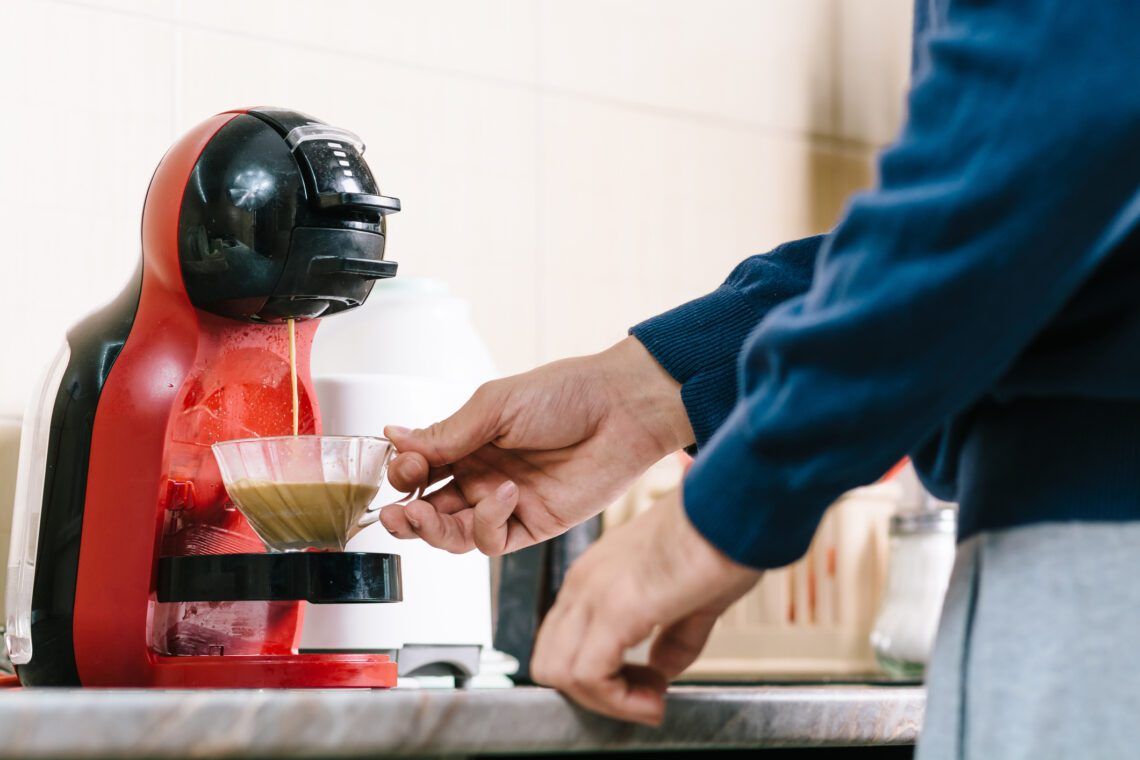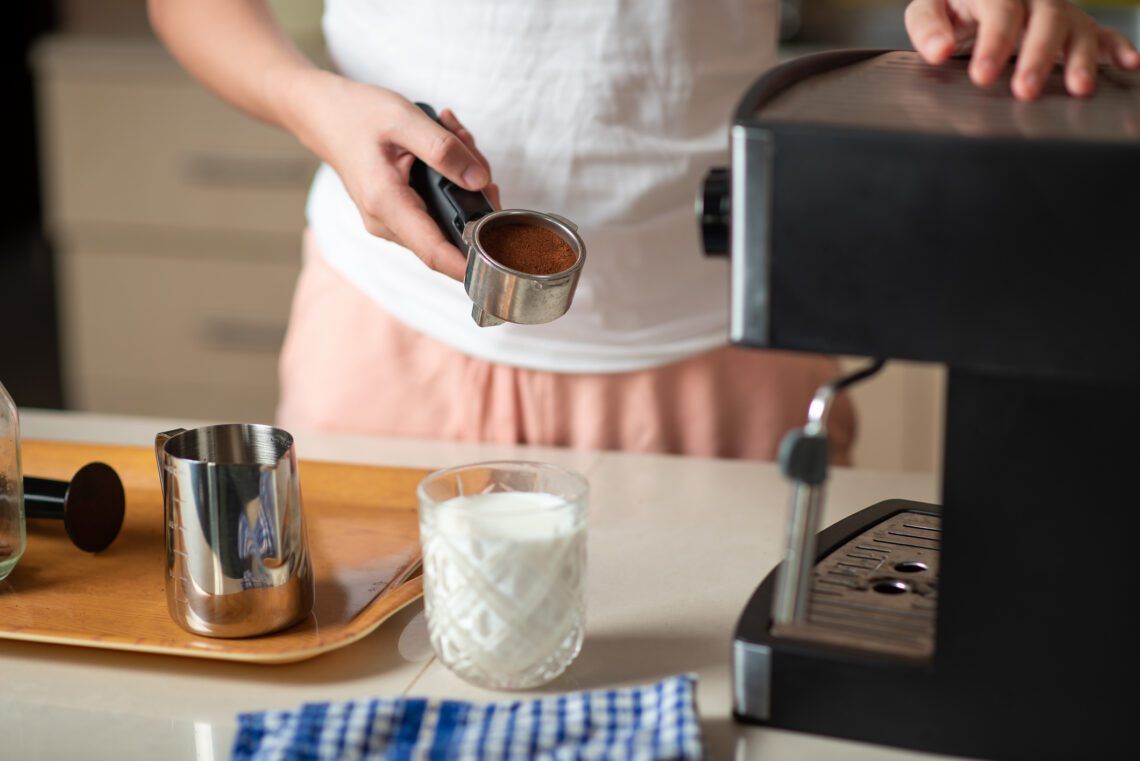 I'm short on time in the morning, which coffee machine is best?
If you're always rushing out the door before work or the school drop off, then Automatic and Pod Coffee Machines are perfect for you. Offering quick and effortless one-touch operation, these coffee machines will help you start your day.
What coffee machine do I get if I have limited space?
If space is a concern, a Pod Coffee Machine is best. Conventionally smaller than other coffee machines, Pod Coffee Machines are compact and will effortlessly fit in a corner of your kitchen bench or even your drinks trolley. Prefer coffee made with fresh coffee beans? Some Manual Coffee Machines have smaller models, so they may fit in your space.
How do I find the perfect coffee machine?
Easy! We've created a comparison below which outlines the differences between some of the popular coffee machines from leading brands. All the hard work is done for you – so all you need to do is compare, shop them at your local retailer or online and enjoy a delicious cup of coffee at home.
Automatic Coffee Machine
Manual Coffee Machine
Pod Coffee Machine
Built-In Coffee Machine
Coffee Machine Model
Jura Giga 6 Fully Automatic Coffee Machine
Breville The Barista Pro™ Espresso Machine
Delonghi Nespresso Gran Lattissima Pod Coffee Machine
Siemens IQ700 Studioline Built-In Coffee Machine
How it works
The machine does it all for you.
You get complete control over your coffee's creation.
Quick and easy one touch control.
Quick and easy one touch control.
Best suited for
Busy Barista, Armchair Aficionado
Eddie Espresso
Armchair Aficionado and Refined Robusta
Busy Barista, Armchair Aficionado
Uses
Coffee Beans
Coffee Beans
Coffee Pods
Coffee Beans
Power (W)
2300W
1680W
1400W
1700W
Pump Pressure (Bar)
15
9
19
19
Bean Grinding
Yes, with 2 electronically adjustable ceramic disc grinders.
Yes, with adjustable grind control.
Not available.
Yes, with automatic ceramic grinding.
Drinks Recipes
28 coffee recipes, from Espresso, Cappuccino to Macchiato and Flat White. The machine boasts recipes for a Jug of Coffee and Hot Water for Green Tea.
Various, accessible on the control panel. Customise your coffee grinding, choose your brew from a single or double cup, then texturize the milk before adding it to your coffee.
Access seven drinks like Espresso, Ristretto and Flat White on the control panel. Flavours are limited, dependent on the pod's variety.
Various, including Ristretto, Espresso and Cappuccino.
Milk Frothing
Yes, with automatic switchover from milk to milk-foam.
Yes, microfoam milk texturing with the steam wand.
Yes, with the 500ml Pure One Touch automatic milk system.
Flexible: can connect the provided milk container or use any other container.
Cleaning System
Automatic milk system rinsing and cleaning program.
Descaling and Flush Cleaning cycle. Machine includes Cleaning Kit.
Descaling and Clean buttons.
Steam Blast automatic cleaning of the milk system. Fully automatic descaling and cleaning program.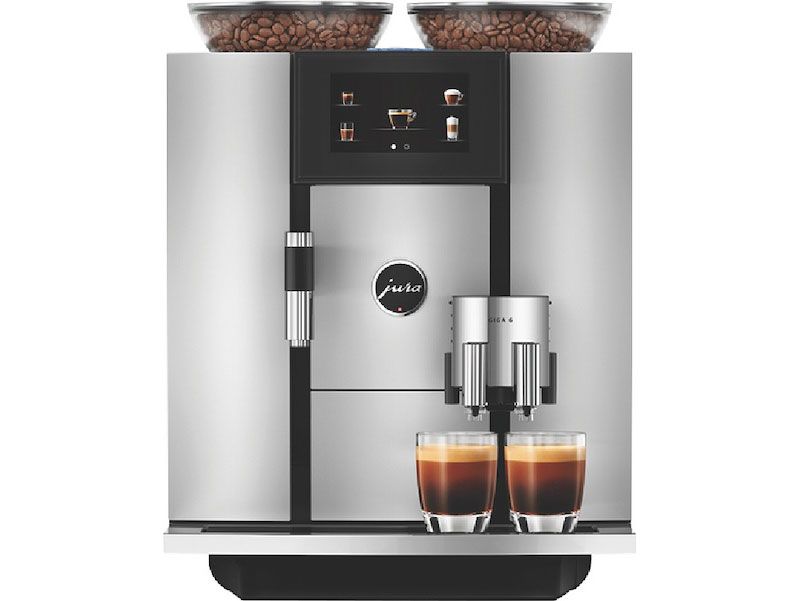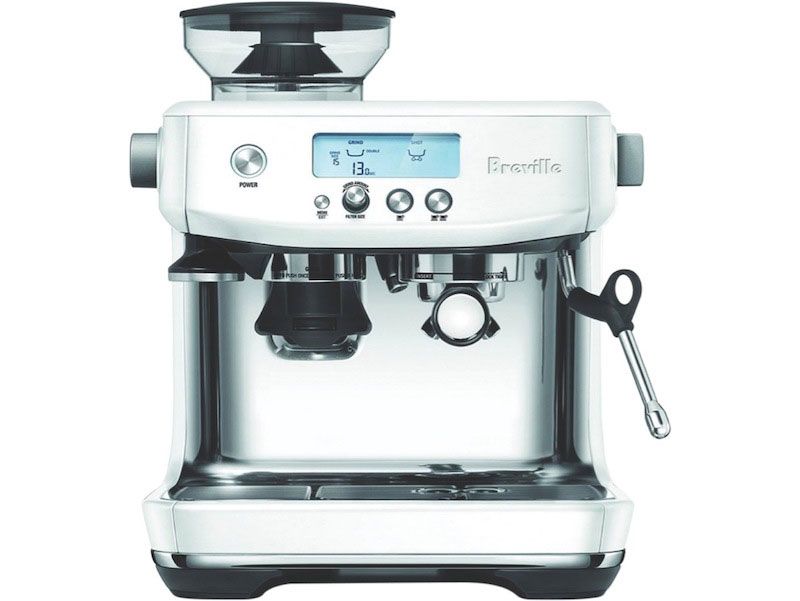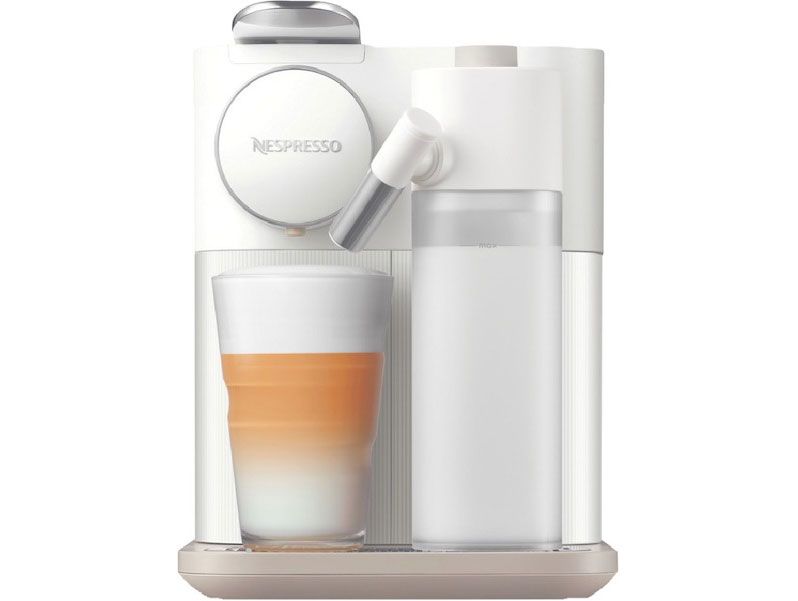 Above: With many brands and models, there's a coffee machine to suit every coffee drinker, lifestyle, budget and space.
Did you find 'The One'?
If you've made it to this point, we're certain you've found the one or you're close to it. If you haven't yet, not to worry, our Coffee Machines Buying Guide will go through everything you need to know about coffee machines. Covering everything from coffee beans vs pods to coffee machine accessories and more, our buying guide is your one-stop shop.
VIEW OUR COFFEE MACHINE BUYING GUIDE