ANZAC Day Baking, 3 Ways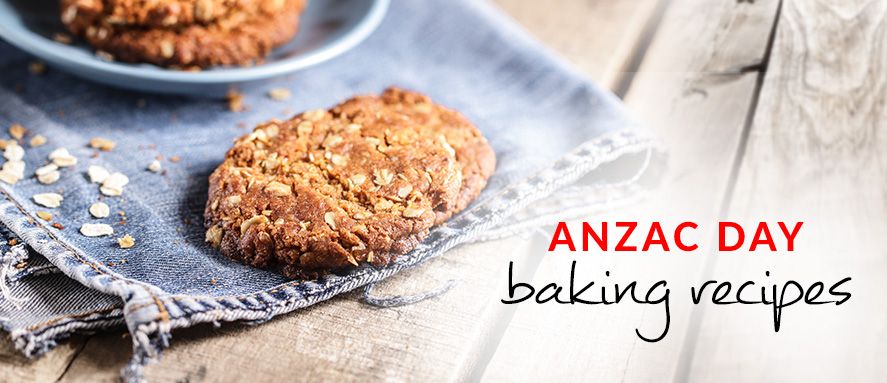 This year, remembering the men and women who fought for our freedom during World War I and all the wars past will be different. While there may be no ANZAC Day march to participate in and the opportunity to play "2 Up" at the local pub is a distant dream, you can still mark the special day with some delicious baked goods.
Bake some traditional ANZAC Day biscuits or go for a fluffy, sponge cake, whatever tickles your tastebuds, choose from our selection of ANZAC Day baking recipes.
ANZAC Biscuits
Preparation time: 10 minutes
Cooking time: 18 mins
Serves: 24
Ingredients
• 1¼ cups (110g) rolled oats
• 1 ¼ cups (110g) desiccated coconut
• 1 cup (150g) plain flour
• 150g Lurpak unsalted butter
• ¼ cup (90g) golden syrup
• 1 cup (220g) raw sugar
• ½ tsp bicarbonate of soda
Method
1. Preheat oven to 180°C. Combine the oats, coconut, flour and a pinch of salt in a bowl. Set aside. Place the butter, golden syrup and sugar in a saucepan over medium heat, stirring until butter melts. Bring to a simmer and cook for a further 1-2 minutes until sugar dissolves. Remove from heat, cool slightly, then add the bicarb soda and 1 tbs water. Stir to combine, then pour over the oat mixture.
2. Using a wooden spoon, combine butter and oat mixture. Using 1 tbs mixture each, roll into 24 equal-sized balls. Divide between two baking paper-lined baking trays, leaving 3cm between each.
3. Flatten biscuits slightly, then bake for 10-12 minutes until the top tray is slightly golden. Swap trays and cook for a further 6-8 minutes until all biscuits are golden. Remove from oven and cool completely on a wire rack.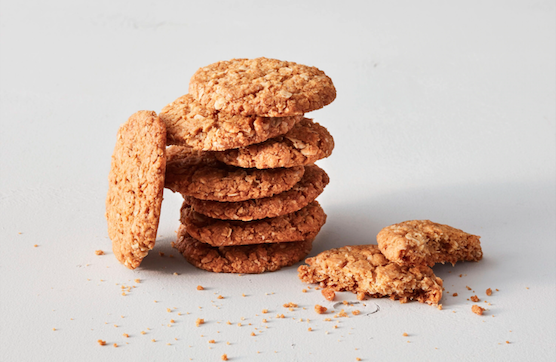 ---
ANZAC Day Cake
Preparation time: 15 mins
Cooking time: 35 mins
Serves: 15
Ingredients
Cake:
• 125 gram butter, chopped
• 1/2 cup golden syrup
• 2 cup self-raising flour
• 1/2 cup shredded coconut
• 1/4 cup caster sugar
• 1 cup milk
• 2 eggs
Honey icing:
• 1 1/2 cup icing sugar mixture
• 60 gram butter, melted
• 1 teaspoon honey
• 1 teaspoon vanilla essence
• 1 tablespoon hot water (approximately)
Method:
Anzac cake
1. Preheat oven to moderate, 180°C (160°C fan-forced). Lightly grease and line a 20x30cm slice pan.
2. In a small saucepan, combine butter and golden syrup. Stir over heat until smooth.
3. In a large bowl, combine self-raising flour, coconut and sugar. Stir in butter mixture. Gradually blend in combined milk and eggs, until smooth.
4. Pour mixture into prepared pan. Bake for 25-30 minutes until cooked when tested. Turn cake onto a wire rack to cool.
Honey icing
1. Meanwhile, in a small bowl, combine icing sugar, butter, honey, vanilla essence, and enough hot water to make thick, spreadable icing.
2. Spread icing over cooled cake. Cut into squares.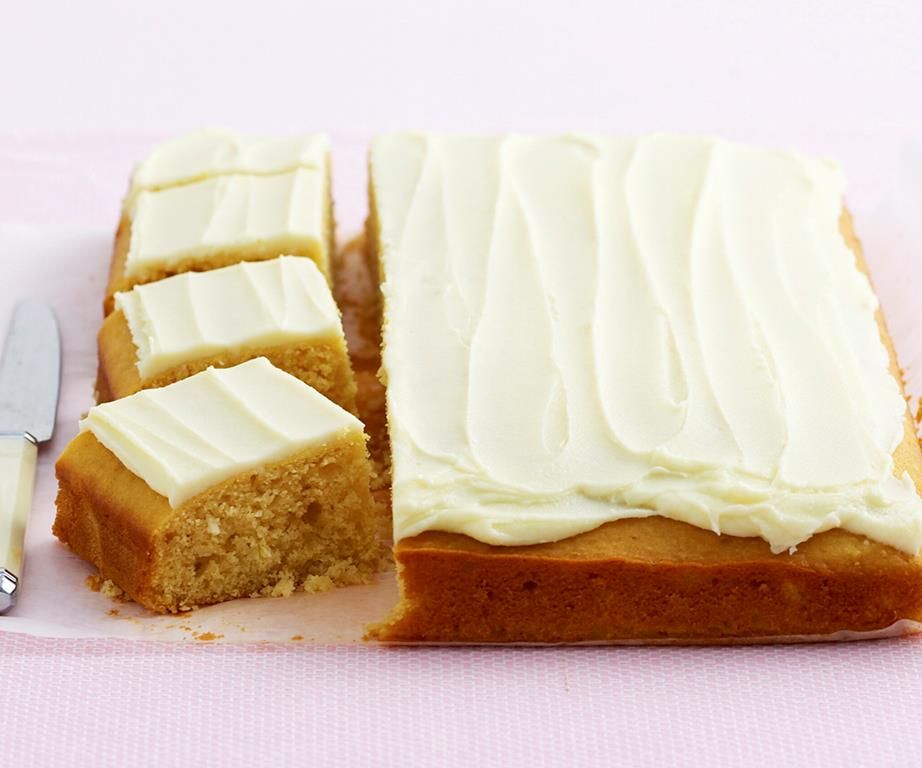 ---
Golden Syrup ANZAC Cheesecake
Preparation time: 20 mins
Cooking time: 50 mins
Serves: 16
Ingredients
• 1 1/4 cups traditional rolled oats
• 3/4 cup plain flour
• 1/3 cup desiccated coconut
• 75g butter
• 1/4 cup golden syrup
• 1/3 cup brown sugar
• 500g cream cheese, softened
• 1 teaspoon vanilla extract
• 2/3 cup caster sugar
• 3 eggs
Golden Syrup Caramel
• 60g butter
• 1/4 cup brown sugar
• 1/3 cup golden syrup
• 2 tablespoons thickened cream
Method:
1. Preheat oven to 150C/130C fan-forced. Grease and line the base of a 20cm-round (base) springform pan.
2. Combine rolled oats, flour and coconut in a bowl. Place butter, golden syrup and brown sugar in a small saucepan over medium heat. Cook, stirring, for 5 minutes or until melted and smooth. Stand for 2 minutes. Add butter mixture to coconut mixture. Mix well to combine. Stand for 5 minutes. Press mixture over base and side of prepared pan, leaving a 1cm border around top edge of pan.
3. Using an electric mixer, beat cream cheese, vanilla and sugar until light and fluffy. Add eggs, 1 at a time, beating until just combined. Pour mixture into pan, levelling top with spatula. Place pan on baking tray. Bake for 50 minutes or until filling is just set (cake will wobble slightly in the centre). Turn oven off. Cool cheesecake in oven for 1 hour with door slightly ajar. Cool at room temperature. Refrigerate overnight.
4. Meanwhile, make Golden syrup caramel: Place butter, brown sugar and golden syrup in a small saucepan over medium heat. Cook, stirring for 5 minutes or until smooth. Stir in cream. Bring to the boil. Simmer for 2 minutes. Remove from heat. Cool for 20 minutes. Transfer to a bowl. Cover. Refrigerate overnight.
5. Remove cheesecake from pan. Stand cheesecake and sauce at room temperature for 10 minutes. Drizzle golden syrup caramel over centre of cheesecake. Serve.