Caramilk Caramel Slice Recipe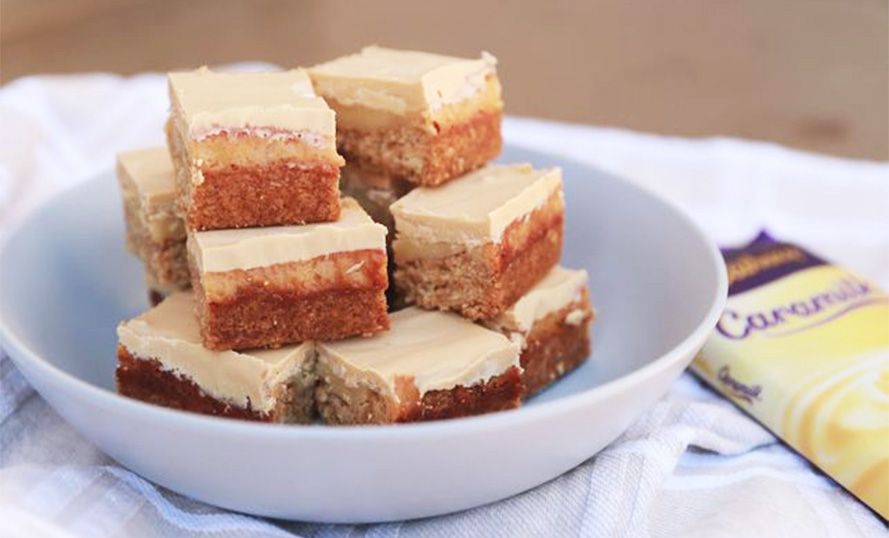 Cadbury's delicious Caramilk caramelised white chocolate is back! We recommend this easy-to-make Caramilk caramel slice which is sure to be a crowd favourite.
INGREDIENTS
115g unsalted butter
1 cup self-raising flour
1 cup brown sugar Honeycomb
1 cup desiccated coconut
1 tbs unsalted butter
2 tbs golden syrup
395g sweet condensed milk
200g Cadbury Caramilk chocolate
METHOD
Step 1.
Preheat the oven to 180˚C. Grease and line a lamington or slice tin with baking paper.
Step 2.
Mix together brown sugar, flour, coconut and melted butter. Press into a greased lamington tray and bake at 180C for 10 to 15 minutes. Cool.
Step 3.
Mix together the additional 1 tbs butter, golden syrup and condensed milk. Spread evenly over cooked base and bake for a further 15 minutes.
Step 4.
Put the Caramilk chocolate in a glass bowl and melt in the microwave in 30 second bursts, stirring in between, until smooth. While still warm spread with melted chocolate. Refrigerate for two hours or until the chocolate is set.