Cooking with Sunbeam DiamondForce™ Appliances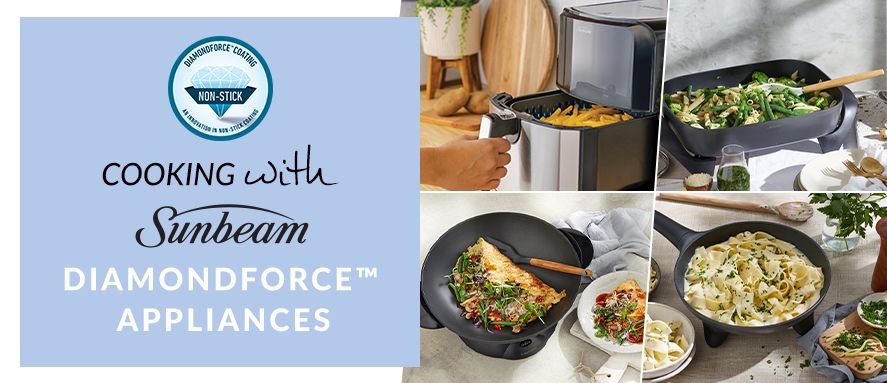 Enjoy incredible non-stick cooking performance as you make dinner, experiment with something new or end a dinner party with some sweet treats. Test out Sunbeam's DiamondForce™ cookware with the below recipes.
Chicken Laksa
This recipe uses the DiamondForce™ 7.5L Wok
Serves: 4
Preparation: 15 minutes
Cooking: 10 minutes
Ingredients:
3-4 tablespoons laksa paste
1 clove garlic, crushed
2 cups chicken stock
2 cups coconut milk
300g cooked chicken, roughly chopped
150g store bought fried tofu (optional)
250g rice vermicelli noodles, cooked and drained
100g bean sprouts
1/2 cup fresh coriander leaves
1/3 cup packaged fried shallots
Method:
Heat wok on MED setting. Add paste and garlic and stir fry for 1-2 minutes or until fragrant. Add stock and coconut milk and simmer, stirring occasionally for 3-5 minutes.
Add chicken and tofu to liquid and cook until heated through.
Divide warm noodles among four bowls. Ladle liquid with chicken and tofu among the bowls. Top with bean sprouts, coriander leaves and fried shallots.
Tip: Fried shallots are available from Asian grocers and some good supermarkets.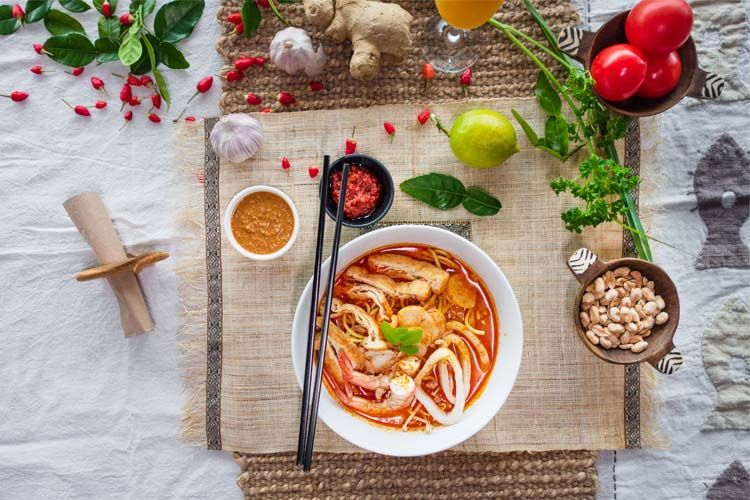 Mongolian Lamb
This recipe uses the DiamondForce™ 7.5L Wok
Serves: 4
Preparation: 15 minutes + marinating time
Cooking: 10 minutes
Ingredients:
800g lamb backstraps, sliced
3 cloves garlic, crushed
1 tablespoon cornflour
1/4 cup dark soy sauce
1/3 cup shao hsing cooking wine
1 tablespoon oil
1 medium brown onion, sliced
1 green capsicum, sliced
1 tablespoon sugar
1 teaspoon sesame oil
4 green onions, thinly sliced
Method:
In a large bowl, combine the lamb, garlic, cornflour, soy sauce and wine. Mix well to combine; refrigerate for 1 hour.
Strain liquid from lamb and reserve liquid. Heat wok on MAX setting. Add oil and cook lamb in small batches, until browned; set aside.
Add onion and capsicum to wok and stir fry for 1 minute. Return lamb to wok with sugar, sesame oil and reserved liquid.
Cook until sauce thickens and lamb has warmed through. Serve with green onions.
Tip: Shao Hsing is a Chinese cooking wine and is available from Asian supermarkets.
If unavailable, then recipe can be substituted with sweet sherry.
Omelette with Porcini Mushrooms
This recipe uses the 25cm Skillet Pan
Serves 2
Ingredients:
40g dried porcini mushrooms
4 eggs
Salt and freshly ground black pepper
Butter
¼ cup grated parmesan cheese
Method:
Soak mushrooms in hot water for 10 minutes; drain and roughly chop.
Whisk eggs, mushrooms, salt and pepper in a medium bowl until combined.
Melt butter in skillet on MED/MAX setting; once bubbles have subsided pour in egg mixture. Once the egg mixture has begun to cook underneath use a wooden spoon to bring in the edges of the egg mixture into the centre of the skillet (this creates height in your omelette). Do this 2-3 times then allow the omelette to brown slightly underneath and almost set on the top.
Sprinkle the cheese over half of the omelette, then using a spatula, carefully fold the omelette in half. Cook for a further 30 seconds.
Carefully tip omelette onto a serving plate.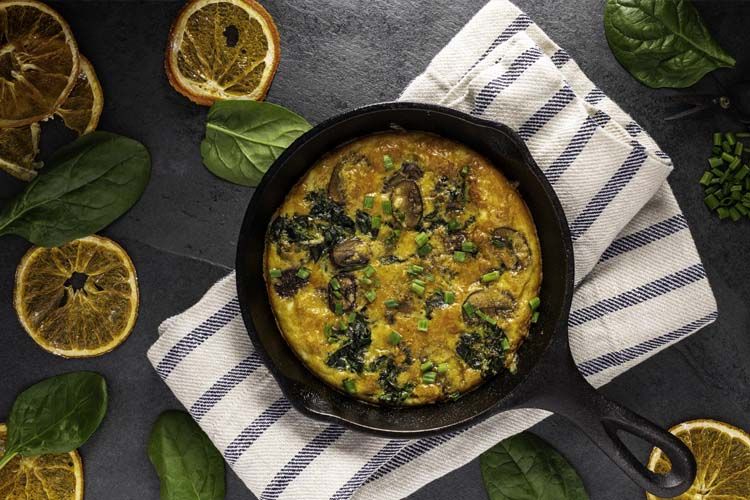 Caramelised Bananas with Hot Chocolate Sauce and Whipped Cream
This recipe uses the Banquet Frypan
Serves 4
Ingredients:
4 large bananas
¼ cup firmly packed brown sugar
1 teaspoon cinnamon
Whipped cream, to serve
Hot chocolate sauce
100g dark chocolate, chopped
30g white marshmallows, chopped
150ml thickened cream
Method:
Preheat skillet on MIN/MED setting.
Cut bananas in half lengthways, leaving the skin on. Sprinkle the combined sugar and cinnamon over the cut bananas. Press gently into the banana.
Place bananas, cut side down and cook, uncovered, for about 6 minutes or until the sugar has caramelised and the banana has softened. Serve bananas with hot chocolate sauce and whipped cream.
To make the hot chocolate sauce, combine all ingredients in a small saucepan and cook, stirring, over a low heat, until melted.