Downdraft Cooktop Technology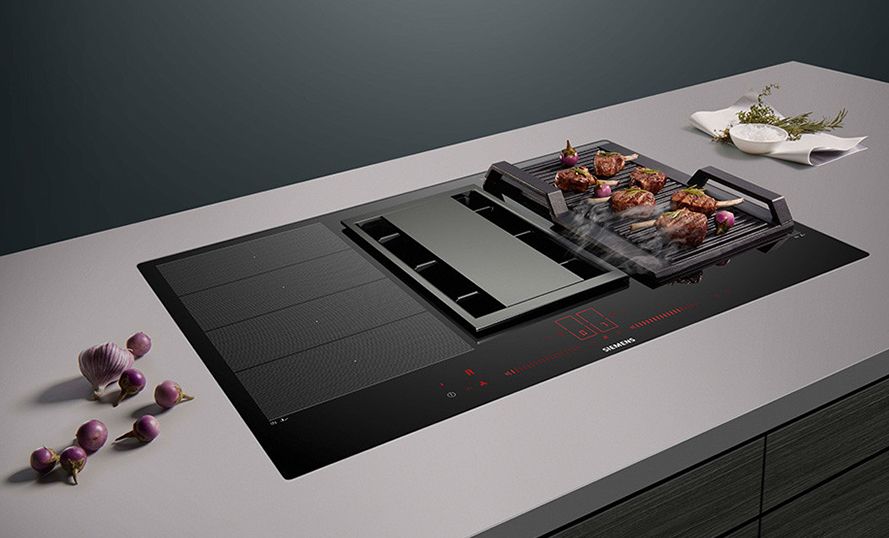 Rangehoods have long been part of our kitchens – freeing us from smoke, steam, grease, and smells. Typically placed over the cooktop, new technology these days has allowed for rangehoods to be combined into the cooktop. And voila introducing downdraft ventilation technology!
Downdraft ventilators are becoming increasingly popular as they allow for a more streamlined look to your kitchen. We're also wanting more and more features in our kitchens while trying to keep them as spacious and space-saving as possible, so downdraft cooktops are perfect to save space. Read more about the evolution of the kitchen.
Downdraft ventilators boast a number of benefits over traditional overhead rangehoods, most notably their space-saving advantage. These ventilators are ultra-discreet and are built directly into your cooktop. This reduces clutter in your kitchen, adds extra open space, and gives you more freedom to move about. Heights and other installation difficulties are no longer issues. This makes them perfect for modern, open-plan kitchens, which have become living spaces in their own right.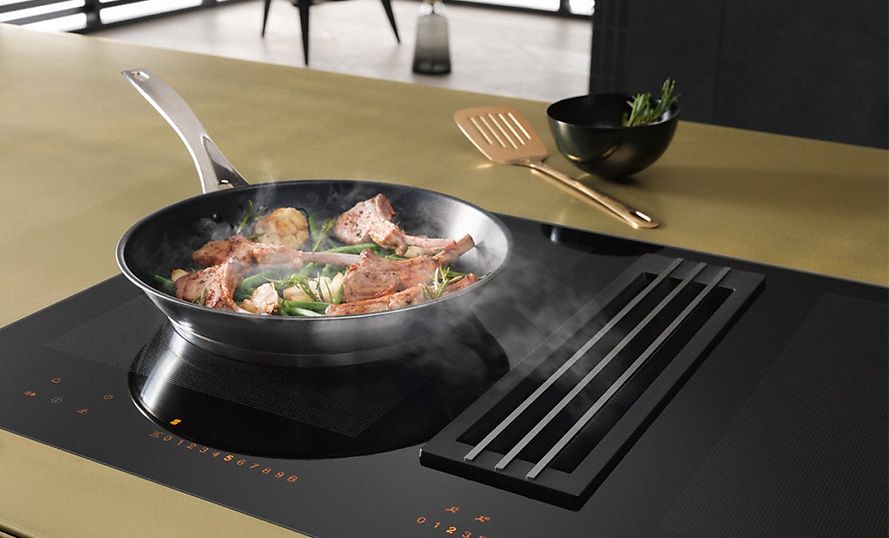 Many people prefer the fact that smoke, steam, and other fumes are extracted much closer from your pots and pans – BEFORE they rise into the air. This is different to overhead rangehoods, where fumes first move through the air and past your face before being removed. This is where downdraft ventilators will be a helping hand, extracting all the smoke and steam before it can move upwards.
Miele's KMDA7774FL Induction Cooktop with Downdraft Extractor has a centrally position vent and runs energy efficiently and quietly with its powerful ECO motor. This extractor can be raised and activated with the touch of a button, then disappears into the cooktop when it's no longer needed. A functional and elegant solution.
Also implementing this technology, Siemens introduce their 80cm FlexInduction Cooktop with Integrated Downdraft Ventilation. In addition to offering flexible cooking zones which allow you to place different sized cookware anywhere in the zone, the centrally placed downdraft unit lays almost flat with the rest of the cooktop. Its super streamlined design saves you heaps of kitchen space while still providing superb extraction.
The newest addition to downdraft ventilators is the Bosch 80cm Induction cooktop with integrated ventilation. The cooktop's CombiZone offers flexibility for you to combine two cooking zones, which is perfect for larger pots and pans. The 9 fan speeds and intensive setting gives you ultimate control over how much air you want extracted, all very easily controlled via the DirectSelect touch control panels. Maintaining effective extraction is simple thanks to the filter saturation indicator, letting you know when it's time to clean the cast-iron air inlet grid, which is also dishwasher safe. Cooking up a storm while maintaining an odourless kitchen is now so effortless!
Whether you want to keep your kitchen design open or you're after a simple solution to keep smoke, smell and other fumes out of the kitchen, it is now possible to do it all! 2-in-1 cooktops with integrated downdraft ventilation are the perfect solution to satisfy the ever-increasing need for space and efficiency.