Easter Recipes to Try at Home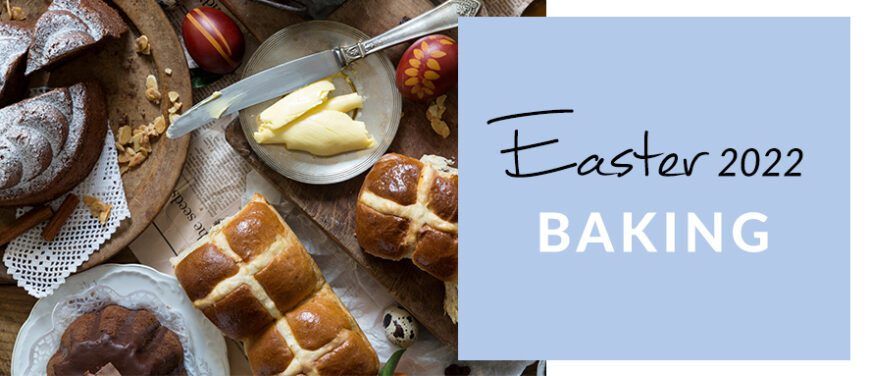 Celebrate Easter with some simple and tasty treats that even the kids can get involved with. Try your hand at some home-made Hot Cross Buns or for a no-bake alternative, DIY chocolate Easter Eggs will please! Just get the ingredients you need, grab your baking and cooking tools and a memorable afternoon awaits you.
Hot Cross Buns
Serves 12
Prep Time: 1 hour
Proving Time: 1 hour
Cook Time: 20 mins
Try out this recipe with Beko's 60cm Built-In Steam Oven.
Ingredients:
For the buns
14 g yeast active dry or instant, see notes
75 g superfine sugar caster sugar
250 ml whole milk lukewarm
600 g bread flour, you can use all-purpose flour in a pinch but bakers flour has a higher protein content and will give better structure to your finished buns
2 tsp mixed spice, see notes
1 tsp ground cinnamon
1 tsp ground ginger
½ tsp fine salt
85 g unsalted butter, very soft
1 egg
80 ml water lukewarm, you may need up to half a cup
150 g sultanas or raisins
100 g dried apricots, diced
For the crosses
35 g all-purpose flour plain flour
2 tbs water, you may need up to 3-4 tablespoons
For the glaze
2 tbs superfine sugar caster sugar
2 tbs water
1 tsp liquid glucose optional; if you haven't got any, don't buy a whole jar for this. The buns will still look and taste fine, the glaze just won't be as shiny/sticky without it
Method:
Mix the dough
If you're using active dry yeast (see notes), mix the yeast, milk and a teaspoon of the sugar in a small bowl. Set aside for 5-10 minutes until it begins to look foamy. If you're using instant yeast you can skip this step and put these ingredients straight into your mixing bowl.
Put the flour, remaining sugar, spices, salt, butter, egg, yeast mixture and water into the bowl of an electric stand mixer fitted with the dough hook attachment. Mix on low speed until a dough forms; add a little more water if you need it, you're looking for a soft sticky dough (most of it should be mixing around the hook, but it won't completely leave the sides of the bowl). Increase speed to medium and mix until the dough is soft, smooth and elastic, about 7 minutes.
Add the dried fruit to the dough and mix again on low speed until it's mostly combined. Don't worry if it doesn't look very evenly mixed, you'll fix this in the next step.
Turn the dough onto a lightly floured surface and give it a couple of gentle kneads with your hands. Fold it over on itself a couple of times to make sure the fruit is evenly mixed through, then shape the dough into a ball and put into a clean bowl.
Steam Oven Baking
Put the bowl of dough into your steam oven (uncovered). Set to 100°F/38°C, steam setting, or use the dough proofing setting if your oven has one. Proof for 30 minutes; the dough should double in size.
Turn the proofed dough onto a lightly floured surface and gently press it down to knock out any large air bubbles. Shape it into a rectangle so it's easier to portion, and cut the dough into 12 even pieces (if you'd like smaller buns feel free to cut into more pieces). Form each portion into a ball. There are lots of ways to do this; I gently turn and pull the edges into the center until a nice round shape forms. Flip it over and give it a roll around with a cupped hand, and you're left with a lovely smooth ball. Put the balls, evenly spaced, into a 9×12 inch (23x30cm) pan.
Proof the buns in your steam oven again for about 20 minutes, until they double in size.
While the buns proof, mix the flour and water for the crosses and put into a small piping bag (a sealed sandwich bag with the corner snipped makes a good substitute).
When your buns are done proofing, remove them from the oven so you can pipe the crosses while the oven preheats. Preheat oven to 400˚F/200˚C, combi steam setting. If your oven has variable steam settings, use 60% steam. If not, don't worry! Just set to combi steam at the correct temperature and the oven will figure out the humidity for you.
Pipe crosses onto the buns, then bake until risen and golden, about 20 minutes.
Glazing
While the buns cook, put glaze ingredients into a small pan and bring to the boil to dissolve the sugar and glucose. Brush the glaze over the hot buns when they come out of the oven.
Serve hot cross buns warm or at room temperature with good butter. Any leftovers can be split and toasted, and they freeze very well.
Notes
You can use either active dry yeast or instant yeast in this recipe. Instant doesn't need to be activated first, so you can skip the first step of the recipe and add it straight into the mixing bowl with the other dough ingredients.
Want to bake your buns fresh at breakfast time? Make them up to the stage where you form into balls and put into the pan, and skip the second proof. Instead, cover with lightly oiled plastic wrap and put in the fridge for 12-18 hours. Take them out a half hour before you want to bake.
You can substitute the specified fruit with an equal quantity of whatever you like. Sour cherries are nice, especially with some dark chocolate chips thrown in. Currants or raisins work in place of sultanas, and I've made a lovely date and apple version too (I finely diced a peeled apple, then steamed it for about 5 minutes to soften before mixing through the dough with a handful of diced dates).
Because these are not full of preservatives and other delightful supermarket-bread goodies, they'll go stale a lot faster. They're great on the day of baking but if you're not going to eat them all, freeze the leftovers and defrost when you're ready to eat them.
Recipe & image by Emily Rhodes of Steam & Bake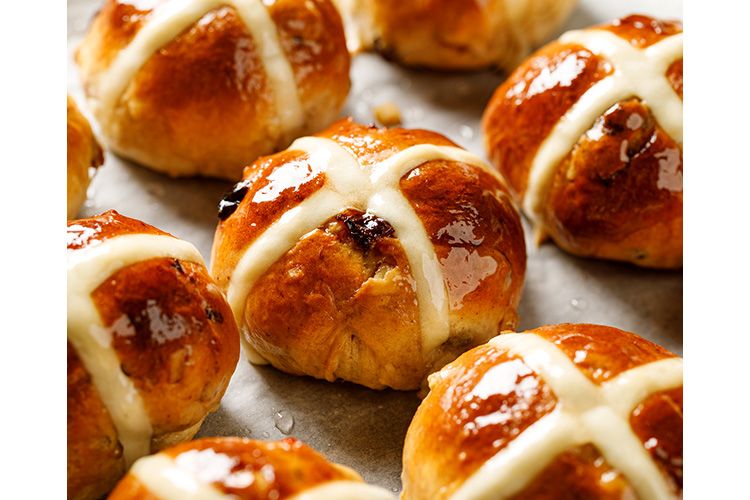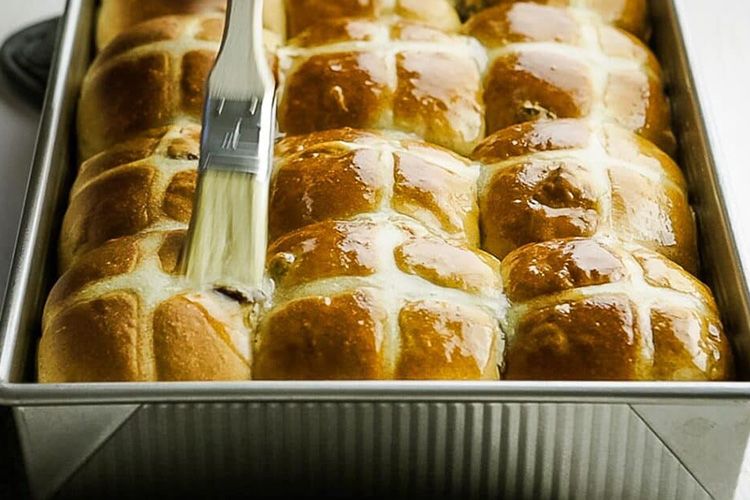 DIY Easter Eggs
Makes 8
Prep Time: 15 mins
Cook Time: 15 mins
Ingredients:
200 gram each milk, dark and white chocolate melts, melted
Sprinkles, to decorate
Plastic Easter egg mould (made of two halves)
Method:
To melt chocolate, place in a microwave-safe bowl. Microwave on medium high (70 per cent) power in 30-second bursts, stirring each time until completely melted.
Pour chocolate into moulds until full. Tap gently on bench to release air bubbles.
Chill until set. Gently remove from moulds. If you need to join moulds to make a solid shape, brush the underside of one half of mould with a little extra melted chocolate and press together.
To decorate with sprinkles, brush moulds with a little leftover melted chocolate. Then roll in sprinkles to coat. Place on tray and allow to set. Store eggs in an airtight container in the fridge.
Notes
For hollow eggs, paint layers of melted chocolate into moulds and chill until firm. Remove from moulds, brush melted chocolate over edges and press halves together. How many this recipe makes will depend on the size of your moulds. For a marbled effect, swirl white, melted and dark chocolate together in moulds using a toothpick.
Recipe & image by Women's Weekly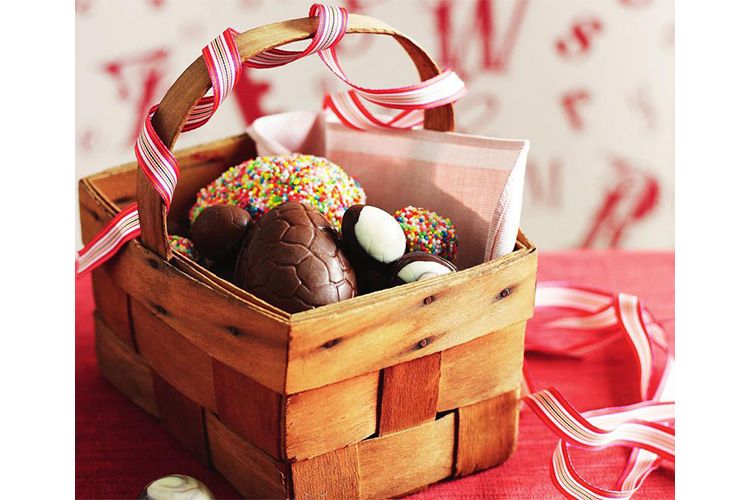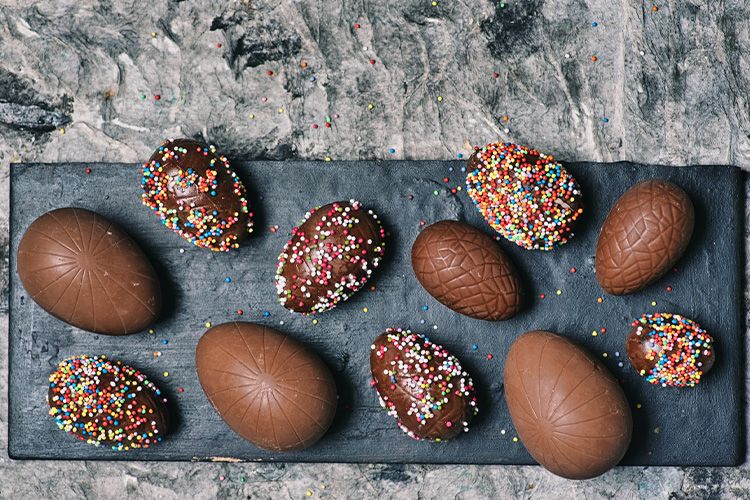 Cook4me Apple and Caramel Cake
Serves 6
Prep Time: 10 mins
Cook Time: 55 mins
Try out this recipe with Tefal's Cook4Me Multi-Cooker.
Ingredients:
3 eggs
3 Royal Gala apples, cut in small cubes
112 g flour
112 g butter, melted
3 tsp vanillin sugar
5 tsp bicarb soda
3 tsp lemon juice
112 g sugar
100 ml caramel (tinned)
Method:
Prepare the ingredients.
Grease the cake pan. Pour caramel topping evenly across the bottom of the pan. In a large mixing bowl, mix sugar, egg, bicarb soda, and flour. Add melted butter, lemon juice, and apple.
Pour the mixture in the cake pan. Pour 300ml water in the bowl. Place the steamer basket in the bowl, and add the cake pan in the steamer basket.
Pressure cooking time: 40 mins on high pressure or 28 mins on express.
Let it rest for 10 min before removing from the cake pan. Serve hot or cold.
Tip: Caramel can be replaced by butterscotch sauce.
Recipe & image by Tefal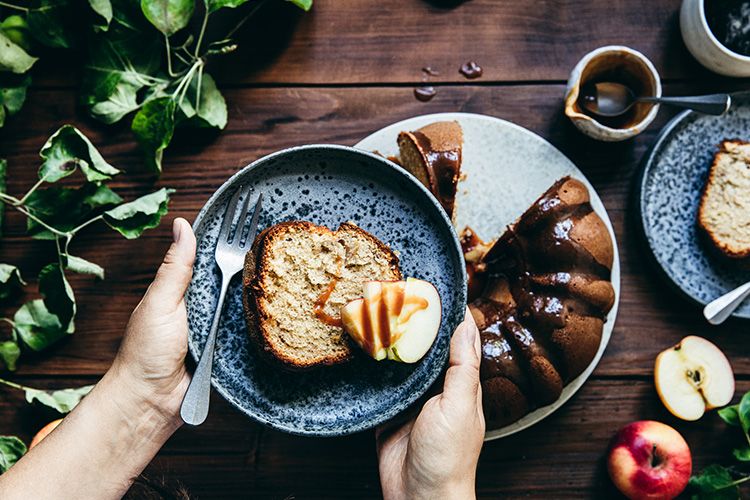 White Choc-Chip Bikkies
Makes: 18-24
Prep Time: 10 mins
Cook Time: 12 mins
Try out this recipe with Russell Hobbs' Desire Hand Mixer.
Ingredients:
90g caster sugar
90g unsalted butter
3 tsp apricot jam
125g self-raising flour
Cup white choc chips
Method:
Line the bake pan with baking paper.
Cream the butter and sugar until pale and fluffy then mix in the apricot jam.
Add the self-raising flour and choc chips and mix to dough consistency. Bring the mix together with your hands to form a ball.
Place the biscuit mix in the refrigerator for 10 minutes. Shape small balls of biscuit dough with your hands and place onto the prepared bake pan. Leave plenty of room between each biscuit as they will expand.
Meanwhile, insert wire rack on the lowest shelf, turn the temperature/cooking function knob to 160°C and preheat toaster oven for 10 minutes. Once pre-heated, place the bake pan on the wire rack and set the timer knob to bake for 10-12 minutes until golden brown. Cool biscuits on the bake pan for 10 minutes before transferring to a cooling rack.
Recipe  by Russell Hobbs