Fast & Easy: Breville's Blucier Juicer Pro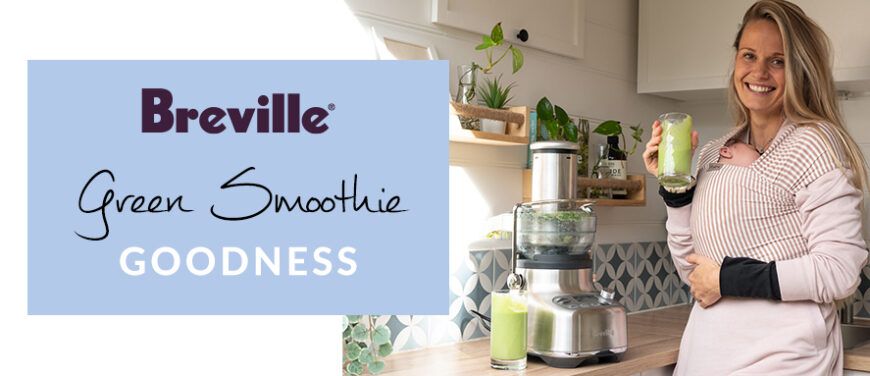 Claire and Luke are the husband-and-wife team behind the popular Instagram page @vanlifestraya. Travelling across Australia in a converted van (moving home), Claire and Luke document their travels, experiences and lives on their page. By day, Claire is a health and nutrition coach, personal trainer and yoga teacher while Luke is the creator of eco-friendly garment store Wild Wood. More recently, they welcomed a bundle of joy named Beau to their family and #vanlife.
With Claire's background in health and wellness, it was natural for us to send them Breville's new Blucier Juicer Pro to test run. As they travel around Australia living the #vanlife, the Blucier Juicer Pro might just be the compact, convenient and space-saving appliance they're after. Check out their in-depth review below where Claire shows you her favourite green smoothie with her little newborn chef, Beau!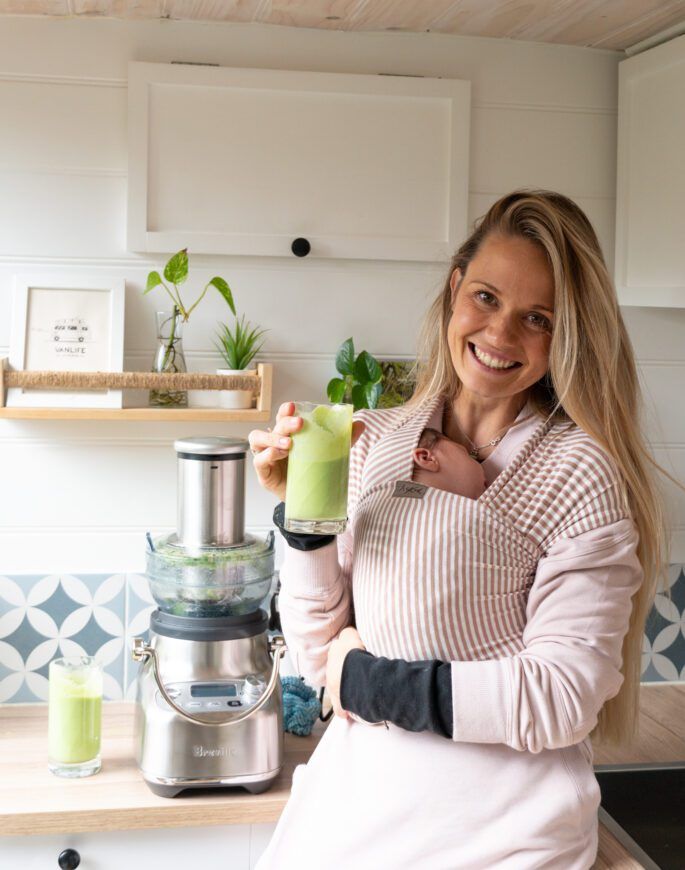 Mornings can be tough, and I love to kick-start my day with a fresh and healthy juice or smoothie. I've been on the look out for an appliance that both blends and juices well for as long as I can remember.
Well, I finally got my hands on the Breville Bluicer Juicer Pro and couldn't have been more excited to try it out. We've just had our first baby and I'm currently both time poor and nutrient depleted. Using this Bluicer allowed me to regain my health and vitality without spending ages preparing stuff. It's such a good way to quickly make delicious juices and smoothies that are packed full of nourishing goodness.
I'm a bit of a health geek so what really drew me to this particular model was the cold spin technology, which is much more effective at retaining the vitamins and minerals from fruits and vegetables. This means that you're not losing any of the healthy goodness in your creations, just pure deliciousness, and maximum nutrition!
With all the exciting features and functions of the Bluicer Juicer Pro waiting for us to try out, what was the first thing I made? With Beau by my side as my sous-chef, I decided on a healthy and delicious Green Smoothie!
Below were the ingredients I used:
Avocado
Spinach
Cashew Nuts
Lime
Apple
Cucumber
Ginger
Banana
Celery
Ice
The smoothie was very simple to make. I started out with placing the ice, some lime juice, the flesh of one avocado, a handful of cashews, some spinach and banana into the blender jug. I then had the juicer attachment connected to the blender jug and juiced the apple, cucumber, celery and ginger directly into the blender. With an easy changeover of the blender jug onto the Blucier's base, I then used the 'Green Smoothie' button to whip up my smoothie. Creating my Green Smoothie was so fast and easy, especially since I could juice everything without chopping it to small pieces and then blend from the same unit!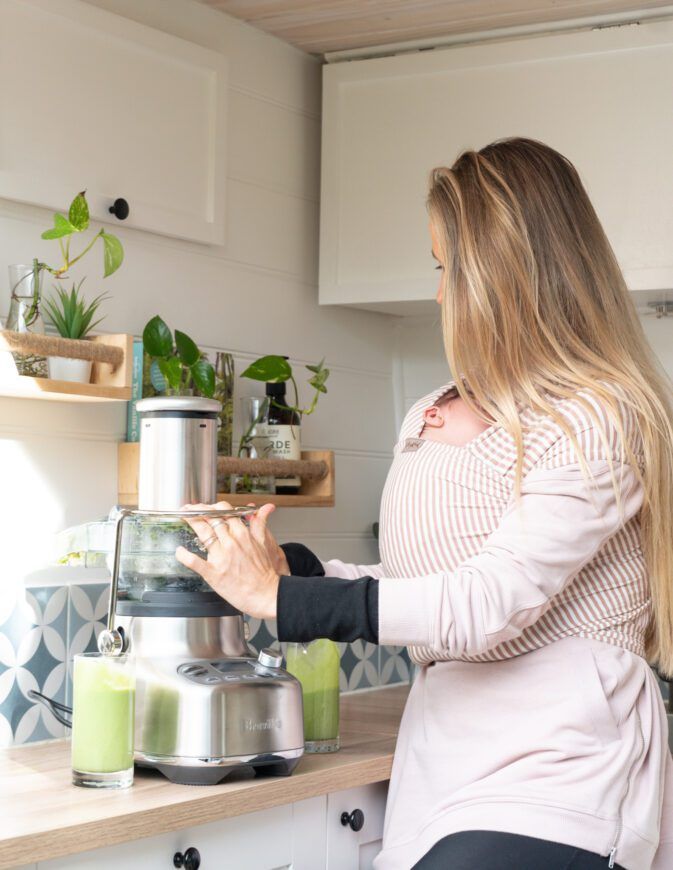 And the verdict? Ridiculously delicious! I don't know if it's a mental thing (I know that the cold spin technology helps retain all the nutrients) but it tasted intensely fresh and full of goodness, but also smooth at the same time. The Bluicer Juicer Pro seemed to crush the ice effortlessly, which was a pleasant surprise as I've used similar appliances that have struggled to blend the ice well. This had no problems though…can't wait to try out more creations!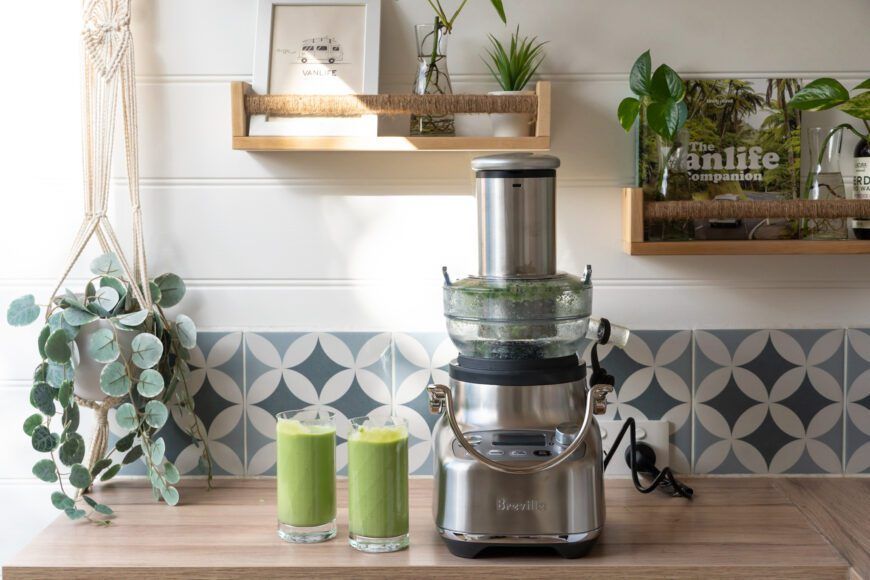 One of the things I was worried about with the Bluicer Juicer Pro was how long it would take to clean, as that's always been a bit of a downside to juicers, in my opinion. Honestly though, I was pleasantly surprised as it really just requires a rinsing with hot water, so I was pretty happy with how quickly I was able to do it. The auto clean function was a nice touch for the blender jug too.
Additionally, with our baby Beau in mind, I'm really excited to use the Bluicer in the future to make heathy little purees when he's a bit older. I'm hoping it will make my life a lot easier as they'll be super quick to make and be nutritious for him. Win-win!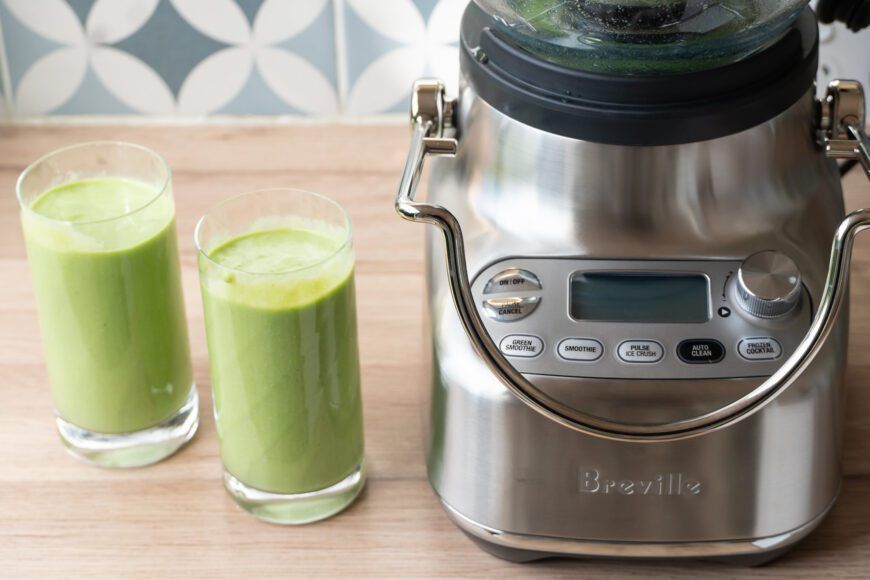 There's so much to love about Breville's Bluicer Juicer Pro. Besides delicious, quick and healthy green smoothies, you can make a world of treats like fruit juices, sauces, soups and even a cheeky frozen cocktail. If you need quick blending and juicing convenience in your kitchen, you need the Bluicer Juicer Pro! The Bluicer Juicer Pro also has a sister model, called the Blucier, which you can check out and compare on the below link.