Ginger Chilli Chicken on Rice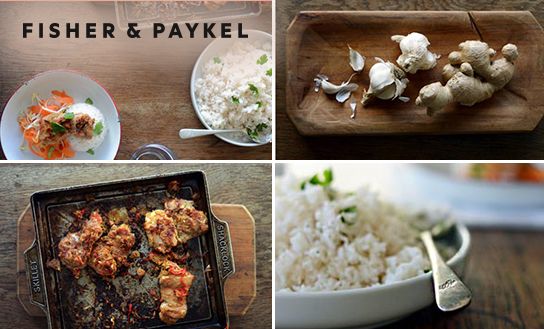 Say goodbye to those Chinese takeaways down the street and treat your tastebuds to this delicious Ginger Chilli Chicken on Rice. With a good balance of exciting, exotic flavours (and not too spicy!) this makes for the perfect meal to transport your dining experience to the Far East.
INGREDIENTS
Chicken
12 chicken thighs
4 tbsp soy sauce
1 tbsp oil
Few drops sesame oil
2 large red chillies, finely sliced
4 cloves garlic, finely sliced
2 stalks lemongrass, finely chopped
1 large knob ginger, grated (approx 2 tbsp)
Carrot Salad
3 carrots, peeled and cut into ribbons (I did this with a peeler)
1 cup mung beans
¼ cup coriander, roughly chopped
Dressing
1 large red chilli, roughly chopped
1 clove garlic, peeled and roughly chopped
1 tsp sugar
1 lemon, peeled and deseeded so that only the flesh remains
1 lemon, juiced
1 tbsp white vinegar
1 tbsp water
4 tbsp fish sauce
2 cups basmati rice, cooked
Serves 6
METHOD
Chicken
Step 1.
Combine all ingredients in a bowl, mix well to coat the chicken and leave to marinate for a least an hour or over night.
Step 2.
Cook the chicken on a hot BBQ.
Carrot Salad
Step 1.
Combine the carrot, mung beans and coriander and mix to combine.
Dressing
Step 1.
Place the chilli, garlic and sugar into a mortar and pestle and pound until a smooth paste forms.
Step 2.
Add the lemon flesh and continue to pound until once again smooth.
Step 3.
Finally add the lemon juice, vinegar, water and fish sauce and mix to a smooth sauce.
To Assemble
Step 1.
Fill a little bowl with rice and gently pack so that it sticks together. Turn the bowl out onto a plate.
Step 2.
Add a handful of salad to the plate and then top with 2 chicken thighs and drizzle with the dressing. Serve immediately.
Recipe by Fisher & Paykel
View BBQ RANGE