Haier Quad Door Fridges: One for every Family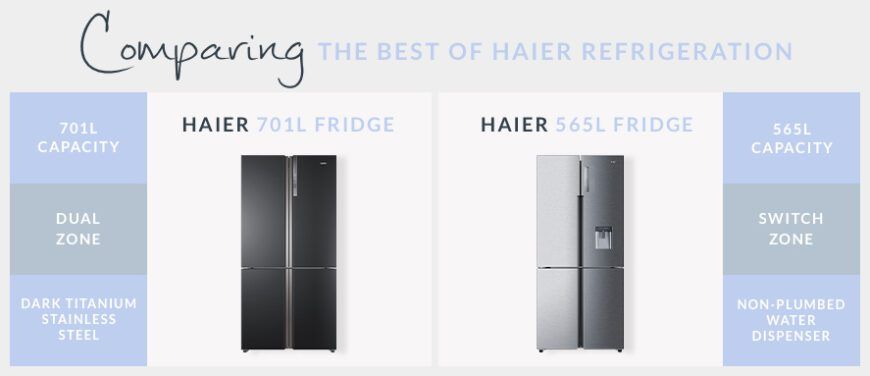 Are you in the market for a new large-capacity fridge? Do you have a growing family and need more space? Perhaps you're a home entertainer who could do with more flexibility and function? Whatever your requirements are, Haier's range of Quad Door Fridges are spacious, reliable and feature all the latest technologies to ensure your food storage is in top form.
To help you find the perfect Haier Quad Door Fridge, we've compared two models: the 565L Quad Door Fridge and the 701L Quad Door Fridge. Read on to find out which fridge is the perfect one for you.
FAMILY PLEASER!
565L QUAD DOOR REFRIGERATOR
Perfect for families, this Haier 565L Quad Door Fridge will keep up your with family's growing needs. From weekly groceries to lunchbox treats and everything else in between, this fridge will preserve your food's favour, taste and freshness thanks to the Fresher Techs® fridge technology. Fresher Techs® adjusts and optimises the fridge's conditions to ensure food maintains their flavour, nutrients and quality – so you can be sure everyone's eating healthy meals.
From the shops to your fridge, ensure your food remains in top quality with the two cooling zones, which consist of 'FreshStorage' and 'DryStorage'. FreshStorage is best suited for fresh produce like fruits and vegetables while the DryStorage zone is ideal for storing meat, fish, diary and deli-style foods. Whatever makes its way to your fridge, with these dedicated cooling zones, everything can be stored and cooled effectively.

Top: Haier's 565L Quad Door Fridge boasts two different cooling zones and a non-plumbed water dispenser.
Now everyone can be hydrated with the non-plumbed water dispenser. Easily access filtered water and the kids can fill up their own water bottles. As the water dispenser doesn't require plumbing, that's one less thing for you to worry about.
Effortlessly store all your food on the adjustable glass shelves while the external control panel means making temperature changes is easy. To prevent curious, younger household members from opening the fridge, you can simply enable the Smart Lock door system. In a stunning Satina design with integrated handles and a clean, fingerprint-resistant finish, this Haier 565L Quad Door Fridge will keep the whole family happy.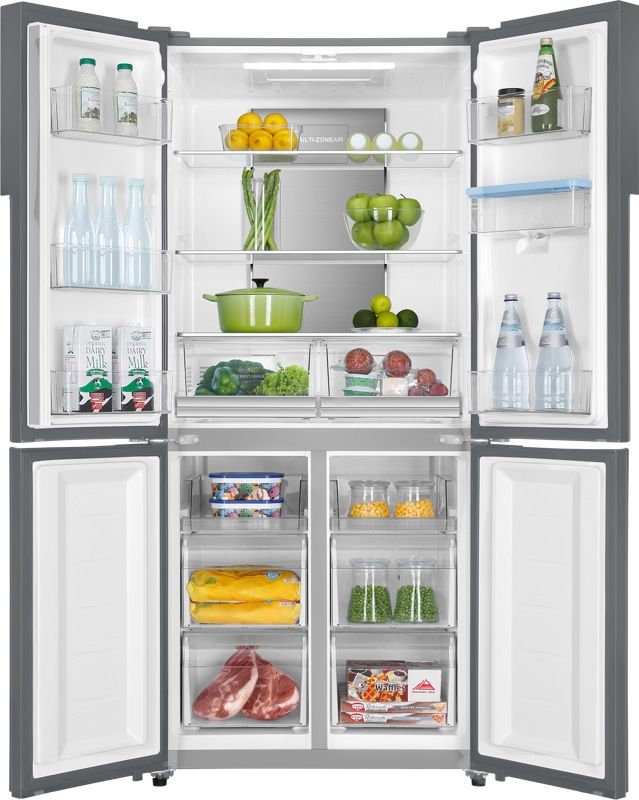 ENTERTAINER'S DELIGHT!
701L QUAD DOOR REFRIGERATOR
Designed for the home cook and entertainer, this Haier Quad Door Fridge boasts an ultra-spacious 701L capacity. Aside from its generous storage space, this Quad Door Fridge is powered to perform, helping keep your food fresh for longer, thereby reducing food waste.
Featuring a Trilogic Cooling System, this fridge cools your food with optimal conditions. The Trilogic System consists of the Multi-Air Flow which provides even cooling in the refrigerator while the Super Cooling function makes for fast cooling of food when you need it. The final element of the Trilogic System is the Super Freeze function which locks in nutrients and freshness in your frozen goods.
We know how stressful entertaining can be. Whether you need to chill deli meats or cool your drinks, now you can do it all with the adjustable freezer drawer. Called the SwitchZone, the adjustable freezer drawer has a varied +5 to -18°C temperature range so you can easily transform the conditions in the drawer. The SwitchZone provides extra storage when you need it and it's a great place for storing speciality foods before serving.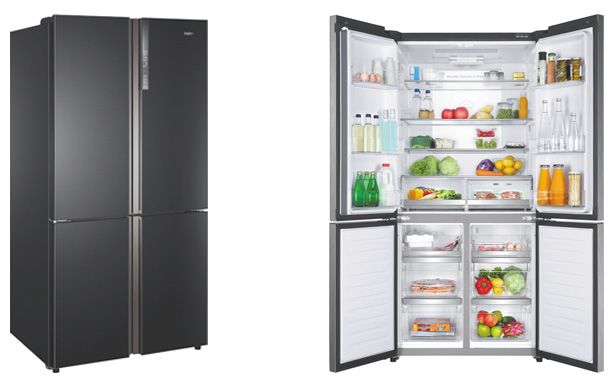 Using this Haier 701L Quad Door Fridge is so simple. The fridge's wider body means all your biggest platters and trays will fit on the adjustable glass shelves. Make simple adjustments on the external electronic controls without the need to open the fridge. In a flat Dark Stainless Steel design with integrated handles and a fingerprint-resistant finish, this Haier Quad Door Fridge not only looks great, it's suitable for every home entertainer.
Whatever your concern, from freshness to storage capacity and flexibility, compare and find the right Haier fridge for your home:
565L Quad Door Refrigerator
701L Quad Door Refrigerator
Total capacity
565L
701L
Fridge capacity
358L
465L
Freezer capacity
207L
236L
Exterior colour
Satina
Dark Titanium
Cooling technology
FresherTech
FresherTech
Frost-Free (Y/N)
Yes
Yes
Refrigerator Temperature Range
8°C to 0°C
9°C to 1°C
Adjustable (Customisable) Drawer (Y/N)
No
Yes, SwitchZone (adjustable temperature drawer) with +5°C to
-18°C range
Ice & Water Dispenser (Y/N)
Non-plumbed water dispenser only
No
Adjustable Shelves (Y/N)
Yes, 2
Yes, 3
No. of Humidity Controlled Crisper
2
2
No. of Door Baskets
6
6
No. of Freezer Drawers
6
6
Control Type
External LED display
External LED display
Door Alarm (Y/N)
Yes
Yes
Holiday Mode
Yes
Yes
Handle type
Recessed
Recessed
Energy Star Rating
3
3.5
Energy Consumption (kWhr/yr)
490
489
Warranty
2-year
2-year
Best Suited for
Large Families, Home Cooks
Large Families, Home Cooks, Regular Entertainers
Every household's refrigeration needs are different. Haier's range of Quad Door Fridges will ensure you and your family are best equipped for preparing and enjoying fresh meals for any occasion. Click on the below link to view more information, read reviews, compare and find them at your local retailer.
FIND YOUR PERFECT HAIER QUAD DOOR FRIDGE