How To: Make Café Style Sandwiches with Sunbeam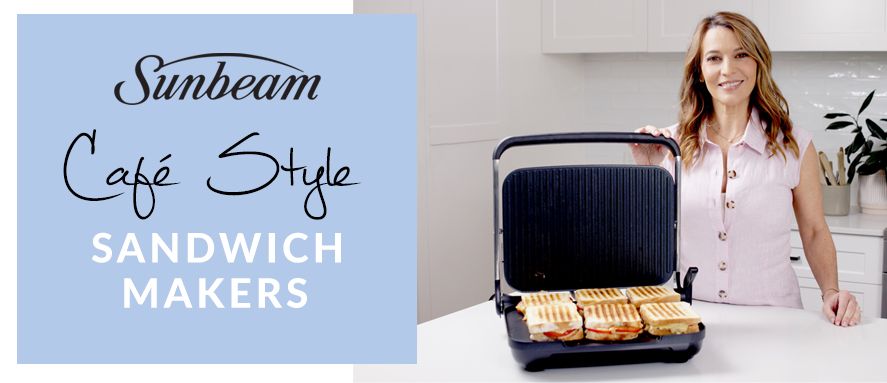 Delivering more than just tasty toasties, Sunbeam's new range of café style sandwich presses ensures an easier way to make snacks and meals at any time of the day. Whether it's an omelette for breakfast, chicken for lunch or even some apple and pear crumble for a quick dessert after dinner, it's so easy to prepare and make delicious dishes from this simple-to-use benchtop helper.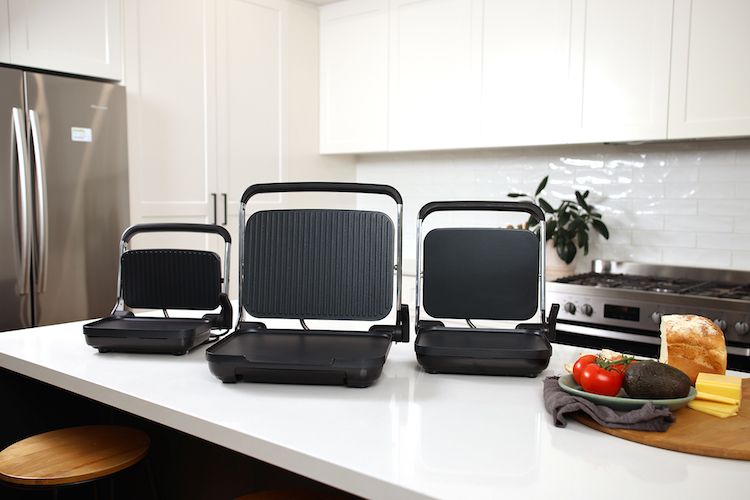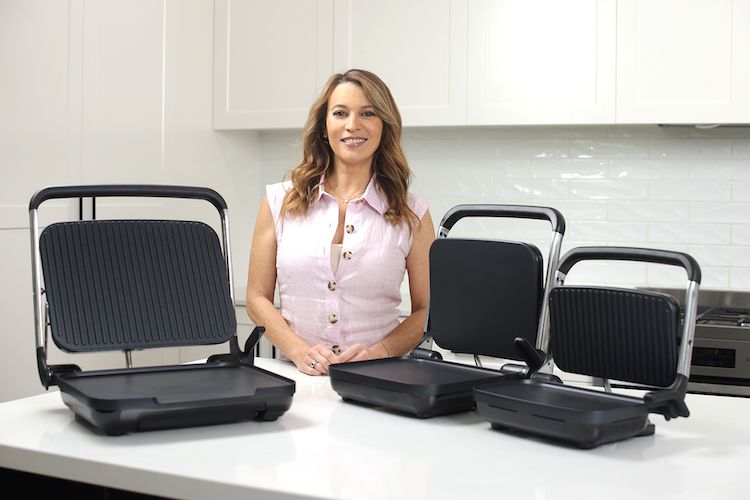 Adjustable Height Control
Long gone are the days of squashed and flat toasted sandwiches. With these new Sunbeam sandwich presses, you can enjoy the innovative AnyHeight Control™ Lever that lets you customise the height of the top hotplate. Just push down the lever to control how low the plate goes and lock it in before cooking your food.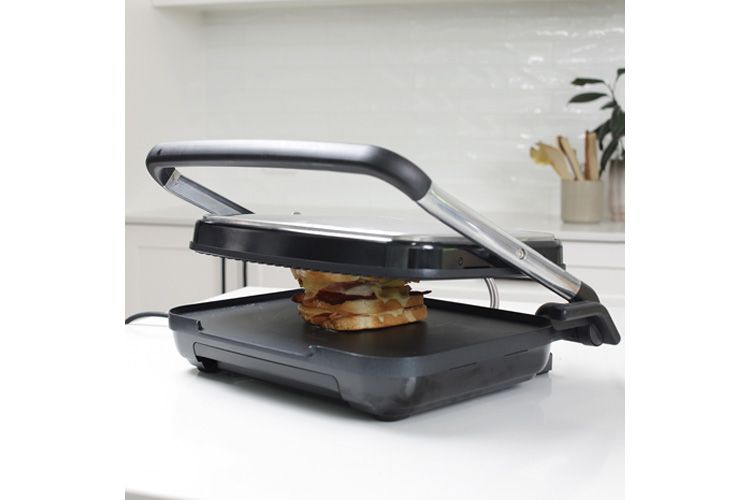 Endless Cooking Possibilities
Cook many more dishes than one with the adjustable hotplate. Aside from toasties, the AnyHeight Control™ Lever also provides the ability to cook things such as fried eggs, bacon, pancakes, fritters, burgers, quesadillas, steak and more! Best of all, with the AnyHeight Control™ Lever, you can perfectly cook the bottom of food without unnecessarily flattening the top of it.
Cooking Convenience
The Sunbeam café style sandwich presses really are an all-in-one convenient cooking appliance. Use them to satisfy any meal of the day and with a range of sizes available, there's a sandwich press to meet any household size.
2-Slice Sandwich Press GRM2000SS

: great for single or coupled households with occasional use, this model has a ribbed top hotplate.

4-Slice Sandwich Press SPM4000SS

: ideal for smaller families and shared kitchens with regular use, this model has a flat top hotplate.

6-Slice Sandwich Press GRM7000SS

: perfect for larger families and busy office kitchens with daily use, this model has a ribbed top hotplate.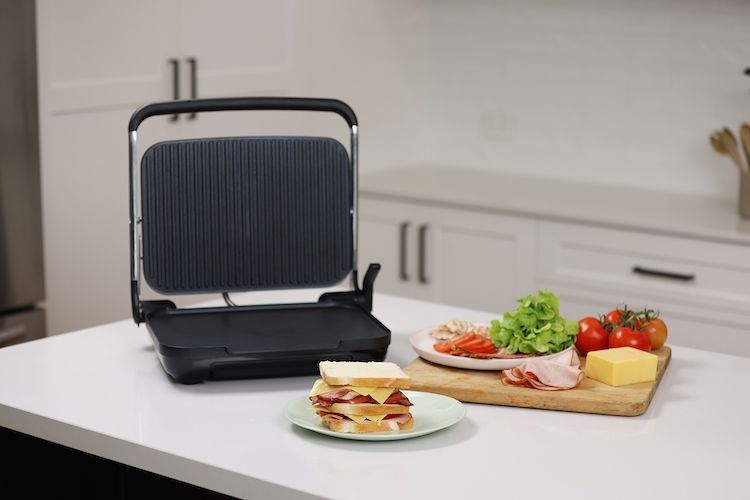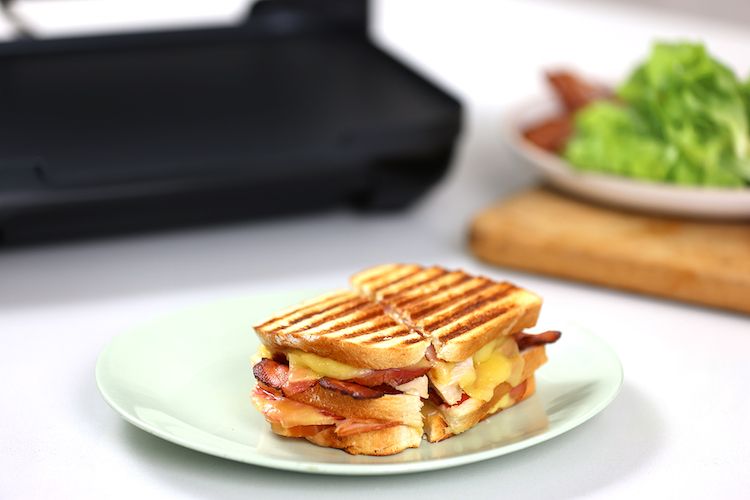 Effortless Maintenance
The Sunbeam café style sandwich presses are a joy to use thanks to a wide range of convenience factors, these include:
Non-stick plates: require little oil for healthier cooking
Easy-clean plates: that just need a simple wipe down with a paper towel
Built-in cord wrap: wrap the cord around the unit's base for discreet storage
Vertical storage: takes up less space in your kitchen cupboards
Recipes We Love  
Feeling hungry? Whip up a delicious snack or meal in about the same time it takes to finish an episode of your favourite TV show with these quick and easy recipes from our friends at Sunbeam.
Spinach And Cheese Garlic Omelette
Serves 1
Prep Time: 2 minutes
Cook Time: 5 minutes
Make this Omelette with simple spinach and cheese fillings. Serve with toasts and bacon for a hearty breakfast.
Ingredients:
10g butter
1 clove garlic, finely chopped
30g baby spinach leaves, roughly chopped
2 eggs
Pinch salt and pepper
2 slices cheddar cheese
Bacon, toast to serve
Method:
Turn on the Sunbeam Café Style 2-Slice Sandwich Press & Maker.
When the READY light is on, add the butter and garlic to the sandwich press and cook, stirring until the garlic is fragrant and butter is melted, 1 minute. Add the baby spinach, close the lid and cook until wilted, 30 seconds.
Crack eggs into a small bowl and scramble lightly with a generous pinch of salt and pepper. Pour the eggs over the baby spinach and tilt the grill slightly to make sure the egg evenly coats the grill.
Place the cheese slices on top of the egg, then close and lock the sandwich press lid so it is hovering just above the cheese. Cook until the cheese is melted and the eggs are cooked, 2-3 minutes.
Using a spatula, gently roll your omelette and place on your plate. Serve with bacon and toast and enjoy.
COOK'S TIP
If serving with bacon and toast, you can cook your toast on the grill for 2-3 minutes per side, and bacon for 4-5 minutes just before cooking your eggs.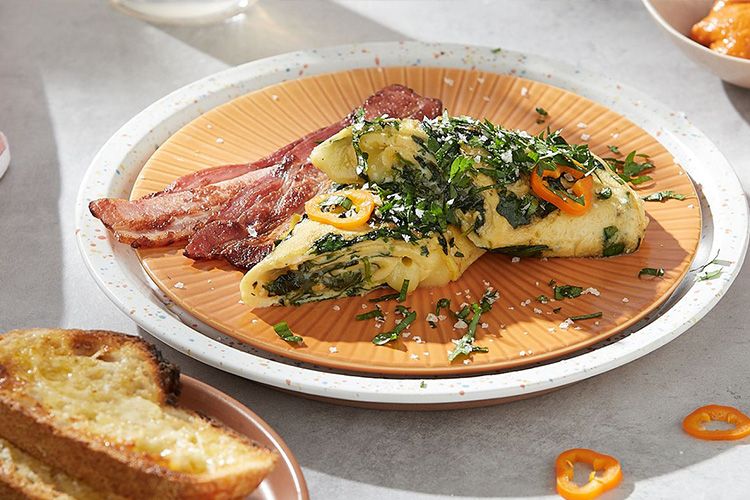 Rosemary And Garlic Spatchcock Chicken
Serves 4
Prep Time: 5 minutes
Cook Time: 35 minutes
This spatchcock chicken recipe is a great way to use the whole chicken with simple seasonings.
Ingredients:
2 tsp finely chopped rosemary
1 Tbsp finely chopped parsley
4 cloves garlic, finely chopped
20g butter, softened
1 tsp salt
6kg spatchcock chicken
Turn on the Sunbeam Café Style 6-Slice Sandwich Press & Maker to preheat.
In a large bowl, combine the herbs, garlic, butter and salt. Mix well to combine. Pat the spatchcock chicken dry with paper towel, then add to the bowl with the herb butter. Smother all surfaces of the chicken with the butter on all sides.
Place chicken in the grill and close the lid, lock in place and cook for 15 minutes, or until beginning to brown. Open the lid and flip the chicken over (this helps to cook it evenly!) and cook for a further 15 minutes, or until cooked through completely with crisp and golden skin, 15 minutes (total cook time 30 minutes). Remove from the grill, slice and enjoy!
COOK'S TIP
Ask your butcher to spatchcock a whole chicken for you, or you can use kitchen scissors to remove the spine and flatten the breastbone yourself if you're confident. Add a pinch of lemon zest to the butter if you have some on hand for extra flavour.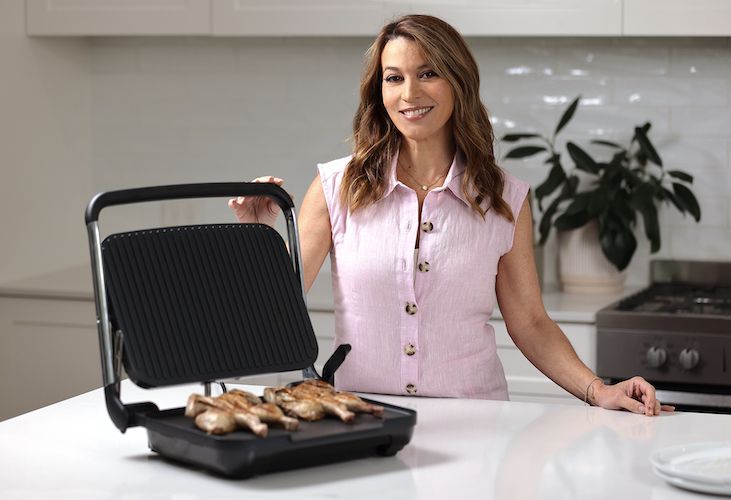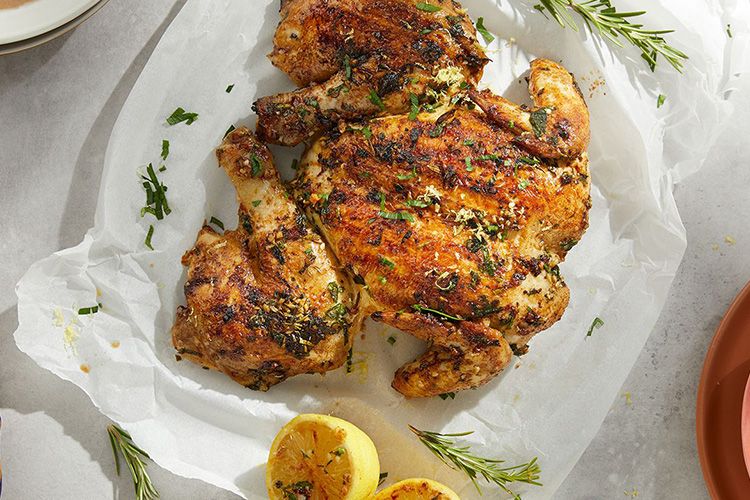 Deconstructed Apple & Pear Caramel Crumble
Serves 1
Prep Time: 5 minutes
Cook Time: 10 minutes
This easy apple crumble recipe also has pears, granola and salted caramel sauce.
Ingredients:
1 apple, peeled
1 pear, peeled
¼ tsp mixed spice
2 tsp butter
2 Tbsp salted caramel sauce
2 Tbsp crunchy granola
Thick cream or yoghurt to serve (optional)
Method:
Turn on the Sunbeam Café Style 2-Slice Sandwich Press & Maker. Slice the apple and pear into 1cm thick slices and toss with the mixed spice.
Melt the butter on the grill. Add apple and pear in a single layer, then close and lock the grill. Cook until grill marks form and the fruit softens, 5 minutes. Open the grill and pour salted caramel sauce over the fruit and cook until caramelised, 1 minute.
Place the caramelised fruit into a bowl and spoon over any remaining caramel sauce from the grill. Top with the granola and a dollop of cream or yoghurt (if using).
COOK'S TIP
Try using all apple or all pears if you like.