KitchenAid's Home Chef Essentials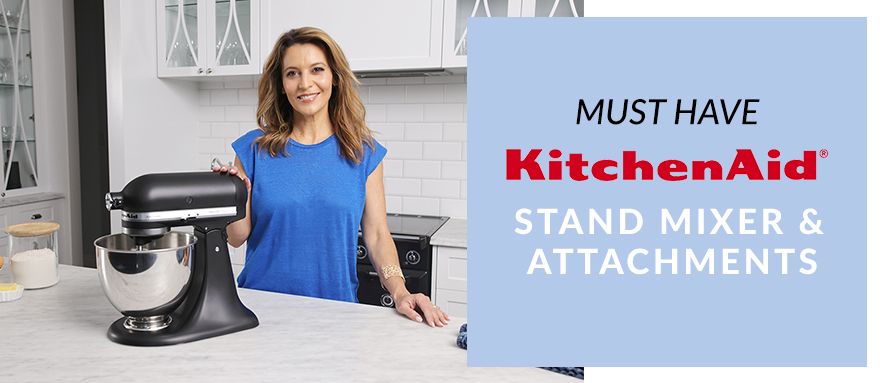 Imagine if with one appliance, you could handle a variety of tasks and make endless sweet and savoury creations in the kitchen. With KitchenAid's Stand Mixers, you can!
KitchenAid's Artisan Stand Mixers are one to have whether you're an avid baker or home cook who wants to be well-equipped for any recipe. The Stand Mixers boast 300W power, 10 speeds levels and two Stainless Steel mixing bowls – a 2.8L and 4.8L bowl, so you can easily create anything from cake mix to bread dough or homemade pasta. Every KitchenAid Stand Mixer comes with standard inclusions:
1 x Flat Beater: great for incorporating butter into flour and mixing cakes, biscuits and even making mashed potatoes
1 x Wire Whisk: ideal for beating egg whites for meringues or chiffon cakes and whipping cake frosting
1 x Dough Hook: perfect for making all types of dough like bread, pizza and pasta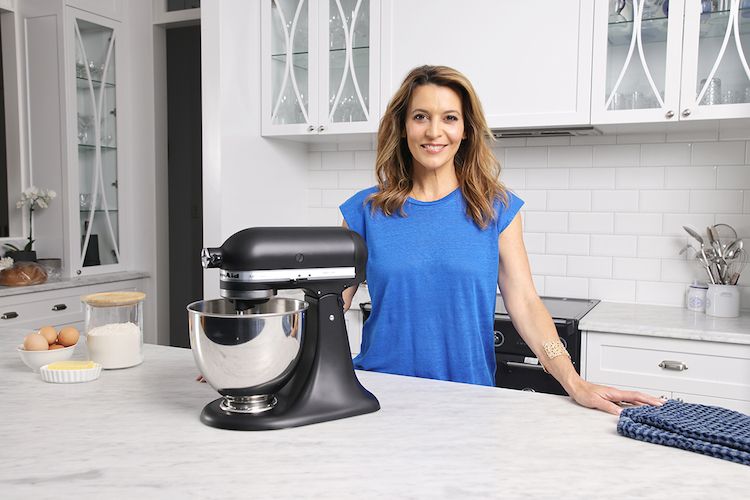 A World of Possibilities
Aside from usual mixing methods, KitchenAid's Stand Mixers enable endless cooking opportunities thanks to its attachment hub. With over 10 optional attachments available, the Stand Mixer can be transformed to deliver versatile tasks such as making pasta, kneading and baking bread, and even grinding meat for sausages.
The 3-Piece Pasta Roller and Cutter Attachment
Roll out pasta, create fine Spaghetti or cut wide Fettuccine to enjoy fresh and hearty pasta dishes at home. Experiment with other cuisines like Asian-inspired noodles, which can also be made with the 3-Piece Pasta Roller & Cutter Attachment. Be inspired by the below recipes.
Recipe: Fresh Pasta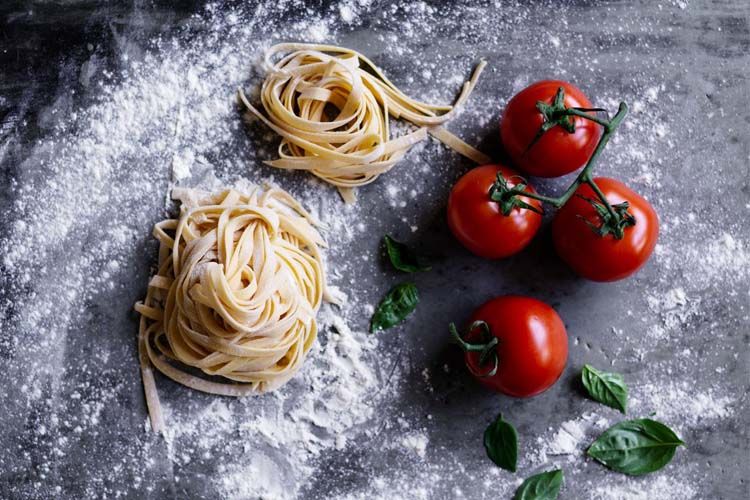 Ingredients:
2 cups (300g) plain flour
3 large eggs, lightly beaten
Good pinch salt
30ml olive oil
Extra flour, for dusting
Method:
Attach mixing bowl and the flat beater to the stand mixer. Place flour, salt, eggs and oil into mixing bowl. Turn mixer to speed 2 and mix until mixture is well combined. Attach the dough hook.
Turn mixture to speed 2 and knead 3-4 minutes or until the dough is smooth. Wrap in plastic wrap and rest it in the refrigerator for 15 minutes.
Meanwhile lay clean tea towels over the bench or lightly dust with extra flour.
Cut dough into 4 even sections, wrap the used sections in a little plastic wrap to prevent drying out.
Attach pasta roller to stand mixer. Take one section of dough and pat out to flatten. Adjust the roller setting to 1. Turn mixer to speed 4 and feed the dough into rollers. Fold dough in half and feed through again. Repeat this step twice. Adjusting the rollers to setting, 2 then 3, then 4. You should have a long sheet of dough.
Attach spaghetti cutter attachment to stand mixer. Feed the sheet of dough through the cutter and carefully catch it and place it on the pasta rack to dry.
Repeat with the remaining sheets until complete.
Tip: Fresh pasta cooks quite quickly, take care not to overcook.
Artisan Bread Bowl with Baking
Mix, knead, proof and bake with the one bowl with KitchenAid's Bread Bowl with Baking Lid. This all-in-one tool takes your bread baking efforts to the next level. The bowl's 4.8L capacity is perfect for making recipes that use up to 3.5 cups of flour – great for your sourdough or party-pleaser cinnamon roll bread.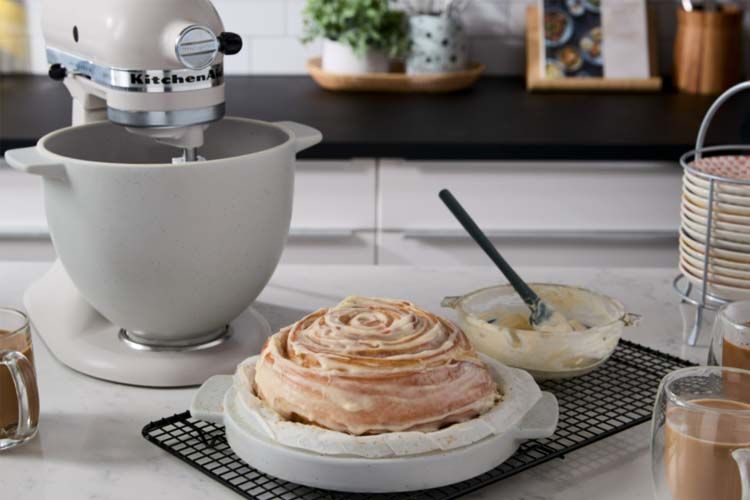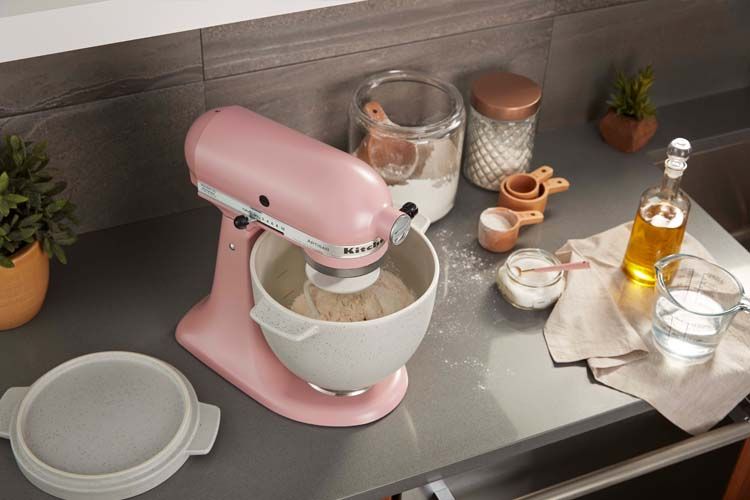 Pastry Beater Attachment (5KSMPB5) – Coming soon in 2022
If you enjoy your pastries and pies, you'll love how the Pastry Beater Attachment cuts through and mixes cold butter with your dough, saving you time and effort. Make light and flaky pastry that are ideal for everything from pies to tarts, curry puffs and empanadas. Keep an eye out as the Pastry Beater is coming soon in the new year.
Recipe: Quick Start Pie Dough
Ingredients:
Two sticks (1 cup) unsalted butter (230g), chilled and cut into ½" cubes
5 cup All-Purpose Flour (315g)
2 tsp sugar
1 tsp salt
6-8 Tbsp ice water (90g), more as needed
Method:
Assemble pastry beater to the mixer: mix flour, sugar, and salt on Stir to combine. Add chilled butter and mix on Stir for 30 seconds.
For the tilt head mixer, increase to Speed #2 (for Bowl-Lift mixer, increase to Speed #3) until the mixture resembles cornmeal with pea-sized pieces of butter throughout. Scrape bowl and paddle with a spatula if needed.
Drizzle half of the ice water, 3 Tbsp, over the surface of the flour mixture and run on Stir for 5 seconds. Stop the mixer, and drizzle the remaining 3 Tbsp of water evenly over the surface of the mixture. Mix on Stir for 10 – 20 seconds until it makes a shaggy dough. Add more water and stir again as needed.
Form the dough into two disks and wrap in plastic wrap. Set in refrigerator for at least one hour, or overnight. Remove from fridge and roll to 1/8" before baking to the instructions provided on your chosen pie recipe.