Microwave Cooking with Panasonic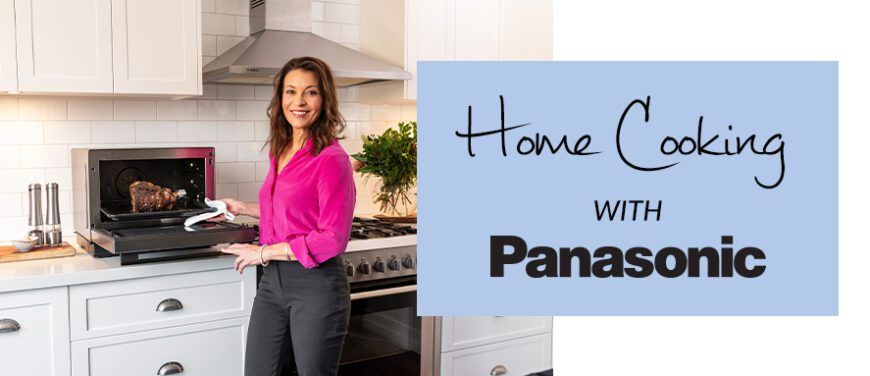 Microwave cooking, it's quick, convenient, and so easy to cook up tasty meals and treats. In a compact, benchtop design, a microwave offers a world of opportunity to whip up a dish any time of the day.

With many brands, technologies, and models on the market, it can be difficult to find the perfect microwave for your needs. To help you master all modes of cooking in your kitchen is Panasonic's 31L Convection Microwave.
4-in-1 Cooking
A multi-purpose benchtop appliance, Panasonic's 31L Convection Microwave boasts 4-in-1 cooking methods which includes: steam cooking, bake, grill and microwave. Powering these four methods of cooking is convection technology and inverter technology.
Convection technology: uses microwave heating with the cooking power of an oven to provide the crispy results you know and love from ovens.
Inverter technology: provides gradual and consistent heat to produce evenly cooked dishes, inside and out.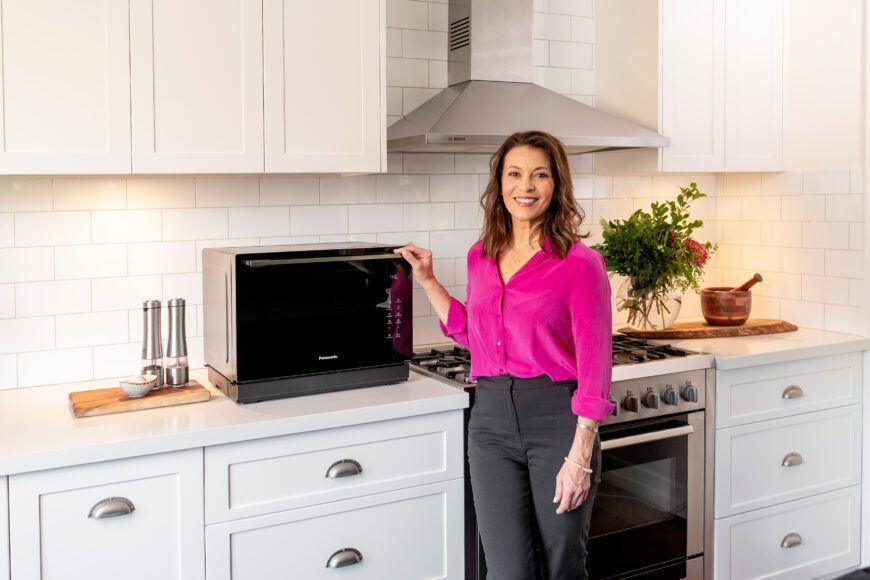 Powerful Operation
This microwave is fuelled by 1000W microwave and 1300W grill and steam power to effortlessly manage any cooking task.
Spacious Flatbed Design
Unlike traditional microwaves that have a turntable, this 31L microwave has a flatbed design that enables cooking with larger plates and trays. While a turntable spins when in operation which may limit the size of the cookware, a flatbed design is the opposite. A flatbed microwave does not need any spinning and so a bigger plate or tray can be used with no limitations.
Plentiful Functions
The microwave's 4-in-1 cooking lets you enjoy various results whether you're steaming vegetables and fish, grilling meats like steak or chicken, baking treats like bread and cakes, or reheating last night's takeaway. The 36 Auto Programs also makes one-touch cooking, stress-free.
Simple Controls
Start up your desired cooking process with effortless touch controls on the glass panel and view the cooking progress on the white LED LCD display. The microwave cavity's rails enable a second tray or wire rack for multi-tier cooking, so you can cook two dishes simultaneously. The easy-pull drop down door offers easy access to the cavity in a space-saving way. Cook, eat and clean up effortlessly with the easy clean flat surface, plus, with the flatbed design, there's no need to remove a separate turntable for washing.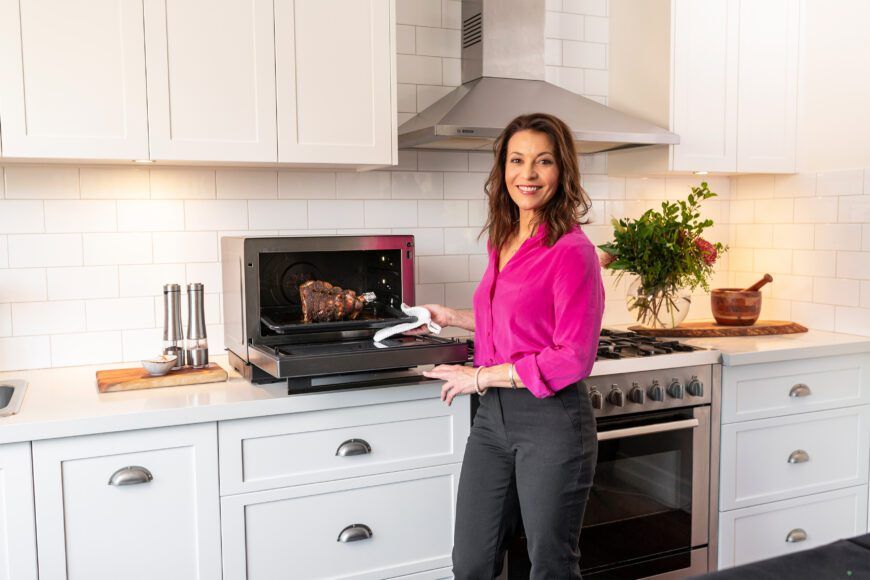 Let's Get Cooking
Enjoy a versatile and convenient cooking experience straight away, as this Panasonic 31L Convection Microwave comes with included accessories like the Square Enamel Shelf, Square Wire Shelf and Grill Tray.
Check out the delicious recipes from Panasonic below and see for yourself, how easy it is to create healthy and tasty home-made meals using a microwave.
Lasagna
Serves 4
Ingredients:
Meat Sauce
1 Onion chopped
1 Clove Garlic crushed
5 ml Oil
400 g Canned Chopped Tomatoes
150 ml Red Wine
30 ml Tomato Puree
5 ml Mixed Herbs
500 g Minced Beef
Salt and Pepper
Lasagna
1 White Pouring Sauce
100 g Grated Cheese
5 ml Mustard
Salt and Pepper
250 g Fresh Lasagna Sheets
50 g Parmesan Cheese grated
Method:
Place onion, garlic and oil in casserole dish. Place on base of oven and cook on 600W for 3 minutes. Place all other meat sauce ingredients in casserole. Stir well.
Cover, cook on 1000W for 10 minutes. Then 600W for 15-20 minutes or until cooked.
Add mustard and grated cheese to white sauce. Cover the base of the dish with a layer of white sauce, then a layer of lasagne, then a layer of hot meat mixture. Continue with a layer of lasagne then meat, ending with a layer of white sauce. Sprinkle parmesan cheese over the top.
Place on the base of the oven and cook on Combi 4 for 10 minutes. Then Grill 1 for 3-5 minutes or until golden brown.
---
Ginger Pork Stir Fry
Serves 4
Ingredients:
500 g sliced lean pork
¼ cup teriyaki sauce
1 tbsp honey
2 tsp minced ginger
2 tsp cornflour
300 g sugar snap peas trimmed
1 zucchini sliced
1 red capsicum sliced
1 onion sliced
½ cup bean sprouts
1 tbsp toasted sesame seeds
Method:
Place pork, teriyaki sauce, honey, ginger, and cornflour in a 2L dish, cover and marinate in the refrigerator for two hours.
Place onion in a 3L dish. Cook in Microwave on P10 for 1-2 minutes.
Add marinated pork and sauces and cook on P7 for 3-4 minutes.
Add peas, zucchini, capsicum, green onion and bean sprouts and cook on P10 for 3-4 minutes.
Remove from Microwave, sprinkle with sesame seeds and serve with noodles.
---
Lemon Raspberry Weetbix Cheesecake Recipe
Serves 1
Ingredients:
1 weetbix crushed
1 egg
10 g Peanut/Almond butter
60 g Greek Yoghurt
Frozen Berries
50 ml Milk
Lemon Juice a squeeze
Method:
Mix the crushed Weetbix with milk and peanut butter to form Weetbix base.
Tip base mixture into a cupcake tray and press firmly to make an even layer. Leave to set.
In a separate bowl, whisk together Greek yoghurt, egg and a squeeze of lemon juice to form cheesecake mixture.
Add the frozen berries to cheesecake mixture.
Spoon it on top of the Weetbix base and spread evenly.
Bake or Microwave at 180 °C convection setting for 15-20 minutes.
Let it cool and set completely before serving.
Microwaves – offering more benefits than one, save time and effort in the kitchen with microwave cooking. From a simple reheat to completely cooking a meal for your family, meal preparation is simple with a microwave. Panasonic's 31L Convection Microwave is perfect as an all-in-one cooking appliance in small kitchens like a caravan, small home or studio apartment and for those who don't own an oven.
Want to see more microwaves? View our wide range of microwave brands and models, compare models, read reviews and find them online or in-store below.
VIEW MICROWAVES