Middle Eastern Baked Eggs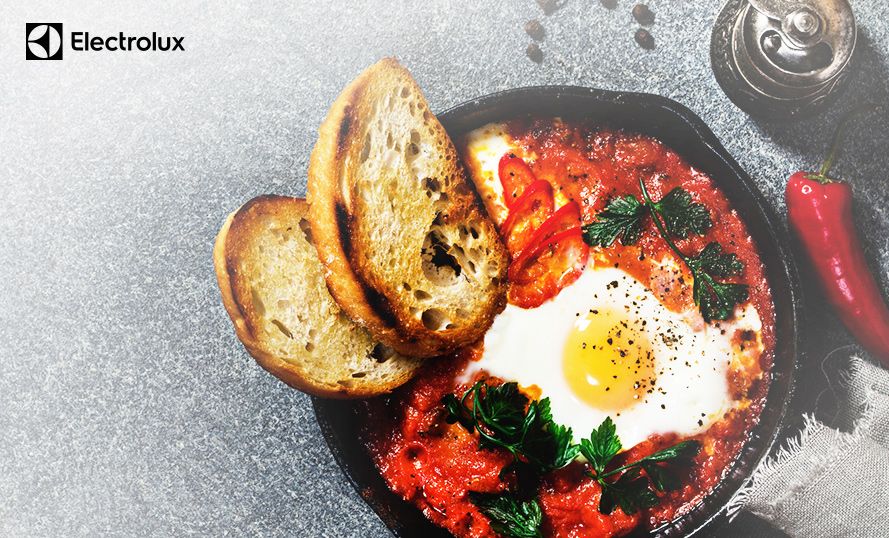 INGREDIENTS
Sauce
1 small onion, chopped
2 cloves garlic roughly chopped
1 tablespoon Ras el Hanout
¼ cup olive oil
800g tinned whole peeled tomato's
Salt, Sugar, Pepper to taste
Smoked Almond Hummus
400g tin chickpeas
125g tahini
3 tablespoons Lemon juice
50 ml cold water (you may need more depending on chickpeas)
Smoked almonds, roughly chopped
Salt
Middle Eastern Baked Eggs
8 Eggs
Sauce
4 Lebanese breads or other flat breads
Small bunch of mint and coriander
Rind of 1 preserved lemon
Cooking Level: Easy
Cooking Time: 30 Minutes
Serves: 4
METHOD
Sauce
Step 1.
Sweat the onions and garlic in the olive oil on a medium heat for 3 minutes or until soft.
Step 2.
Add the ras el hanout and cook for a further minute, then add the tinned tomatoes, 200 ml of water and cook for 30 minutes. Season with salt, a little sugar and pepper.
Smoked almond hummus
Step 1.
Place the chickpeas, and cold water into a food processor. Blend until very smooth and add the tahini and lemon juice. Blend until its comes together and taste for seasoning.
Step 2.
Fold in the chopped smoked almonds.
Middle Eastern baked eggs
Step 1.
Place the sauce in a tagine or paella pan or a normal frypan.
Step 2.
Heat the sauce up and carefully crack 8 eggs into the sauce.
Step 3.
Turn to a medium heat and cook for 5-8 minutes or until the whites have just set and yolks are runny.
To serve
Step 1.
Place 2 eggs and some sauce onto a plate, top it with a spoonful of the smoked almond hummus and scatter some mint, coriander and finely sliced preserved lemon around the plate.
Step 2.
Serve with the warmed flatbreads.
Recipe by Scott Bridger, Electrolux Ambassador, Executive Chef of Bib and Tucker and May Street Larder, Perth, WA
View COOKTOP RANGE