Mother's Day Breakfast 2021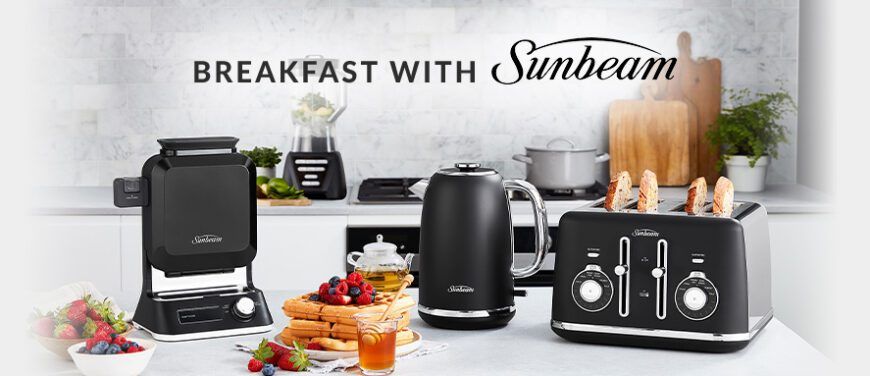 Gift mum the best of both worlds this Mother's Day. Treat her to a delicious breakfast spread that you've whipped up with Sunbeam's Black Classics range. Once the festivities of the day are over, she'll love the fact that she can keep the range of stylish, functional, and pleasing small appliances in her kitchen!
Fresh Coffee Aroma
Brew mum a cup of freshly made coffee with Sunbeam's range of coffee machines. Compact in size yet big on power, Sunbeam's Black Classics espresso machines are easy to use and lets you confidently create the perfect cup of coffee.
Small yet jam-packed full of power, the Mini Barista Espresso Machine features a 15-bar Italian pump, café-sized 58mm group head and a steam wand to help you whip up smooth and creamy milk foam for lattes and cappuccinos. With a 2-cup capacity, you can make coffee for mum and yourself simultaneously.
Grind fresh coffee beans and craft mum's favourite cup in one unit with Sunbeam's Barista Max Espresso Machine. Select from 30 grind settings on the Tap & Go™ integrated grinder while the Temp° IQ Shot Control™ provides optimum temperatures for maximum flavour. With the café-sized 58mm group head and full-sized steam wand, top up mum's cup with hot and frothy milk just like a barista would.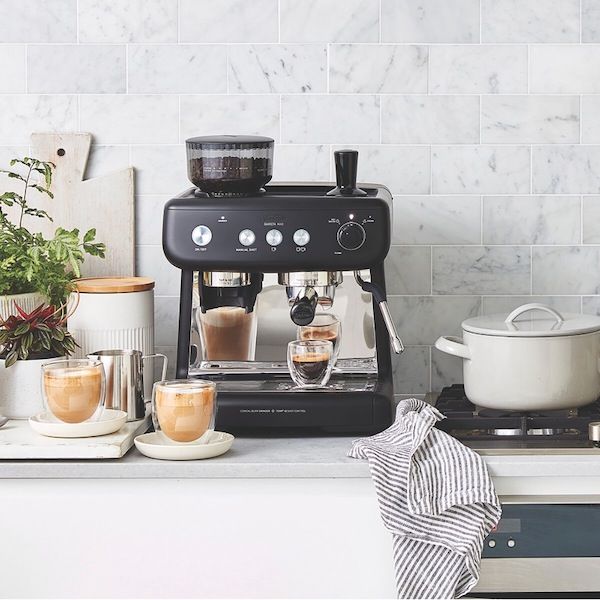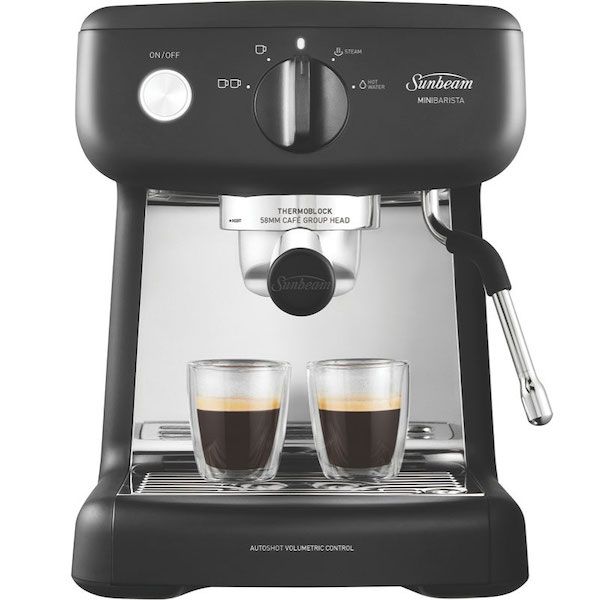 Traditional Favourites: Tea & Toast
Stylish by design and practical by nature, the Alinea 1.7L Kettle and Alinea 4-Slice Toaster
are a pair made in heaven. Toast her favourite bread using the 4-slice toaster with 9 browning settings to choose from. The handy QuickCheck™ function ensures you can toast, check, and avoid burning the toast. Quickly and powerfully boil water for tea and coffee with the Alinea 1.7L Kettle. The kettle's Fast Boil function ensures speedy results to effortlessly fill 7 cups of tea. In a chalky matte design with chrome accents, the Alinea Kettle and Toaster will be a much-loved pair.
Craft Something New
Blend smoothies and even delight mum with a smoothie bowl for breakfast this Mother's Day! Easily blend with the Two-Way Blender and enjoy smooth results fast thanks to the 1100W motor and two-way blade system. Create more smoothie magic in one go with the large 2L BPA-free jug.
Why not mix it up with some baked goodies with help from Sunbeam's The Master One Mixmaster. Boasting full 360° bowl coverage, 8 variable speed settings, a large 5L bowl and a range of attachments; mixing, whipping and evening kneading dough will be a breeze! The mixer comes with dishwasher safe attachments including a Beater, Scraper Beater, Dough Hook and Whisk to help you manage any task.
Save the best for last this Mother's Day with the ingenious Shade Select Vertical Waffle Maker. This space-saving waffle maker lets you create up to 2 waffles, mess-free with a 5-shade selector that enables customisation, so you can make light and fluffy or dark and crispy waffles. The included measuring cup delivers the right amount of batter every time while non-stick cooking plates means fuss-free cooking. There's so much to love about this functional and compact waffle maker.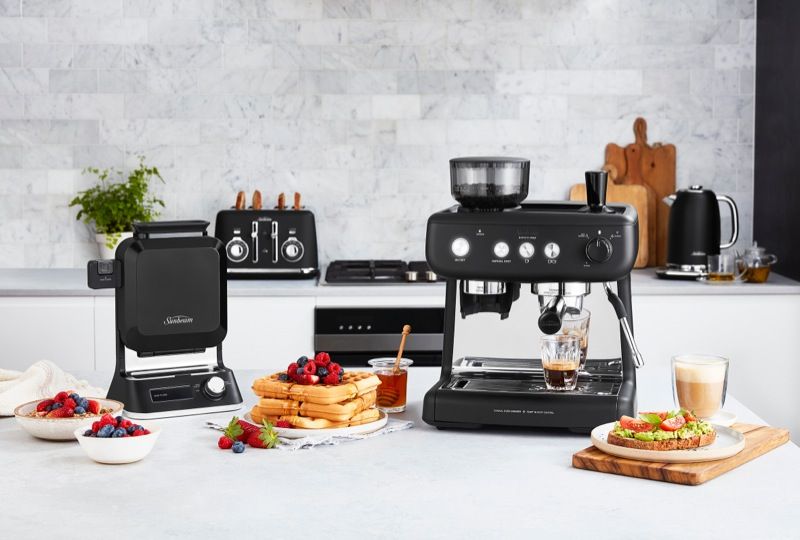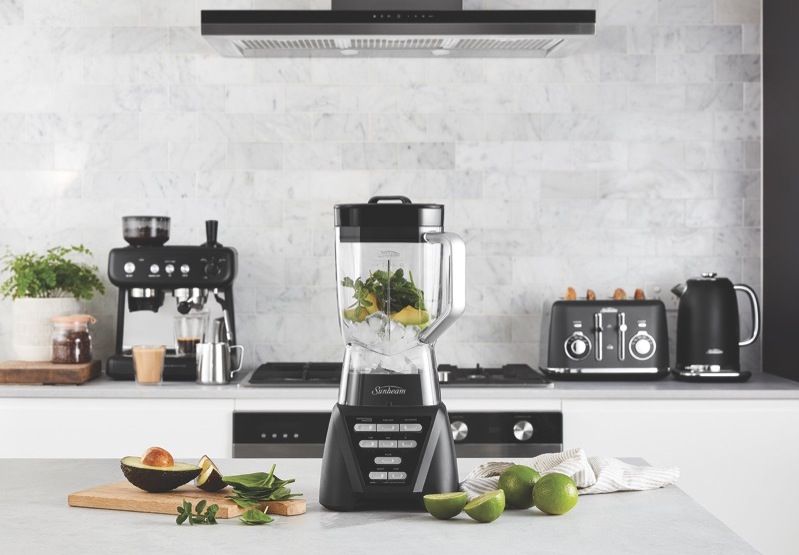 Ready, Set, Cook!
Be prepared for the big day and choose your favourites from a selection of recipes that's can be made with Sunbeam's Black Classics range.
Ricotta & Berry Toast
Serves: 4
Prep Time: 5 minutes
Ingredients:
100g fresh ricotta
1 tablespoon honey
8 slices fruit bread, toasted
250g strawberries, washed, hulled, sliced
Icing sugar, optional
Method:
In a small bowl combine ricotta and honey. Stir.
Spread evenly over the toasted bread. Top with berries and a sprinkling of icing sugar.
---
Basic Savoury Waffles
Serves: 2
Prep Time: 2 minutes
Cook Time: 4.40 minutes
Ingredients:
1 cup plain flour
1 tsp baking powder
1 egg
1 cup milk
1 ½ tbsp unsalted butter, melted
¼ tsp sea salt
Freshly cracked black pepper
Method:
Preheat Sunbeam waffle maker.
In a large bowl, sift together flour, baking powder, salt and pepper.
In a jug, whisk together egg and milk, add to flour mix and whisk until combined, do not over mix. Stir in melted butter.
Fill the cup measure full of batter and carefully pour into the top of the machine.
Serve immediately with your favourite topping.
Topping ideas:
Feta and spinach
Fresh herbs finely chopped through the batter
Maple syrup and bacon
Eggs, salsa verde and baby rocket
Sour cream, smoked salmon, poached eggs and dill
Crispy fried chicken, sriracha and mayonnaise
Rare roast beef, horseradish and mixed leaves
---
Corn Fritters
Makes: approximately 8
Prep Time: 10 minutes
Cooking Time: 10 minutes
Ingredients:
500g frozen corn kernels, defrosted
2 eggs
1 red chilli, finely chopped
1 red onion, finely chopped
¾ cup plain flour
2 tablespoons freshly chopped coriander leaves
1 teaspoon baking soda
Salt and freshly ground black pepper, to taste
Butter, for cooking
Method:
Place all ingredients in the Stainless Steel Mixing Bowl. Using the scraper beater on low speed (1-4) mix until just incorporated. Season to taste with salt and pepper.
Melt butter in a large frypan over medium heat. Add ¼ cup of batter to pan and cook for 2 minutes on each side or until cooked. Repeat with remaining mixture. Serve hot.
---
Coffee and Banana Thickshake
Serves: 2-3. Makes approximately 750mls
Ingredients:
1 ripe banana, peeled, chopped
30mls espresso, cold
250mls (1 cup) milk
2 scoops (90g) vanilla ice cream
4 ice cubes
Method:
Place ingredients into blender jug. Place the lid securely onto the jug.
Press SMOOTHIE button. When the cycle is complete, the motor will stop. Remove the lid and pour into serving glasses.
Tip: If you don't have access to a coffee machine, use 2 teaspoons instant coffee dissolved in 1 ½ tablespoons boiling water. Refrigerate until cold.
---
Berry Healthy Smoothie
Serves: 1
Ingredients:
½ cup rose infused water
¼ cup frozen strawberries
¼ cup frozen raspberries
¼ cup frozen blackberries
¼ cup frozen blueberries
2 tbsp acai powder or ⅓ cup frozen acai
2 tbsp agave
Method:
Add all the ingredients in the order listed in the blender. Secure the lid ensuring the dots are aligned.
Blend for at least one cycle (30 seconds) or until the desired consistency is reached.
Make Mother's Day 2021 one to remember! Whether your level of cooking is beginner-style or you're more experienced in the kitchen, make mum a breakfast she'll love. From trusty topped toasts with her favourite cup of coffee to something more unique like waffles and a smoothie, Sunbeam's Black Classics range of small appliances will please! For more inspiration this Mother's Day, check out our Mother's Day gift guide below.
VIEW OUR GIFT GUIDE