Powerful Processing with KitchenAid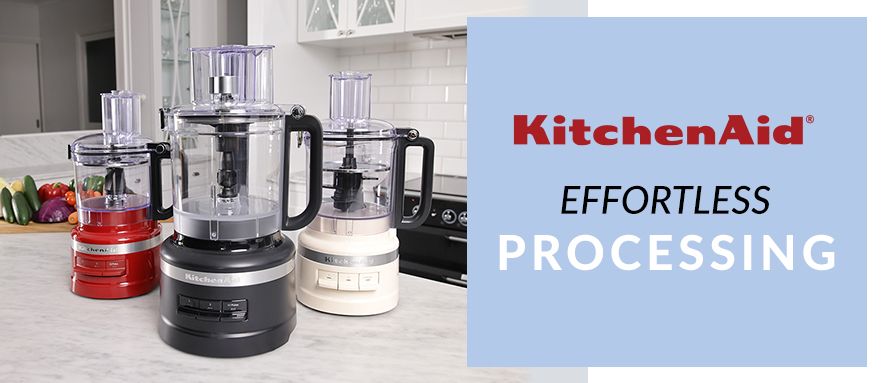 Max out your efforts in the kitchen with this large 13-Cup Food Processor from KitchenAid. This food processor boasts an enormous 13-cup capacity that's perfect for home cooks, entertainers and large families. Aside from its impressive capacity, this hard-working food processor delivers on functionality too.
Processing Power
Featuring 400W power with up to 2000 rotations per minute (rpm), enjoy strong horsepower for processing ingredients alongside other functions such as slicing, dicing and kneading. With three speeds to choose from, getting through any task is easy.
Variety of Uses
This 13-Cup Food Processor boasts a range of functions like Chop, Shred, Precision Slice, Dice, Knead and Mix. Whether you're chopping vegetables, dicing fruit, mixing cake mix or kneading bread dough, the opportunities are endless with this food processor!
A range of included attachments can get any job done:
Multi-Purpose Blade
Dough Blade
Reversible Fine & Medium Shredding Disc
External Adjustable Slicing Knob & Slicing Disc
Dicing Kit & Dicing Kit Clean Out Tool
Sliced To Perfection
Not only can KitchenAid's 13-Cup Food Processor slice your ingredients, it can do so with incredible precision thanks to the external Exact Slice™ knob. The Exact Slice™ knob lets you adjust slicing thickness (between 1-6mm) with a simple twist of the knob.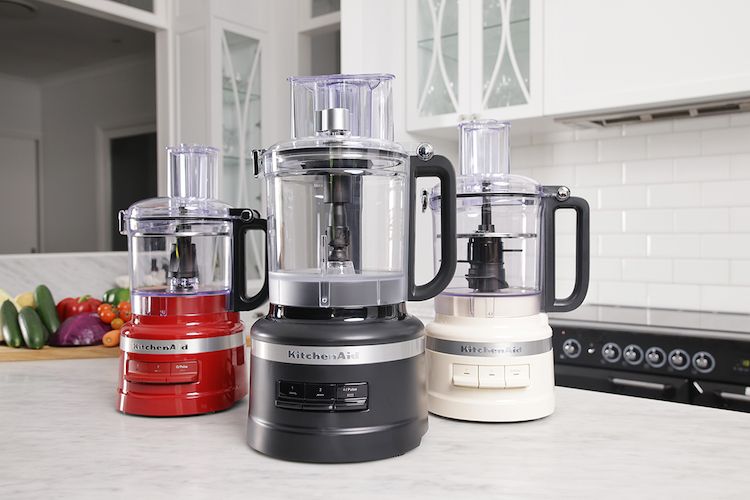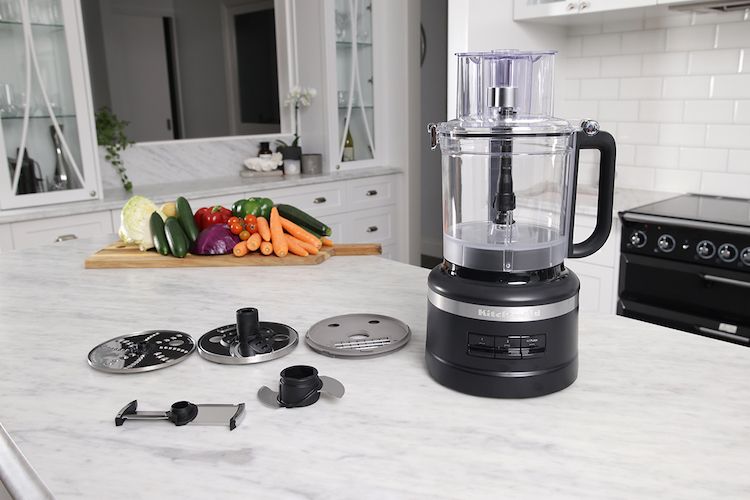 Effortless Cleaning
Cleaning up after use of the 13-Cup Food Processor is simple – just add some warm water, a few drops of dish soap detergent and power on to easily clean the processing bowl and blades.
Convenient Storage
Prepare your ingredients now and use them later. This KitchenAid 13-Cup Food Processor boasts  a storage lid that is great for use when you need to store your ingredients in the refrigerator. Whether you're slicing cucumbers or grating carrots for a salad, save time for your future self as you store them in the fridge, ready to use when you are.
Once done, neatly store all the attachments in the storage caddy which fits snug in the body of the working bowl.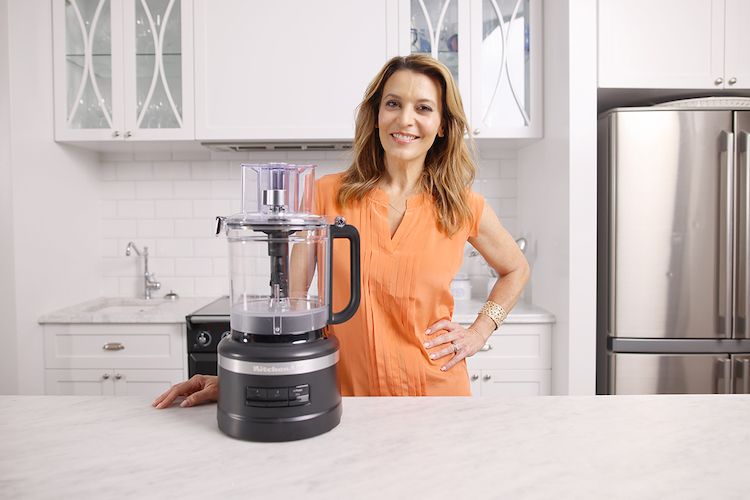 Matching Pair
This 13-Cup Food Processor is available in 5 colours: Almond Cream, Black Matte, Contour Silver, Empire Red and Onyx Black. It's also available in 9-Cup and 7-Cup capacity to suit your lifestyle, needs and space.
These KitchenAid Food Processors can be matched with KitchenAid's signature 4.8L which are available in 16 different colours and can be personalised.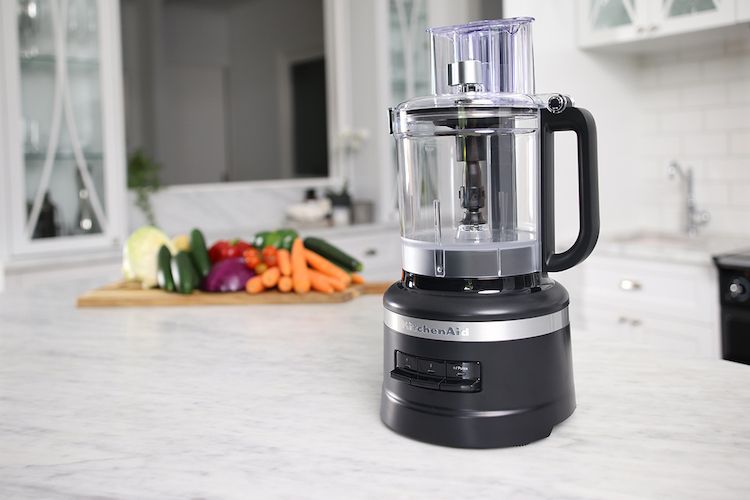 Try It Out
Give the food processor a test-run with these easy, family-friendly recipes.
Pesto & Potato Salad
Serves 6
Ingredients:
1/2 medium red onion, peeled
750g small waxy potatoes (such as small Coliban, Chats or Kipfler)
4 sticks celery, strings removed
1 tps salt
Dressing
80g (about 1 ½ cups) rocket leaves
1/4 cup toasted pine nuts
finely grated rind and juice 1 lemon
50g fresh parmesan cheese, roughly chopped
2 tbsp olive oil
1/2 tsp salt flakes
Method:
Attach the work bowl to the food processor with the adjustable slicing blade. Using the thin setting, slice the onion on speed 1.
Adjust slice setting to medium thickness and slice the celery. Remove the onion and celery, set aside.
Adjust setting to thick, slice potatoes on speed 1.
Place the potatoes into a medium sized saucepan, cover with enough cold water to just cover and season with the salt. Bring to the boil and simmer for 8-10 minutes or until just tender. Drain the potatoes and set aside.
For the pesto dressing
Fit the food processor with the mini bowl and mini blade. Add half of the rocket, then the parmesan, pine nuts, olive oil, lemon rind, juice and salt. Select speed 2 and process until creamy yet slightly course in texture.
Roughly tear the remaining rocket into smaller pieces. Combine the potatoes, onion, celery and torn rocket. Pour over the dressing and gently toss. Refrigerate the pesto dressing until ready to serve.
Tips
Waxy potatoes have a better texture for salads, as they won't fall apart in the dressing.
Use basil or baby spinach in place of the rocket, or a combination of half and half is also delicious.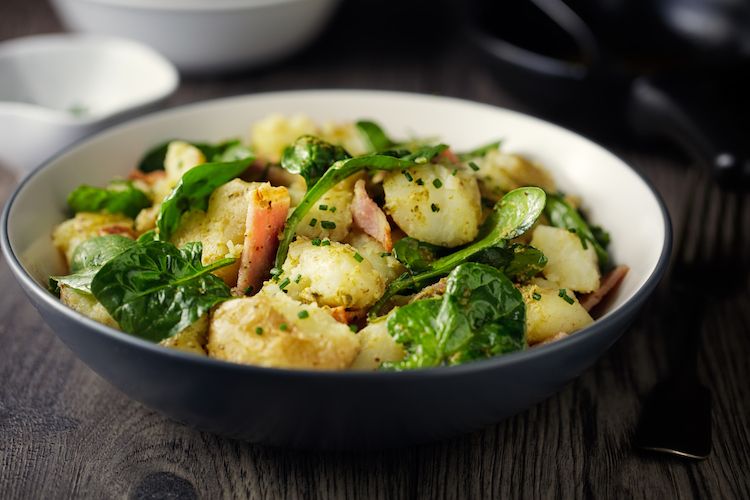 Yummy Dark Caramel Sticky Slice
Makes 16 Squares
Ingredients
Base
½ cup (75g) plain flour
½ cup (75g) self-raising flour
½ cup (50g) desiccated coconut
½ cup (125g) caster sugar
125g unsalted butter, melted and cooled
Filling
395g can condensed milk
3 tbs golden syrup
2/3 cup (100g) brown sugar
50g unsalted butter
Chocolate Topping
300g dark chocolate melts
20g copha
Method:
Preheat the oven to 180°C (160°C fan forced). Line a square cake pan with baking paper on the base and sides (allowing the paper to come up and over the sides – this will act like handles and will help you remove the slice from the pan).
Fit the food processor with the work bowl and multipurpose blade. Select speed 1. Add the flours, coconut and sugar, process until just combined.  With the motor running, add the butter and mix until the dough just forms a ball. Don't over process.  Remove the dough and press with your fingertips into the base of the pan. Bake for 10 minutes. Remove from oven and set aside to cool.
For the filling: Place ingredients into a medium heavy based saucepan. Cook over a low heat stirring with a wooden spoon 5 minutes (make sure you stir constantly or the mixture will burn). Pour over the base. Put back into the oven and bake 25 minutes. Carefully remove from the oven and set aside on a rack to cool. Do not remove from the pan.
Put the chocolate melts and copha into a medium sized glass heat proof or plastic microwave proof bowl. Place in the microwave and cook on medium power for 2 minutes. Stir until smooth and glossy. Pour over the slice and refrigerate until set. Using the paper as handles remove from the pan and cut into squares.