Pulled Pork Burgers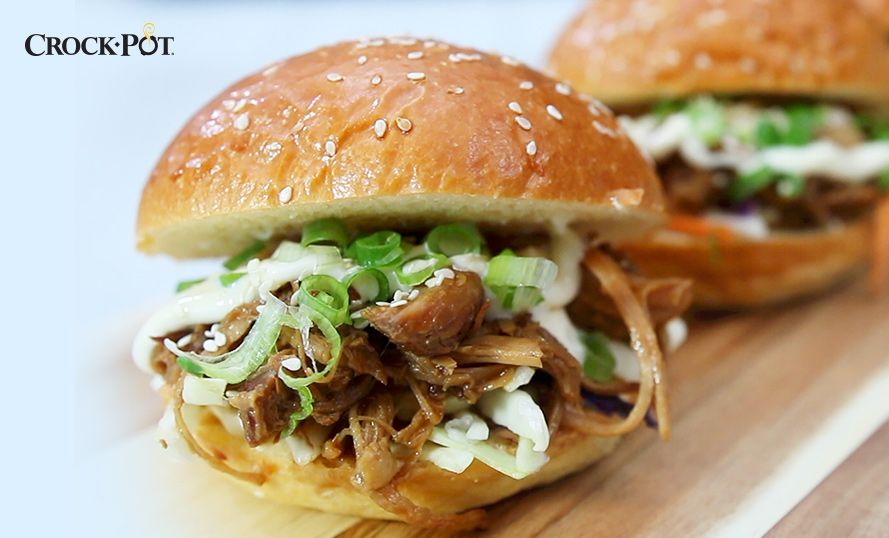 INGREDIENTS
1 cup hoisin sauce
1 tbsp honey
2 tbsp soy sauce
1 tbsp sesame oil
2 tsp minced garlic
1 tsp minced ginger
½ cup water
1kg pork shoulder, rind removed
200g bag coleslaw mix
4 brioche burger buns, toasted
8 green onions, finely sliced
Mayonnaise, to serve
Sesame seeds, for sprinkling
Cooking Time: 8 Hours
Serves: 4
METHOD
Step 1.
Pour hoisin sauce, honey, soy sauce, sesame oil, garlic, ginger and water into crock and whisk to combine. Add pork shoulder and turn several times in the mixture to coat pork with sauce.
Step 2.
Cook on LOW heat for 8-12 hours. When cook time has elapsed, remove pork from crock and shred using two forks. Return shredded pork to the sauce in the crock.
Step 3.
To assemble burgers, place coleslaw on brioche burgers and top with pulled pork. Drizzle with mayonnaise and sprinkle with sesame seeds and green onions.
Recipe by Crock-Pot®
View SLOW COOKER RANGE