Pumpkin Hummus With Yoghurt Flatbread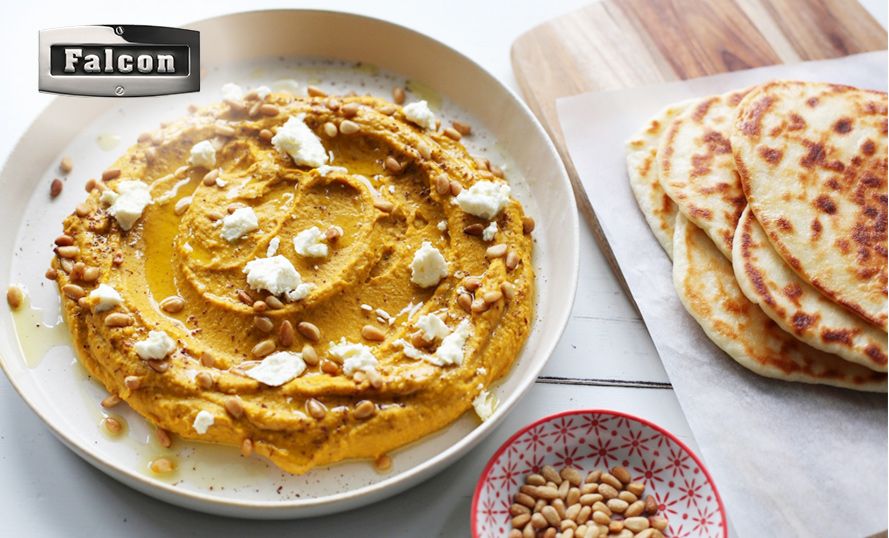 When you're feeling a little peckish, this is the perfect dish to see you through until dinner! Say goodbye to the store-bought stuff — making it yourself is so easy and will be far tastier than just about anything from the deli section.
INGREDIENTS
600 gm butternut pumpkin, peeled and cubed
4 garlic cloves, skin on
¼ cup olive oil, divided
400gm can chickpeas, drained and rinsed
1 tbsp tahini
Juice of 1 lemon
1 tsp ground cumin
¼ cup pine nuts, toasted
50 gm Persian feta
Sumac for sprinkling
Sea salt and freshly ground black pepper
Yoghurt Flatbreads
250gm plain flour
2 teaspoons baking powder
200gm thick natural yoghurt
1 tsp sea salt
2 tablespoons olive oil, plus extra for frying
METHOD
Step 1.
Preheat oven to 180°C Fan Assisted function.
Step 2.
Place the pumpkin and garlic on a large baking tray and coat with 1 tbsp olive oil, season with salt and pepper and cook on the middle shelf for 25 minutes or until golden and tender, remove the skins from garlic and discard. Add the pumpkin and roasted garlic to a blender along with the chickpeas, tahini, lemon juice, cumin and remaining olive oil and blend until smooth. Season with salt and pepper and transfer to your serving dish, crumble feta on top, sprinkle with pine nuts and sumac and finish with a drizzle of extra virgin olive oil. Serve with warm yoghurt flatbreads, recipe below.
YOGHURT FLATBREADS
Step 1.
Combine all ingredients into your mixer with the dough hook attached. Mix until dough is smooth and coming away from the sides. Cut your dough into 8 even balls and set aside to rest for 10 minutes. Roll out dough balls between two pieces of baking paper to about 3mm thick. Repeat this process with all the balls of dough.
Step 2.
Heat the teppanyaki plate to high and brush with a small amount of olive oil. Cook flatbreads in batches, turning once, until puffy and golden (about 2 minutes each side).
Recipe by Falcon
View COOKER RANGE