Quick & Easy Chicken Skewers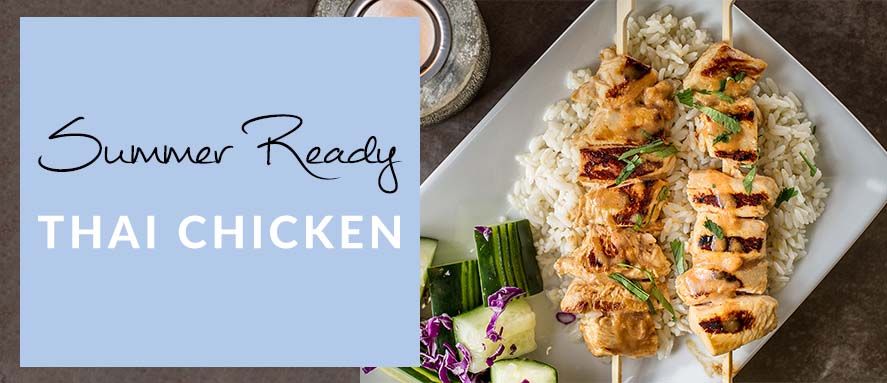 You don't need a backyard or a BBQ to enjoy delicious grilled creations. From your kitchen benchtop or dining table, you can easily and quickly grill your favourite meats, experiment with seafood and even increase your vitamin intake by grilling vegetables.
A compact and versatile grill, George Foreman's Fit Gill Large is the perfect appliance, no matter your space. This non-stick grill has a spacious surface to feed the whole family, heats up in minutes and boasts a clip-in drip tray to collect excess fat and oil. Give home grilling a try today with the below Thai Chicken Skewers recipe.
Thai Chicken Skewers
Serves 8
Prep Time: 10 Mins
Cook Time: 15 Mins
Ingredients:
2 Tbsp. fresh cilantro, minced
8x (8″) wooden skewers
2x large garlic cloves, minced
1 tsp. fresh ginger, grated
¼ cup low sodium soy sauce
2 Tbsp. fresh lime juice
4 boneless, skinless chicken breasts
2 Tbsp. fresh cilantro, chopped
Method:
Soak wooden skewers in water in a 9-inch pie plate for at least 20 minutes. In a re-sealable plastic bag, combine the cilantro, garlic, ginger, soy sauce and lime juice.
Cut the chicken into 1-inch cubes and add to the marinade. Seal bag and shake to coat the chicken. Refrigerate 2 hours or overnight (Refrigeration time not included in Prep Time).
Remove chicken from marinade and discard. Thread the chicken onto the skewers.
Place the skewers on the preheated George Foreman grill horizontally and cook for 4 minutes or until meat is cooked through.
Arrange the chicken skewers on a platter, sprinkle with chopped cilantro. Serve with Thai Peanut Sauce.
Note: Great served either on a bed of rice or vegetables and amazing stand-alone too!
Recipe was modified, supplied by George Foreman