Rice Pudding With Burnt Caramel Peaches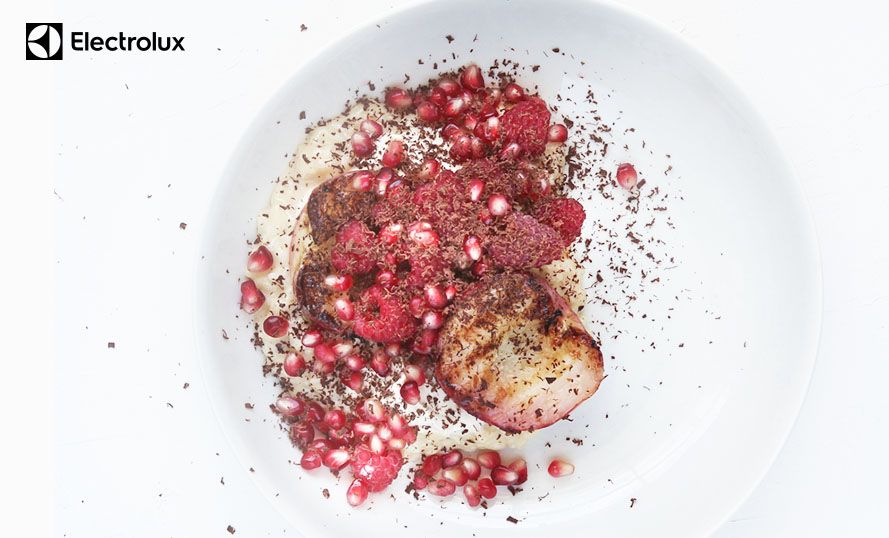 INGREDIENTS
1 cup arborio rice
50g butter
1 cup milk or nut milk ½ cup cream
1 tbs sugar, plus extra
2 tsp vanilla extract or scraped seeds and pod from 1 vanilla pod
3 tbs sour cream
4 peaches, halved, seed discarded
250g fresh raspberries
Seeds from 1 pomegranate
50g dark 70% cocoa chocolate
Serves 4
PLATING SUGGESTIONS
Keep a dish light in appearance by not filling up the entire plate with food. Some chefs place the food only on one side of the plate, while others use a small place in the centre.
Even something which typically looks very rich and indulgent, such as rice pudding with vanilla sour cream, grilled caramelised peaches and chocolate, can be made to look light if it doesn't fill the plate.
Using lots of bright colours and fresh flavours also lightens the dish and its appearance, and pomegranate works well for meat dishes as well as dessert.
METHOD
Step 1.
For the rice pudding, combine rice and butter in a medium heavy-based saucepan and stir until butter has melted and rice is translucent.
Step 2.
Add milk, cream, sugar and 1 teaspoon vanilla (with pod if using), stir, then cover with a lid and let simmer 20 minutes, stirring every 5 minutes.
Step 3.
Remove from heat and let sit 10 minutes with lid on. If rice is still crunchy at the end of cooking, add 2 tablespoons liquid and cook a little longer with lid on. Set aside.
Step 4.
For the peaches, heat a grill pan to high, sprinkle cut side of peaches with a little sugar and grill cut side down for 3 minutes, until caramelised. Set aside.
Step 5.
Add remaining vanilla (pod discarded, if using) to sour cream and combine with a fork. Spoon rice pudding onto individual plates or shallow bowls and top with sour cream mixture.
Step 6.
Add two peach halves to each plate, and sprinkle over raspberries and pomegranate. Grate over chocolate using a microplane or zester and serve.
Recipe by Kate Gibbs, Electrolux Ambassador, Food Writer and Cook
View COOKTOP RANGE