Roast Carrot Salad With Tahini Yoghurt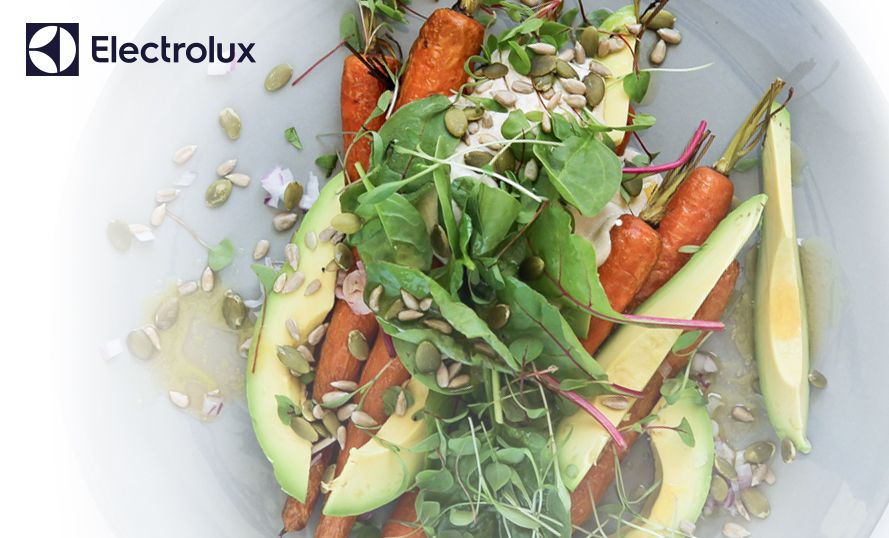 INGREDIENTS
500g small carrots, stalks intact
¼ cup extra virgin olive oil
1 French eschallot, finely chopped
1 avocado, peeled and cut into thin wedges
1/3 cup natural Greek yoghurt
1 ½ tbs unhulled tahini
2 cups baby leaves such as beetroot, spinach, sorrel, rocket
3 tbs mixed seeds such as pepitas, toasted buckinis and sunflower seeds
1 tbs apple cider vinegar
Serves 4 as a side or 2 as a main
We love using lots of vegetables, and they look amazing on the plate when they're all cut in similar shapes and sizes. Think beetroot, avocado or parsnip cut into wedges, carrots all plated in the same direction; it's a pleasing sight. Dolloping over yoghurt spiked with unhulled nutritious tahini is a healthy and beautiful way to go, and chefs love scattering over nuts and baby herbs to add more texture and interest to the plate. The bonus? They taste great.
METHOD
Step 1.
Preheat oven to 200C and place carrots on a baking tray. Season with 2 tablespoons olive oil and season with salt and pepper. Roast 20 minutes, turning after 10 minutes to ensure even roasting, until cooked with a bite in the middle. Place carrots on a serving plate. Sprinkle over eschallot and add avocado.
Step 2.
In a small bowl, combine yoghurt and tahini and season with salt and pepper to taste. Dollop over carrots. Scatter over baby leaves and mixed seeds.
Step 3.
To make dressing, combine apple cider vinegar and olive oil in a jar with a pinch sea salt and pepper and shake well, or use a fork to whisk in a small bowl. Drizzle over salad to serve.
Recipe by Kate Gibbs, Electrolux Ambassador
View OVEN RANGE