Sausage Rolls with Sunbeam's Multi Function Oven & Air Fryer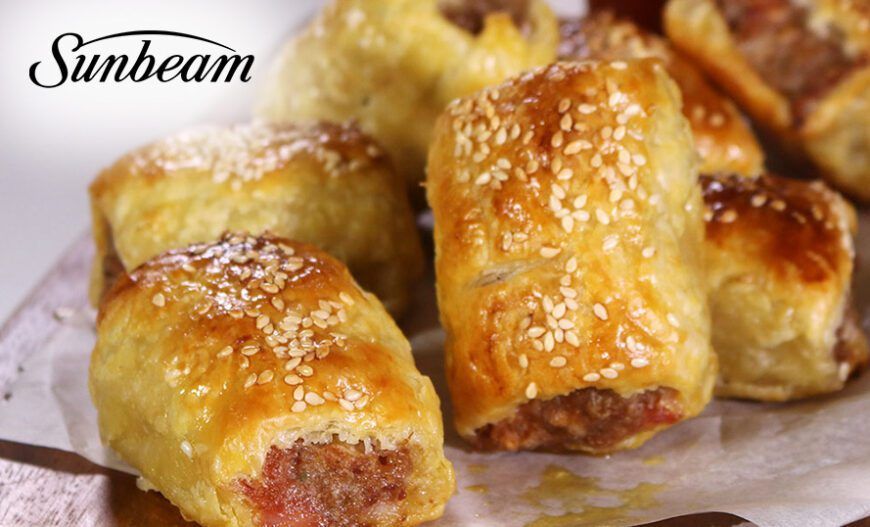 INGREDIENTS
1 Tbs olive oil
60g bacon, finely diced
½ brown onion, finely chopped
1 clove garlic, finely grated
350g sausage meat
¼ cup panko breadcrumbs
1 egg
1 Tbs parsley, chopped
salt and freshly cracked pepper
1 sheet puff pastry, thawed, cut in half
1 egg, lightly whisked
2 tsp sesame seeds
Serve with tomato sauce
METHOD
Step 1.
Set oven temperature to 200c on the Sunbeam Multi Function Oven + Air Fryer and select the bake function. Line bake tray with baking paper.
Step 2.
Over medium heat, heat oil in a non-stick fry pan. Sauté bacon, onion, garlic, and cook for 3 minutes, remove and set aside in a bowl.
Step 3.
Add sausage meat, breadcrumbs, egg and parsley to the bacon mix and season with salt and pepper.
Step 4.
Brush egg along the sides of pastry.
Step 5.
Divide the meat filling along each side of the pastry in a log shape. Ensure the meat is tight and compact, without gaps. Envelope the sausage mince with the pastry, finishing with the seam side down.
Step 6.
Refrigerate for 1/2 an hour. Cut each log into eight equal lengths. Brush with egg. Sprinkle with sesame seeds
Step 7.
Place on baking tray. Set time for 20 minutes and bake.
Step 8.
Serve with tomato sauce.
Serves 8
View The Sunbeam Range