Seriously Decadent Bomboloni with Nutella and Hazelnut Sugar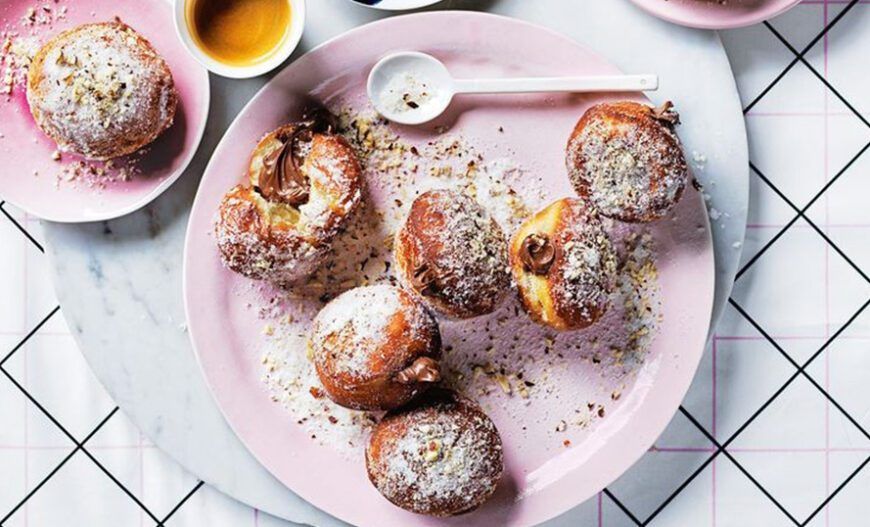 INGREDIENTS
7g sachet dried instant yeast
200ml lukewarm milk
2 1/3 cups (350g) plain flour
2/3 cup (150g) caster sugar
2 egg yolks, lightly beaten
50g unsalted butter, softened, chopped
Sunflower oil, to deep-fry
1/2 cup (165g) Nutella
1/3 cup (50g) hazelnuts, finely chopped
METHOD
Step 1.
Combine the yeast and milk in a jug and set aside in a warm place for 10 minutes or until frothy.
Step 2.
Sift flour and half the sugar in a stand mixer fitted with the dough hook. Make a well in the centre, add milk mixture and egg yolks, then knead for 5 minutes or until smooth and sticky.
Step 3.
With the motor running, add butter, 1 piece at a time, kneading well after each addition
Step 4.
Knead for 10 minutes or until butter is completely incorporated. Transfer to a greased bowl, cover and set aside in a warm place for 2 hours or until doubled in size.
Step 5.
Turn out dough onto a lightly floured work surface and shape into a 2.5cm-thick rectangle. Using a 7cm pastry cutter, cut out 9 rounds, re-rolling dough if necessary.
Step 6.
Transfer to a tray, cover with a clean tea towel and set aside in a warm place for a further 30 minutes or until slightly risen.
Step 7.
Half- fill a deep-fryer or large saucepan with sun flower oil and heat to 160°C (a cube of bread will turn golden in 45 seconds when oil is hot enough).
Step 8.
In batches, fry doughnuts, turning, for 5 minutes or until golden and cooked through. Remove with a slotted spoon and drain on paper towel. Repeat with remaining doughnuts.
Step 9.
While still hot, using the tip of a small, sharp knife, pierce a hole in the bottom of each doughnut. Place Nutella in a piping bag fitted with a plain nozzle, then use to fill doughnuts.
Step 10.
Combine hazelnuts and remaining 1/3 cup (75g) sugar on a tray. Roll doughnuts in hazelnut sugar to coat, then serve immediately.
Serves 9