Spring Flavours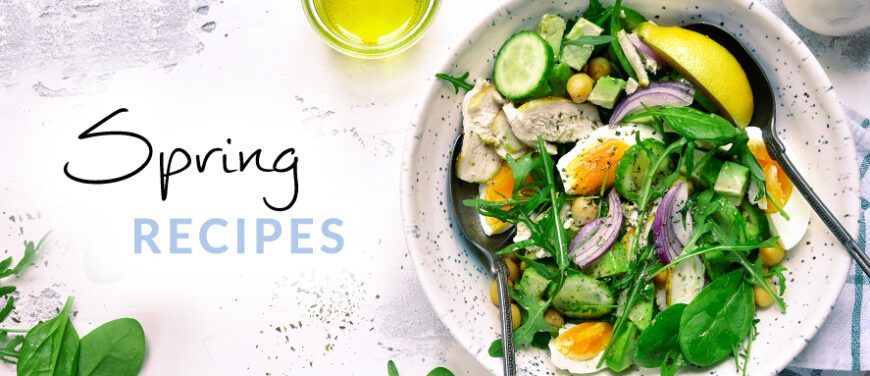 Welcome the new change of season with some fresh and vibrant spring-inspired recipes. Say goodbye to heavy soups, stews and curries and replace them with these easy and flavourful dishes that are so easy to make (and enjoy with the whole family)!
Cod with a Pine Nut Tapenade Crust
Preparation Time: 5 minutes
Cooking Time: 10 minutes
Serves 6
Ingredients:
6 cod fillets (Cut into 5cm width fillets)
50g pine nuts
150g black olives (pitted)
1 garlic
2 anchovy in oil
1½ tsp capers
50g olive oil
1/3 tbsp parsley
1 tbsp oregano
Seasoning to taste
Method:
For the tapenade:
Place the pine nuts under a hot grill.
Gently roast the nuts until they are golden in colour.
Attach the knife blade to the food processor
Add all of the tapenade ingredients into the food processor bowl and process for 10 seconds on speed 1.
For the fish:
Pat the skin of the cod dry.
Using a sharp knife make three cuts in the skin.
Turn the fish over spread some of the tapenade onto the flesh.
Heat a little oil in a frying pan and heat until very hot
Add the cod skin side down.
Cook for 2 minutes before transferring to a pre-heated oven for 10 minutes.
Chef's tip: Cutting the skin will help stop the fish from shrinking when being cooked. The thicker the fillet's width the longer it will take to cook. To test whether the fish is cooked gently press the fillet with your finger and if it doesn't bounce back up then it is cooked.
Recipe: supplied by Kenwood and uses the Multi Pro Sense Food Processor.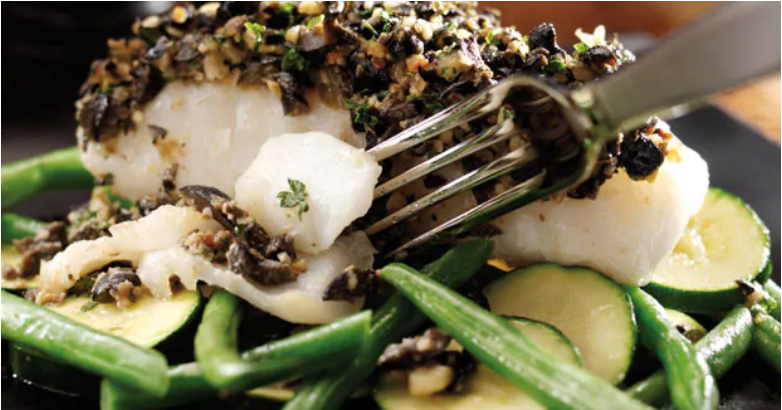 ---
Apple, Fennel and Red Cabbage Salad
Cooking Time: 10 minutes
Serves 8
Ingredients:
1 red apple, quartered
1 small fennel, trimmed
¼ small red cabbage
3 stalks celery
1 bunch radishes, trimmed
½ red onion
¼ cup lemon seeded mustard mayonnaise (see recipe)
2 tablespoons olive oil
Salt and ground black pepper, to taste
Method:
Attach the Slicer Grater Blade to your PrepStar; slice apple, fennel, red cabbage, celery stalks, radishes and red onion on Speed 2.
Transfer salad ingredients to a serving bowl and mix together.
Remove the Slicer Grater Blade, attached the Whisk to your PrepStar, add prepared mayonnaise, oil, salt and pepper and whisk to combine.
Pour Mayonnaise dressing over salad and stir to combine.
Notes: If necessary, cut the vegetables to size so they will fit down the feed tube.
Recipe: supplied by Morphy Richards and uses the Prepstar Food Processor.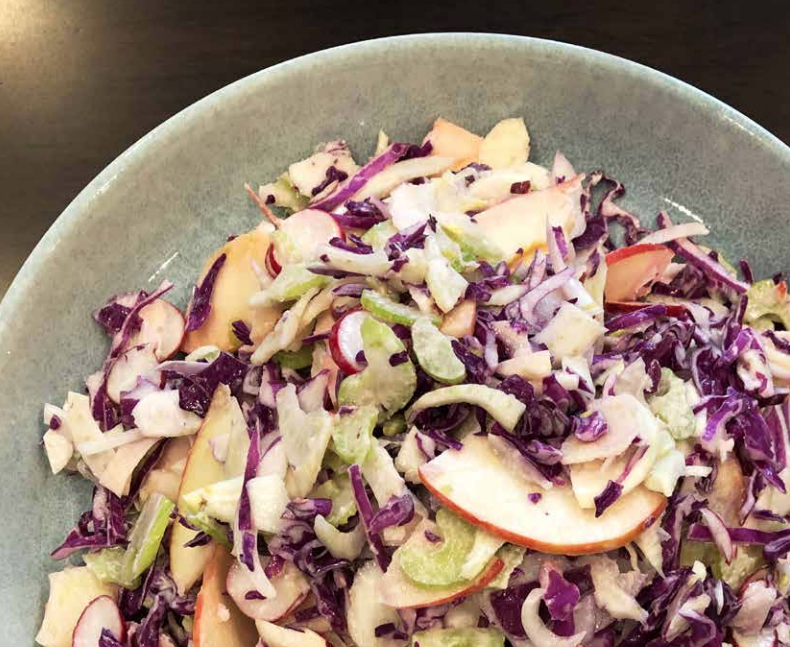 ---
Power Burger
Preparation Time: 15 minutes
Cooking Time: 6 minutes
Serves 8
Ingredients:
¼ cup finely chopped vegetables (eg. spring onions, zucchini, red or green capsicum)
¼ cup grated carrot
¼ cup wholemeal breadcrumbs
1 egg
2 tbs parsley
2 sprigs of thyme, leaves only
750g lean minced beef (5-star)
1 tbs Worcestershire sauce
1 tsp ground black pepper/li>
For serving:
Wholemeal hamburger buns
80g spinach
Tomatoes
Swiss cheese
½ cup fresh basil leaves
Mustard
Method:
In a large bowl, combine all ingredients and mix well, using your hands.
Shape the mixture into eight patties, place on a plate and refrigerate for 10 minutes.
Meanwhile, preheat the grill. Arrange patties on the George Foreman® Grill and cook for 4-6 minutes, until juices run clear.
Serve on wholemeal hamburger buns with spinach, fresh tomato, Swiss cheese, basil leaves and mustard.
Makes 8 burger patties.
Note: For all recipes, please remember to place the drip tray in front of the grill to catch drippings from the cooking process.
Recipe: supplied by George Foreman and uses the Entertaining Steel Grill.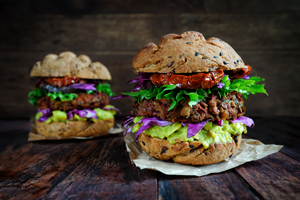 Have another recipe in mind? With our huge range of small appliances, from mixers and blenders to benchtop cooking favourites, you'll find the perfect product to help you create delicious, home-made meals.
CLICK HERE TO VIEW OUR SMALL APPLIANCES