Thai Chicken Curry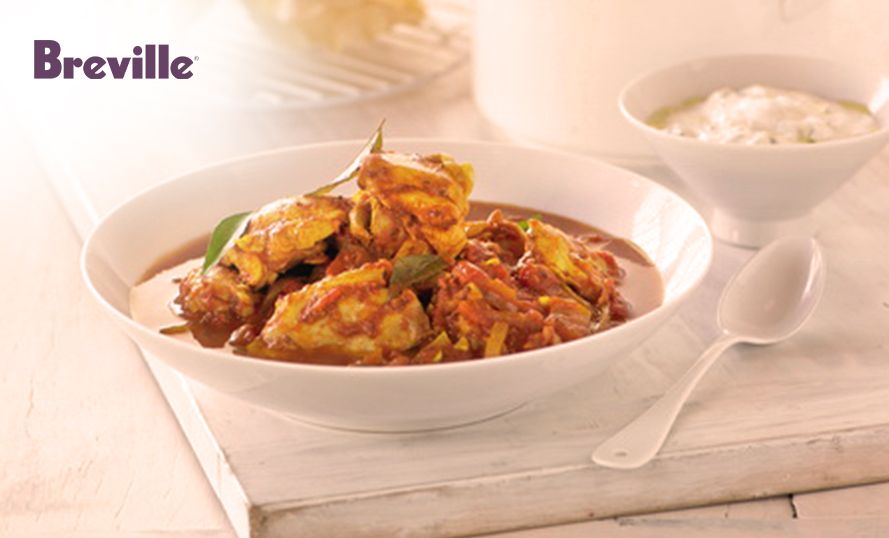 INGREDIENTS
10cm piece of lemongrass stalk (the base of the stalk)
1 tablespoon grated ginger
3 kaffir lime leaves, sliced thinly
3x10cm coriander stalks including the root, cleaned
10 coriander seeds
4 long red chillis, sliced
3 cloves garlic
1 red apple, grated
1 small red eschallot
1x1cm piece shrimp paste
5g palm sugar
1 teaspoon apple cider vinegar
1.2kg chicken marylands, skin on
2 tablespoons cornflour
350ml coconut milk
80g button mushrooms
1/2 tablespoon fish sauce
1 tablespoon soy sauce
200g green beans, top and tailed
1x 225g can bamboo shoots, drained and rinsed
1/2 bunch thai basil, rinsed
2 long red chillis, sliced
Prep time: 20mins
Cooking time: 25mins
METHOD
Step 1.
Place the ingredients into mortal and using the pestle, work the curry paste ingredients into a paste.
Step 2.
Place the chicken legs and thighs into a large bowl and toss with the cornflour, pour the curry paste over the top, add the coconut milk, button mushrooms, fish sauce and soy sauce.
Step 3.
Toss to coat the chicken and place into a minimum of 2 litre microwave sage dish with lid.
Step 4.
Put into the microwave on HIGH for 24 minutes, turning every 6 minutes.
Step 5.
In the last 5 minutes add the green beans, replace the lid and continue cooking for the final 5 minutes of cooking time.
Step 6.
When complete, stir through the bamboo shoots and let rest for 3-5 minutes, garnish with the Thai basil and red chillis.
Recipe by Breville
View Breville Range