What's Hot: Air Fryers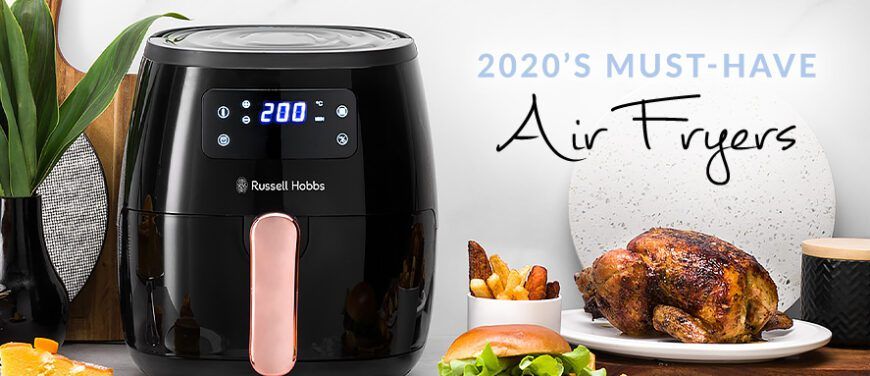 If there's one good thing to come out of 2020, it's Australia's ever-growing obsession with Air Fryers.
As more of us spend time at home, many have come up with a plethora of meals, snacks and treats that you can cook in this new, nifty cooking appliance. If you've spent time on your social media accounts, you'll know just how popular Air Fryers have become.
Here, we'll help you get a better understanding of what an air fryer is, how it works and how you can benefit from this convenient style of cooking.
What's an Air Fryer?
An Air Fryer is a benchtop cooking appliance that can 'fry' your food with minimal to almost no need for oil. Instead of deep-frying or shallow frying your food in oil, an Air Fryer will help you achieve the same crispy and delicious result without the fat, oil and guilt.
How does an Air Fryer work?
Air Fryers combine fast air flow with high temperatures to deliver heat that fry your food. Enjoy creations that have been cooked evenly inside and out as the fryer boasts advanced sensor technology which eliminates cold spots. Many air fryers will have automatic functions such as bake, grill and toast to suit your cooking needs. A large temperature range is usually available so you can control your cooking.
What can I cook in an Air Fryer?
All your usual fried treats can be cooked in an Air Fryer, these include hot chips, chicken nuggets, chicken wings and fish fingers. Beyond the typical 'fried' foods, you can cook a wide range of other dishes such as roast chicken, pizza, grilled meat, fish, sausage rolls and even bake biscuits and slices.
How do I choose the right Air Fryer?
This will ultimately depend on your cooking needs such as the cooking capacity, the amount of control you'd like, if you need automatic cooking functions and the types of accessories you might use. The conventional Air Fryer is designed upright with an insert basket that will hold and cook your food, this style is great for everyday no-fuss cooking. Alternatively, the benchtop oven with Air Fryer cooking usually comes equipped with other accessories to enhance your experience such as a baking pan, roasting pan, wire rack and removable crumb tray.
Find your perfect Air Fryer today!
An Air Fryer is a lifesaver in the kitchen. Its compact size, cooking capabilities and easy to use controls has made it an infamous kitchen appliance. If you're interested in purchasing an Air Fryer, you've come to the right place. On one site, you can view several Air Fryers, find out their features and benefits, read reviews, compare and then find them at your local retailer. You can even buy online so you don't have to leave the house. Click on the link below to get started.
CLICK HERE TO VIEW AIR FRYERS