Zucchini Noodles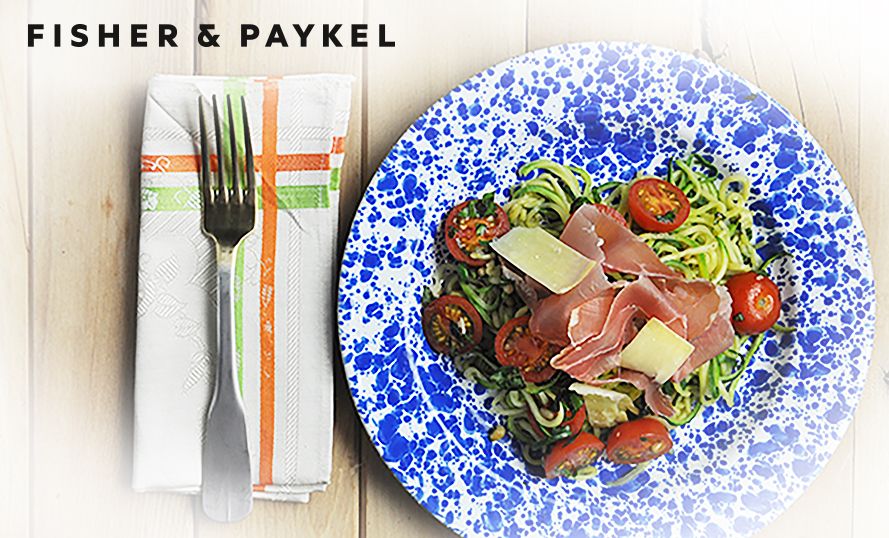 If you're after a light and tasty meal to enjoy in these hot summer months then look no further than this delicious Zucchini Noodle salad. Perfect as a side dish for lunch or dinner, or filling enough to eat on its own.
INGREDIENTS
4-5 zucchinis
200g cherry tomatoes, halved
1 cup fresh basil leaves, finely chopped
2 Tbsp pinenuts
75g prosciutto
Garlic infused olive oil
Parmesan
Salt and pepper
METHOD
Step 1.
Cut zucchini into noodles using a spiralizer, or into ribbons using a vegetable peeler. Sprinkle with salt and set aside.
Step 2.
Lightly toast pinenuts in a pan over a medium heat and then set aside. These will brown very quickly, so keep them moving in the pan and remove from the heat as soon as they start to turn golden.
Step 3.
Sauté zucchini in a pan on med-high heat with garlic infused olive oil for 2-3 minutes until just tender.
Step 4.
When zucchini is tender, remove from the heat and then mix through tomatoes, basil and pinenuts.
Step 5.
Season with salt and pepper to taste, drizzle with garlic infused olive oil, and top with generous amounts of prosciutto and parmesan
Recipe by Fisher & Paykel
View cooktop RANGE