2021 Games Viewing Treats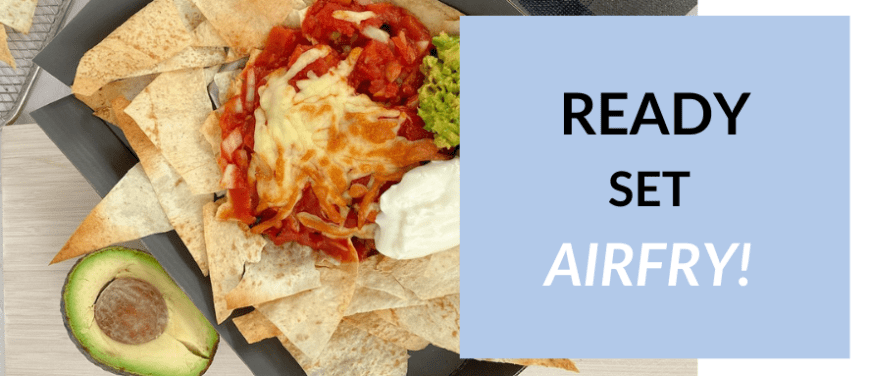 The 2021 Games are finally here! Whether you're diving deep and watching all the swimming or getting absorbed in the athletics, fuel your viewing with some home-made snacks.
Spend more time watching the action rather than standing by the stove with these genius air fryer snacks! Just prepare, set and cook, and your treats will be ready in a matter of minutes.
Savoury Snacks
Chunky Eggplant Fries
Serves 4 (as a side)
Prep time: 15 minutes
Cook time: 15 minutes
Ingredients:
1 medium (350g) eggplant
2 medium eggs
1 cup panko breadcrumbs
2/3 cup plain all purpose flour
Salt flakes and ground pepper, to taste
Method:
Trim the top off the eggplant and discard. Slice the eggplant lengthways into 1.5cm thick slices. Cut each slice into 1.5cm batons, then cut each of these batons in half across the middle. You should have around 36 pieces, each around 6cm long.
Place the eggs, breadcrumbs and flour in three separate bowls. Whisk the eggs with a tablespoon of water and season the flour with salt and pepper.
Dip each eggplant piece in egg, then dredge in flour to coat well. Dip in egg once more, then coat evenly in breadcrumbs. Repeat with all the eggplant chips.
Transfer to the air fry rack and slide into the middle shelf of toaster oven. Air-fry for 15 minutes, turning the chips and the rack for even cooking.
When deep golden brown all over, remove eggplant chips from the toaster oven and season with extra salt and pepper if desired. Serve with a dipping sauce.
Recipe by Russell Hobbs, made using the RHTOV25
Sam Wood's Loaded Beef Nachos
Serves 2
Prep time: 5 minutes
Cook time: 20 minutes
Ingredients:
2 mountain bread wraps, cut into chips
200g beef mince
1 cup diced tomatoes
½ brown onion, dices
2 garlic gloves, minced
1 tsp paprika
1 tsp ground cumin
¼ tsp chilli flakes, optional
¼ cup cheddar cheese, grated
2 tbsp Greek Yoghurt
½ avocado, mashed
Method:
Lightly grease two air flow racks and arrange the mountain bread in a single layer, set aside.
Combine the diced tomatoes, onion, garlic and spices in a bowl. Season with salt and pepper.
Place the beef mince onto a sheet of foil. Top with tomato salsa and sprinkle over the cheese.
Place the sheet of foil with the beef mixture onto the third Air Flow rack and place on top position, ensuring the drip tray at the bottom of the oven is in place to catch any drips.
Press POWER and AIR FRY setting, temperature 200°C and change time to 15 minutes. Press START/STOP. Allow oven to pre heat. Oven will 'beep' when preheated. Cook for 10 minutes.
Swap the racks around moving the beef to the bottom position and place the racks with chips on into top and middle position. Continue to cook for 5 mins until beef is cooked through, cheese has melted, and chips are golden and crispy.
Place the beef mixture onto a plate, serve with chips and top with a dollop of Greek yoghurt and mashed avocado to serve.
Recipe by Sunbeam, made using the AFP5000BK


Sweet Treats
Chocolate Brownies
Serves 9
Prep time: 5 minutes
Cook time: 20 minutes
Ingredients:
125g butter, chopped
125g 70% chocolate, chopped
¼ cup cocoa
1 cup caster sugar
3 eggs, lightly whisked
¾ cup plain flour, sifted
100g milk choc bits
Raspberries and mint, to serve
Method:
Line a 20cm square cake tin with baking paper and spray with oil.
Add butter and chocolate to a glass mixing bowl, place in microwave and heat for 20 seconds. Stir with a metal spoon. Heat again in 20-second intervals, stirring every time until mixture is smooth. Add cocoa and stir through until dissolved. Mix through sugar, then the eggs, add the flour and mix through the choc bits.
Pour mixture into prepared cake tin.
Press POWER. Press BAKE. Adjust temperature to 180°C. Adjust time to 20 minutes. Press START/STOP. Allow oven to pre heat. Oven will 'beep' when preheated.
Place cake tin on the middle Air Flow Rack. Close the door and press START/STOP.
Test brownies with a skewer. If it comes out mostly dry, remove brownies from oven and allow to cool in pan.
Turn brownie out of tin and cut into 9 or more pieces. Serve hot or cold.
Sprinkle with additional cocoa (optional). Serve with fresh raspberries and mint.
Recipe by Sunbeam, made using the AFP5000BK
Honey & Oat Muesli Slice
Serves 8
Prep time: 10 minutes
Cook time: 30 minutes
Air Fryer function: BAKE
Ingredients:
125g unsalted butter
1/3 cup honey
1 tsp vanilla extract
½ tsp bicarbonate of soda
1½ cups rolled oats
¾ cup plain flour
2/3 cup dried fruit, chopped nuts & seeds*
1/3 cup desiccated coconut
1 large egg, lightly beaten
Preparation:
Line your Russell Hobbs Air Fryer basket with 2 layers of foil, laying one piece diagonally across the other, allowing enough to extend up each side of the basket.
Melt the butter, honey and vanilla in a medium saucepan. Bring to the boil, then remove from the heat and stir in the bicarbonate of soda. Continue stirring as the mixture foams, then set aside to cool to room temperature.
Once cooled, add the remaining ingredients and stir to combine. Pour the slice mixture into the lined Air Fryer basket, smoothing the top. Lock the basket in place and set to BAKE function. Cook at the pre-set 155°C for 30 minutes, or until deep golden brown on top and cooked through to the centre.
Allow the oat slice to cool completely in the Air Fryer basket before cutting into 8 even pieces.
*Use dried fruit such as raisins, sultanas, dates or apricots; nuts like almonds, pecans, macadamias and seeds including pepitas, sunflower seeds, sesame and linseeds.
Recipe by Russell Hobbs, made using the RHAF5COP


Fuel your Olympic viewing with these quick, easy and delicious treats. Whether you need something savoury to get you through or want a sugar hit for some late-night viewing, our Air Fryer recipes are the winning solution!
Disclaimers
Images shown are for illustrative purposes only.