So… you've decided that it's time to buy yourself a new BBQ. Whether it's your first or you're replacing an old model, taking into consideration how much the beloved "Barbie" is instilled within our Australian culture, a new BBQ is an important purchase. After all, it's your backyard pride and joy. However, with the number of barbeques aplenty in the market, it may leave you feeling a bit overwhelmed with where to begin. Thankfully, our BBQ Buying Guide breaks down all the factors that need to be taken into consideration – so you can find the perfect BBQ fit for you.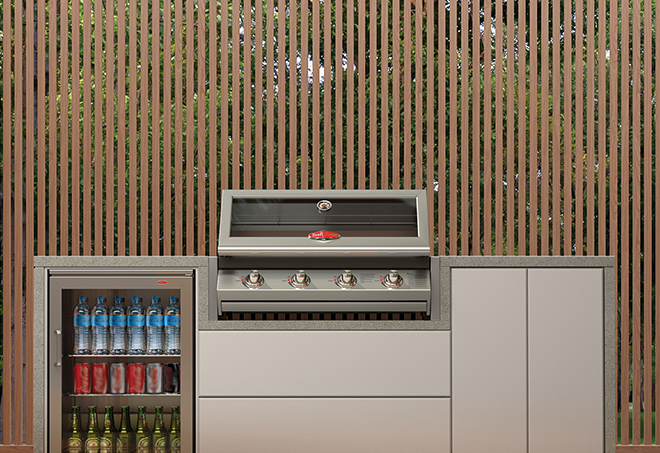 What should I look for when buying a BBQ?
Exactly how do you see yourself using this barbeque and what does it need to perfectly fit your lifestyle? What style of cooking do you enjoy? How often do you use your BBQ? How much space do you have for your BBQ, will it be under cover? Do you have a preference in fuel? Would you call yourself a BBQ beginner or a steak sizzling extraordinaire? Confidently having the answers to these general questions will help you narrow down the exact type of BBQ that best suits your needs.
How big should my BBQ be?
Well first of all, how many people do you usually cook for? Do you host large
get-togethers at home or is less than half a dozen people the most that you cook for at a time? If cooking for many, then you might want to consider a gas BBQ with plenty of burners – see below guide to get a rough idea. Next, you will need to measure and take note of the amount of space you have available for your BBQ to ensure that the product you end up purchasing will fit.
Which BBQ fuel (gas, electric or charcoal) is best for me?
How you like to cook is going to determine the type of fuel that you need for your new BBQ. Do you like to use the grill, or do you prefer the hot plate… or perhaps a bit of both? Getting the right mix is essential. Generally, you'll find that you get half-half in most models, with some gas BBQs even having optional charcoal if you want that authentic charcoal taste. Ultimately, the larger the BBQ, the greater flexibility you'll have.
What's the difference between a Built-In or Freestanding BBQ?
Does your BBQ have a permanent space to live in or do you want it to move around with you? This will contribute to whether you purchase a Built-In or Freestanding BBQ.
If Built-In, will it be covered or open to the elements? When taking into consideration where you will place it, you need to think about all weather conditions – a spot in the open air might be great on a sunny day, but perhaps not ideal when it rains. A Freestanding BBQ offers more flexibility should you want to easily move it from one spot to another in your backyard. For portable convenience, a Portable BBQ is your best solution, making it great to pack and go when you're going on holidays or camping.
What BBQ features should I look out for?
There are features that might be an absolute must-have for many BBQ chefs, so it's a great idea to have a think about what these extras might mean for you. Features can include a press button ignition, battery powered operation, side burners and rotisseries, built-in lights, temperature gauge, heating racks, removable fat tray and spacious storage such as side trays and utensil baskets. It's important not to let yourself go without your heart set on any of these features, especially when they will turn your BBQ cooking into a dream.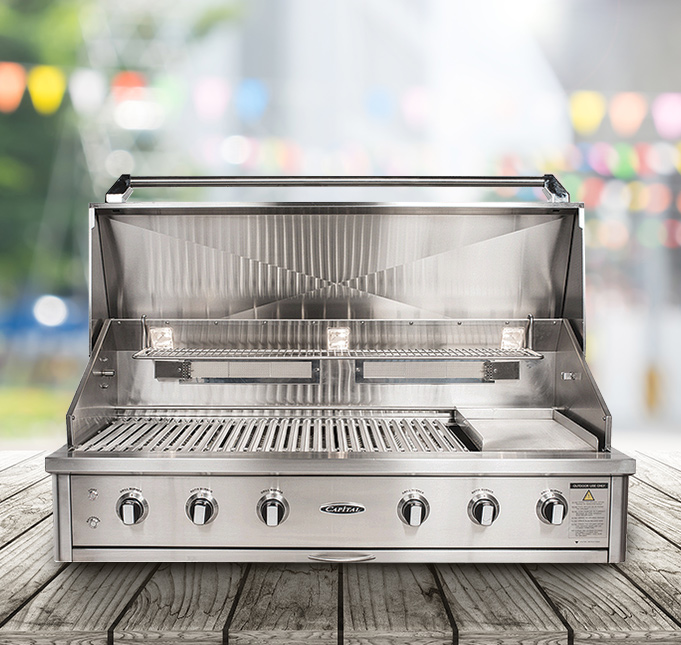 How Frequently Do You BBQ?
How often will you use your BBQ? It's not worth buying the beast of all barbies if you know that you're only going to fire it up on the odd occasion due to the cost, space and dedication to cleaning that it requires. If you're a dedicated barbeque chef then you'd want to make sure that you've got the whole hog of features, such as powerful burners, rotisserie rack, smoker box and so forth. When using your BBQ often, it's a good idea to have it close to your kitchen and with easy access.
Styled to Suit
With the continued popularity of outdoor entertainment, how your BBQ looks is an important factor when designing your outdoor entertainment space. Think about which finishes you want that best suits your style, for example painted surface, vitreous enamel or Stainless Steel. Enamel is the most durable and with the right care and the use of a cover it will look like new for years to come.
Maintaining Your BBQ
Like most things, if you look after your BBQ it will last longer and perform at its very best. Make sure to clean it after every use simply by brushing off food residue and turning the burners on high for five minutes to burn off any grease. Then, use a BBQ cover to protect it from the elements when it's not in use. You can purchase BBQ cleaning materials from most supermarkets for any stubborn stains. Click here to read our guide on how to maintain and clean your BBQ.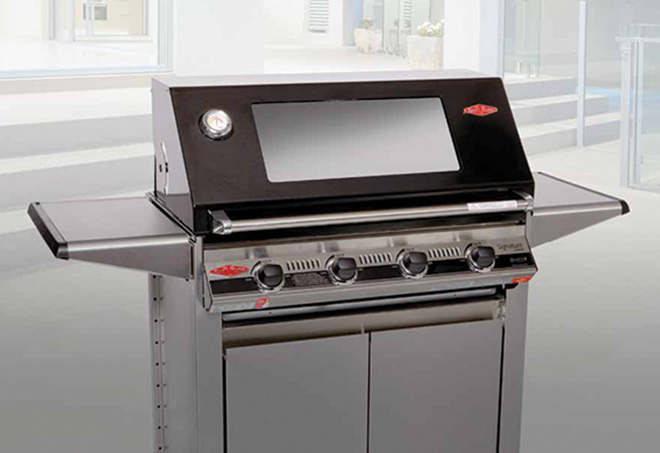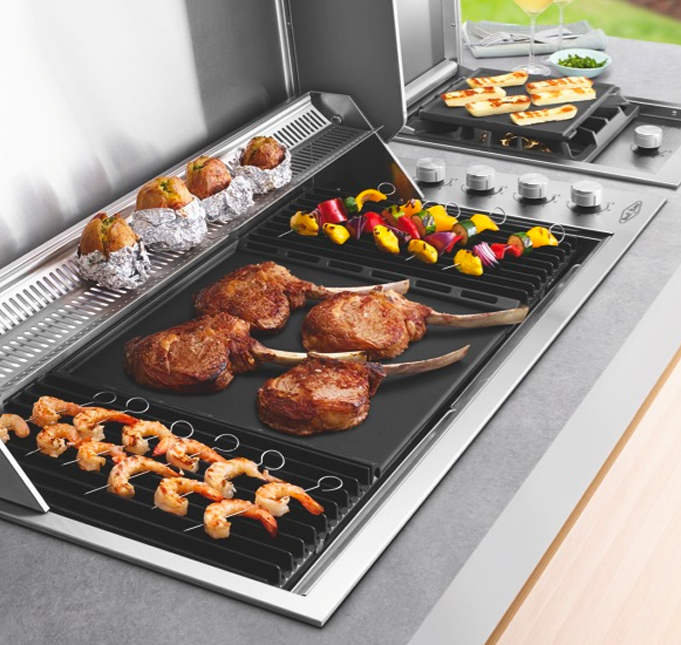 Quick Tip – If you live in a coastal area then look for a model that has cast iron hotplates as they are rust resistant and durable (plus they're easier to clean, bonus!)
Are you a charcoal lover or a gas flamer? Do you like to slowly smoke your dish or is an electric rotisserie more your style? If you like to use gas, do you have access to piped natural gas, or will you use bottles? If you're not sure, our quick guide below will help:

Charcoal BBQ
Pros: BBQ like a pro with meat that has a smoked wood flavour; self-lighting; flexibility of slow cooking with low commitment.
Cons: Requires plenty of ventilation due to smoke; high maintenance with cleaning of waste left from cinders; takes a long time to heat up and cook food.
Gas BBQ (LPG/Natural)
Pros: Fast, high heat with instant heat control. You will need to choose between Natural Gas or Liquified Petroleum Gas, also known as LPG. If you wish to change between the two, a conversion kit will help you change from one source to the other.
Natural Gas: is affordable and most preferable for outdoor kitchens as it provides a constant supply.
LPG: is available in a variety of gas bottle shapes and sizes, providing portability, making it a great option for Freestanding or Portable BBQs. It does not need to be installed by a licensed gasfitter.
Cons: Natural Gas: you will need an outlet and the BBQ must be installed by a licensed gas fitter. The installation must satisfy certain rules and regulations in your state, for example, the need for partial enclosures.
LPG: burns hotter than Natural Gas, the uncertainty of cooking time when the bottle is nearly empty; costly expense if refilling gas bottle frequently and strict regulations when using LPG.
Electric BBQ
Pros: Fast heat, constant power and easy to clean; wise choice for those who live in apartments or with limited outdoor space; easy to install.
Cons: Lack of authentic BBQ taste, smaller cooking area, must be near the power outlet.

Safety Tip – If you live in an apartment or you are renting, make sure to check if you are allowed to use LGP. LPG BBQs shouldn't be used in really windy weather; the bottles must always be standing upright; LPG bottles are never to be stored in a car.
Which Type Of BBQ Is Right For You?