2022 Valentine's Day Gift Giving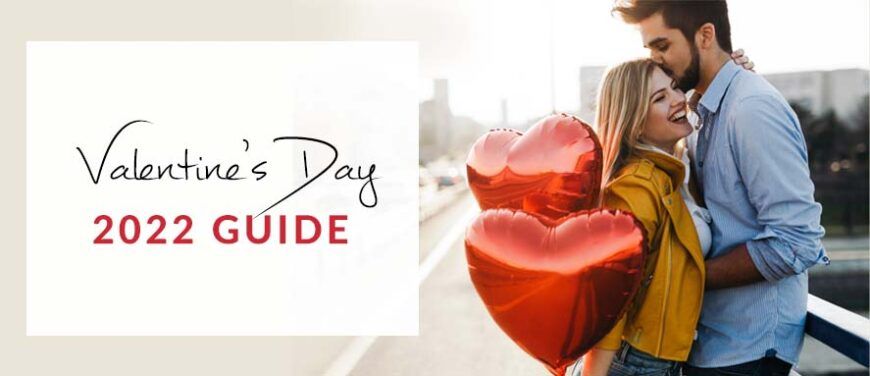 Get your partner, friend or even yourself a gift to love this Valentine's Day. If you need help finding the perfect gift, look no further than our gift guide. Indulge them with a new toy or a practical gift that they'll use every day; the hardest part is choosing which one. In the mood to impress with a home-cooked meal? Our hand-picked Valentine's Day recipes will delight.
Capture The Memories
Make moments last longer with a new Nikon Mirrorless Camera. The Nikon Z FC Mirrorless Camera and Z DX 16-50mm lens bundleoffers everything to capture special moments and everyday snapshots. The camera has a 20.9MP sensor, 4K video recording and a 3" vari-angle touch display that makes taking selfies easier. Nikon's Z FC Mirrorless Camera is lightweight and comes in seven colours, making it the perfect gift for the artist in your life.
Sounds Sweet
Calming instrumentals, a soothing podcast or upbeat tunes, they'll love their favourites even more with Urbanista's London True Wireless Noise Cancelling Earbuds. On the road or simply at home, these earbuds have Active Noise Cancelling technology, up to 25 hours playtime and ambient mode so that surrounding noise can still be heard. These earbuds are available in a range of colours, so you'll easily find one to suit him or her!
Below: Get the latest tech to indulge your dearest.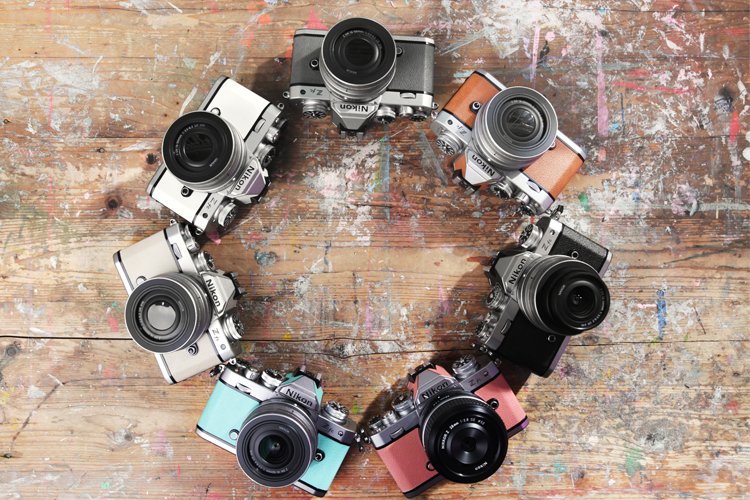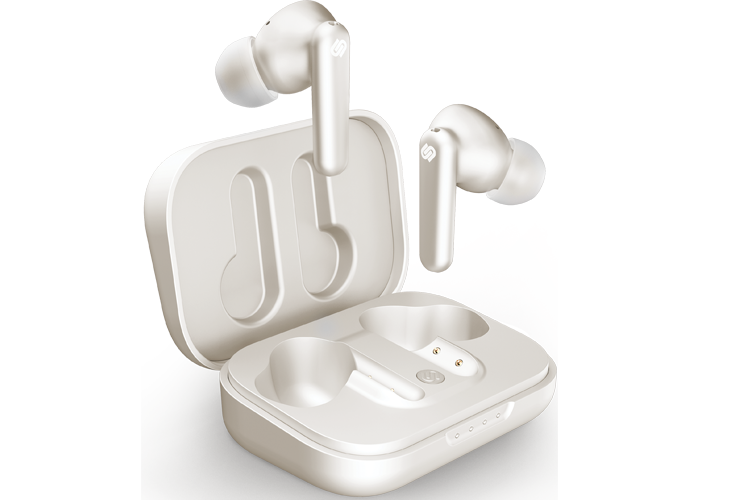 Luscious Locks
Treat your loved one with healthier hair as they dry and style with Remington's new
PROluxe YOU™ Adaptive Hairdryer. This innovative hairdryer features adaptive technology that learns, adapts and personalises the heat setting for the hair type. The hairdryer includes three drying modes and a memory function for quick access to the previous setting.
Caffeine Affair
Indulge the coffee lover in your life with their new favourite coffee machine. From a long black to a creamy Latte, Delonghi's La Specialista Arte Manual Coffee Machine lets your loved one craft their most-loved brew. An integrated grinder with 8 grind settings and a side milk wand ensures barista-quality blends can be enjoyed anytime.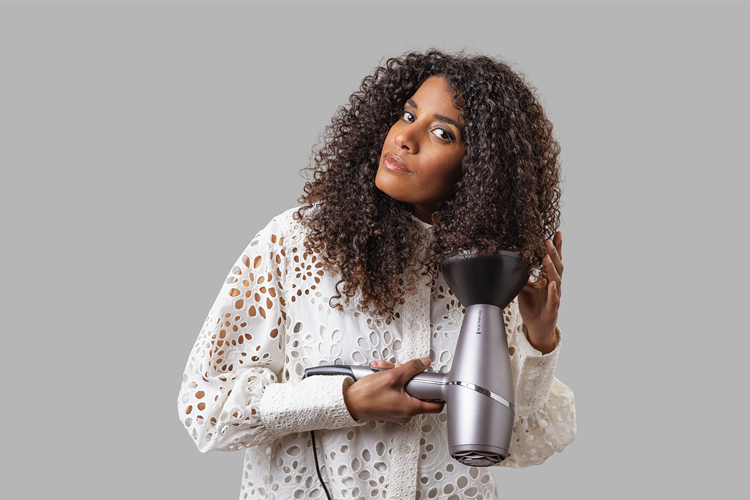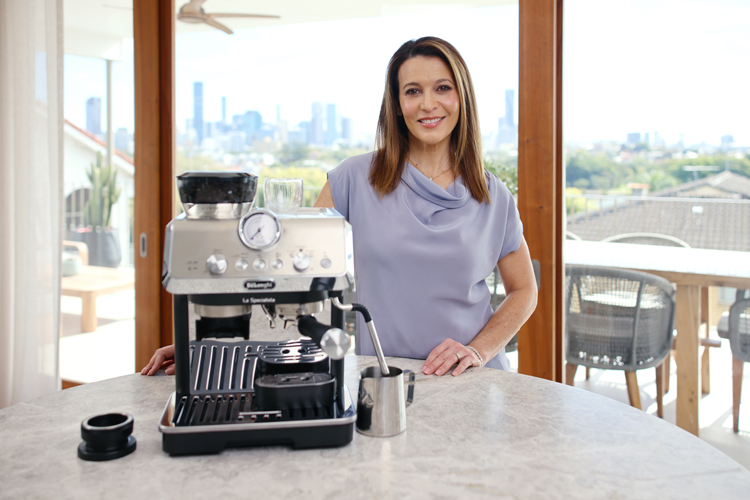 Above: For use in the bathroom or kitchen, there's a gift for everyone.
Valentine's Day Recipes
Want to show them that you truly care? Impress your loved ones with a delicious home-cooked meal. With a few easy steps, these recipes will quickly put the romance in home dining.
Creamy Garlic Seafood Pasta
Serves 4
Prep time: 10 minutes
Cook time: 20 minutes
Ingredients:
2 tbsp olive oil
250 g shrimp / prawns peeled and deveined
150 g mussel meat (approximately 500g with shells)
150 g calamari tubes / squid heads
2 tbsp butter
4 garlic cloves crushed
½ tsp chilli flakes
½ cup white wine
1-2 tsp lemon juice
1 cup cream
Salt and pepper to taste
½ cup parsley finely chopped
500 g pasta cooked + 1 cup cooking water reserved
Method:
In a large pan, add a splash of oil and allow to heat up.
Season the seafood with salt and pepper then cook in batches until golden brown.
The shrimp/prawns should take no more than a minute per side (depending on size) and the calamari and mussels will take only a few minutes to cook. Take care not to overcook the seafood as they will go tough and rubbery. Rather undercook slightly as it will cook a little more while being tossed with the sauce and pasta.
Remove the seafood from the pan and set aside.
In the same pan, melt the butter and add the garlic and chilli flakes. Cook until fragrant then pour in the lemon juice and wine.
Bring to a simmer and allow to reduce by half.
Pour in the cream and allow to come to a simmer. Allow to cook for 5 minutes or until the sauce coats the back of a spoon.
Add the seafood (and any of its resting juices) and parsley and stir to combine.
Toss the sauce with cooked pasta and a splash of the pasta cooking water and toss to coat the pasta. Serve sprinkled with parsley.
Recipe by Alida from Simply Delicious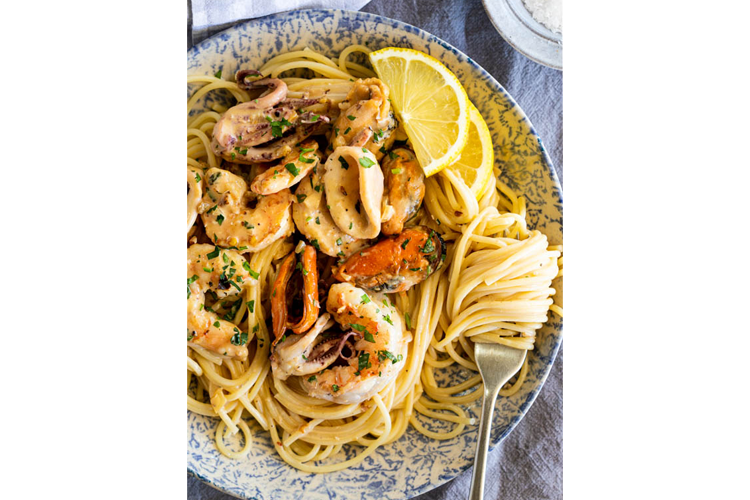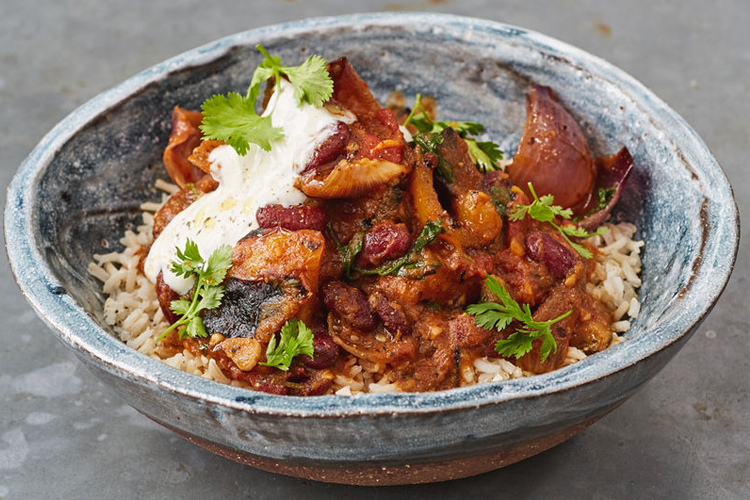 Vegetarian: Veggie Feijoada with Sweet Potato & Kidney Beans
Serves 2
Cook time: 35 minutes
Ingredients:
160 g brown rice
200 g sweet potato
2 red onions
2 cloves of garlic
1 red pepper
½ a courgette
Olive oil
½ x 200 g tin of kidney beans
1 teaspoon ground coriander
1 teaspoon smoked paprika
½ a bunch of fresh coriander (15g)
4 ripe tomatoes
50 g fat-free natural yoghurt
Method:
Place the rice into a medium pan, cover with cold water, then place over a medium heat. Bring to the boil, then simmer gently for 12 to 15 minutes, or until just cooked.
Drain in a sieve, then place the sieve over the warm pan. Season with a little sea salt and black pepper, cover with a lid and set aside off the heat.
Meanwhile, fill a small pan with water, place over a medium heat and bring to the boil. Peel and chop the sweet potato into chunks, then add to the pan when the water is boiling. Cook with the lid on for 5 minutes, or until tender. Drain and set aside.
Peel the onions and cut into wedges. Separate each wedge into petals, then peel and finely slice the garlic.
Halve, deseed and roughly dice the pepper, then trim and halve the courgette, roughly slicing it at an angle.
Drizzle 1 tablespoon of olive oil into a large pan over a medium-high heat, add the sweet potato, onions, peppers and courgette, cooking for 8 minutes, or until softened but charred and gnarly on the outside.
Drain the beans, but reserve the juice. Add the beans to the hot pan (save the rest for another day) and cook for 1 more minute.
Stir through, then add the garlic, ground coriander, and paprika. Season well with salt and pepper and cook for 3 minutes, or until sticky and gnarly.
Finely slice the coriander (stalks and all). Roughly chop the tomatoes. Add to the pan with their juices, along with the coriander stalks, the reserved liquid from the beans and 275ml of water.
Bring to the boil, then simmer for 5 to 10 minutes, or until the veg is soft and the sauce has thickened. Add an extra splash of water to loosen if the sauce gets too thick.
Season the veggie feijoada to taste and stir through most of the coriander leaves. Serve with the rice, a dollop of yogurt and the reserved coriander scattered on top.
Recipe by Jamie Oliver
Sweet Waffles
Makes 2 Waffles
Prep & Cook time: 10 minutes
Ingredients:
1 cup plain flour
1 tsp baking powder
2 Tbsp caster sugar
Pinch of salt
1 egg
1 cup milk
1½ Tbsp unsalted butter, melted
Browning Setting: Medium or medium high
Method:
Preheat the Sunbeam waffle maker by plugging it in and selecting your shade preference.
In a large bowl, sift together flour, baking powder, sugar and salt.
In a jug, whisk together egg and milk, add to flour mix and whisk until combined, do not over mix. Stir in melted butter.
Fill the cup measure to the top with batter and carefully pour into the top of the machine.
Once the waffle is cooked, serve immediately with your favourite topping.
Topping Ideas:
Syrup and pistachio nuts
Chocolate sauce and ice cream
Caramel sauce, cream and honeycomb
Caramelised bananas and maple syrup
Fresh cream and fruit
Recipe by Sunbeam