3 Simple Yet Fun Recipes to Try This Halloween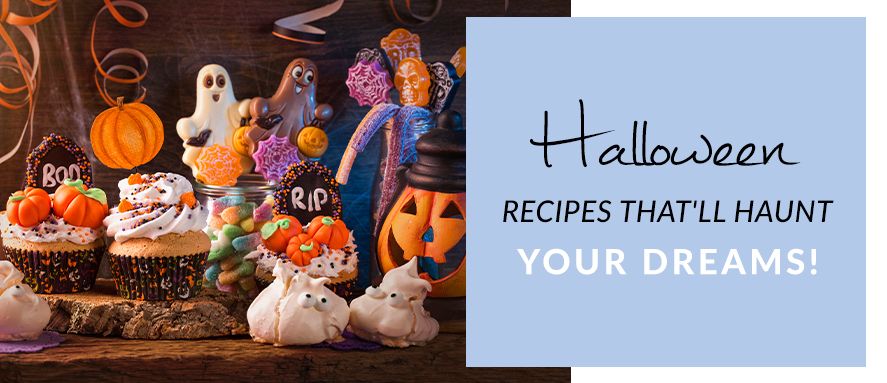 Trick or treat?
As the spooky season approaches, it's time to turn your kitchen into a cauldron of creativity.
Get ready to throw on your apron, embrace the occasion, and whip up some hauntingly delicious treats that will leave your guests howling for more.
To guide you, we've conjured up three simple yet fun and delicious recipes that are sure to impress your Halloween party – enjoy!
Recipe #1 – Spooky Spider Halloween Cake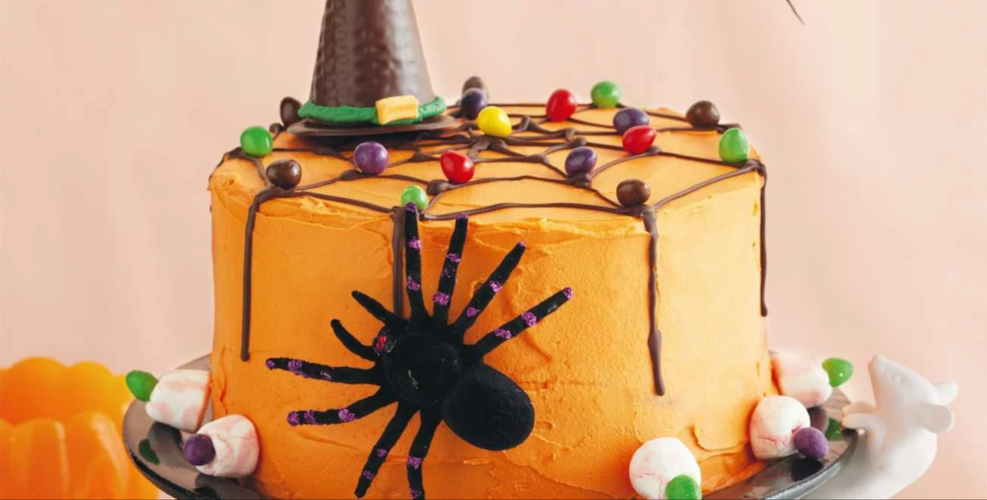 Looking to host a crowd this Halloween? This Spooky Cake has you covered – it serves 20 people and will only take you one hour to bake and prepare!
Ingredients:
1 packet of red, yellow and green food colours
600ml thickened cream
180g M&M's milk chocolate
10 marshmallows
1 packet vanilla cake mix
225g white chocolate melts
225g dark chocolate melts
Decorations:
Halloween creepy crawlies spider
Jellybeans
Mini waffle cone
Equipment:
Cake decoration piping bag
Method:
Preheat your BEKO Pyrolytic Oven to 140°C and line two 20cm cake pans with butter.
Prepare each cake mix separately according to the packet instructions making sure to colour one mix orange and the other green.
In separate bowls, place dark and white chocolate melts. Heat thickened cream until hot, divide it between the chocolates and stir until melted and smooth.
Once baked in your BEKO Pyrolytic Oven, halve each cake and spread dark ganache on three layers. Add halved marshmallows, and stack alternating colours before topping with a plain cake.
Colour the white ganache orange, and spread it over the cake, reserving some.
Use the leftover ganache to pipe a spiderweb and place marshmallows with jellybeans resembling eyes around the base.
Dip a cone in melted chocolate, and once solid, pipe a band on the hat brim. Place the witch's hat on top, press a spider onto the side and enjoy!
Recipe modified from Woolworths.
What is the BEKO 60cm Built-In Pyrolytic Oven?
The BEKO Pyrolytic Oven offers a spacious 85L capacity and seven cooking functions, including Full Grill and Fan Heating, for versatile and precise cooking. Featuring a digital display and a pyrolytic self-cleaning program, this oven combines functionality and style.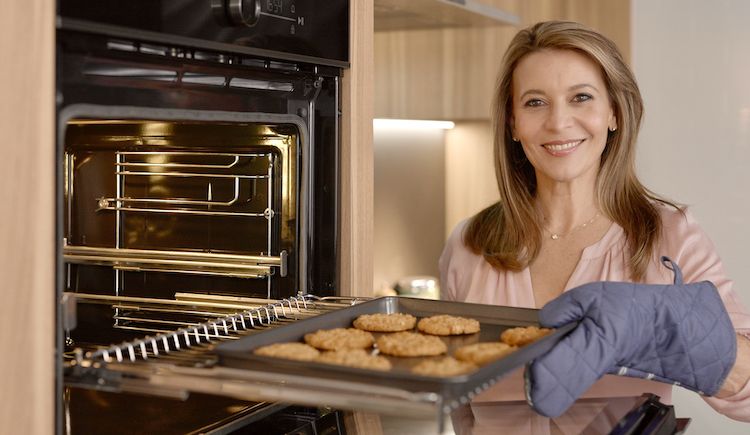 Recipe #2 Pumpkin Spiced Halloween Latte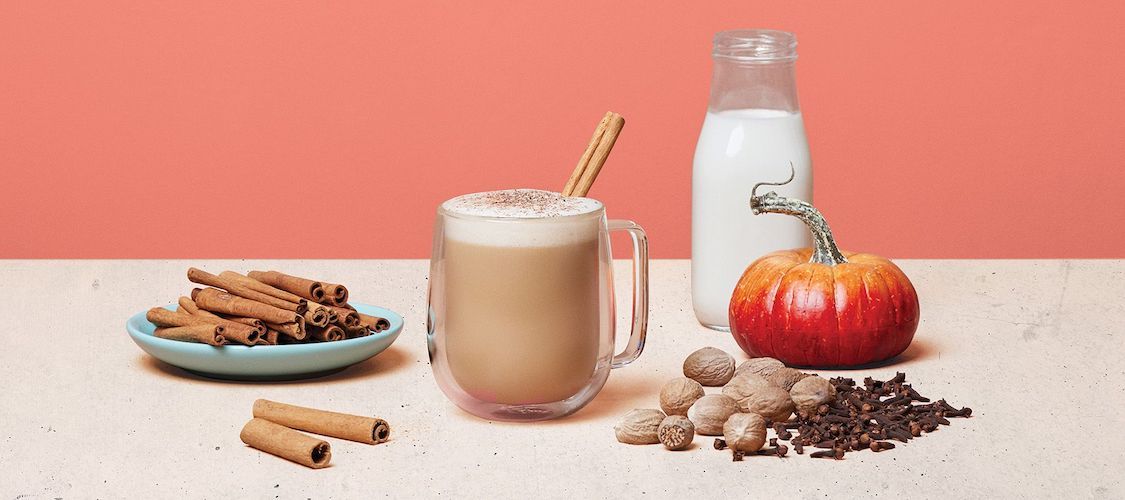 What's one thing that goes hand in hand with Halloween? Pumpkins! Your party guests will love this quick, easy, and tantalisingly subtle Halloween recipe.
Ingredients:
1 scoop of ground coffee
Milk of choice
2 Tsp Pumpkin purée
240ml water
Decoration:
A pinch of ground ginger
A pinch of ground nutmeg
A pinch of ground cinnamon, plus extra to serve (or use pumpkin spice)
Equipment:
Method:
Add water and coffee grounds to the Sunbeam Mini Barista Espresso Machine and switch on.
Add the pumpkin puree and spices to your mug and select either one or two shots of coffee. Mix the puree until combined with the coffee.
Use the full-size steam wand to froth milk in a separate frothing mug.
Pour the milk into the mug and spoon a layer of froth over brewed coffee.
Stir to combine the mix and dust with cinnamon or pumpkin spice to top off the perfect Halloween drink!
Recipe modified from Sunbeam. 
What is the Sunbeam Mini Barista Espresso Machine?
Compact yet powerful, the Sunbeam Mini Barista Espresso Machine boasts a 15-bar Italian pump and 58mm group head for true coffee flavour. With a full-size steam wand for milky creations, built-in cleaning programs, and a 1-year replacement warranty, you can enjoy lasting café-quality coffee at home.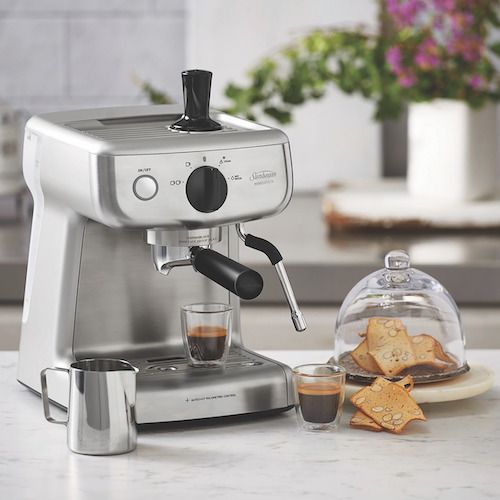 Recipe #3 Blood Filled Custard Tart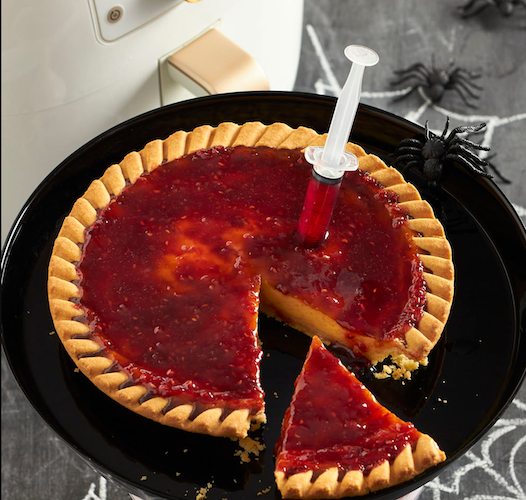 This quick and easy Halloween recipe is sure to make your guest's skin crawl – at least until they taste how good it is! It's a great way to feed 6-8 people in under 30 minutes.
Ingredients:
150g store-bought shortcrust pastry flan case
200ml vanilla custard
2 egg yolks
½ tsp vanilla extract (optional)
¼ cup raspberry jam, plus extra to serve
Equipment:
Decoration:
Method:
Put the custard into a jug, add yolks and whisk with a fork to combine, then add vanilla if using, and stir again.
Pour into the flan case and transfer it into the basket of your Tefal Easy Fry & Grill Classic Air Fryer
Set the temperature to 150°C and the time to 25 mins and cook until slightly wobbly.
Stir raspberry jam to make it slightly runnier, then use the back of a spoon to gently spread it to cover the filling.
Set aside to allow the tart to cool to room temperature, then refrigerate for a couple of hours or overnight until chilled.
Fill a clean, unused syringe with extra jam. Insert it into the centre of the tart and enjoy!
Recipe modified from Bounty Parents.
What is the Tefal Easy Fry & Grill Classic Air Fryer?
The Tefal Easy Fry & Grill Classic Air Fryer combines air frying and grilling in a compact unit. With 6 pre-set functions and adjustable temperatures, non-stick surfaces and dishwasher-safe parts, it's easier than ever to control and clean.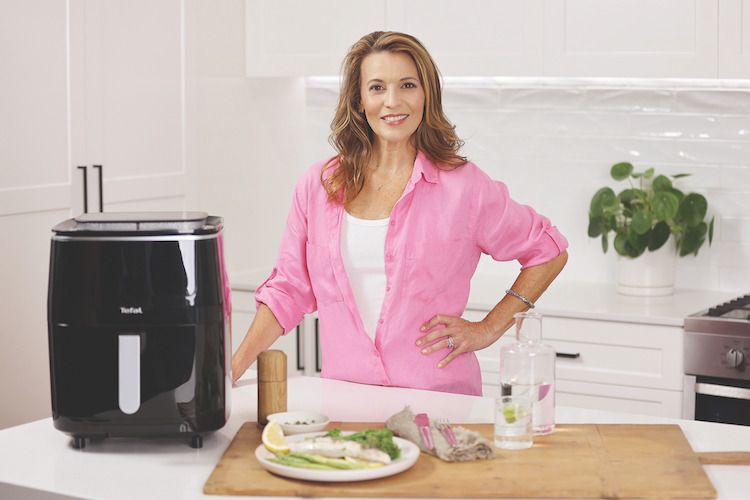 Looking to purchase the equipment you need for these Halloween Recipes?
Surprise your party guests with these three simple yet fun Halloween recipes for October. It's time to get cooking with the right kitchen tools so you can get more treats and fewer tricks!