A Comparison: Beko & LG Dishwashers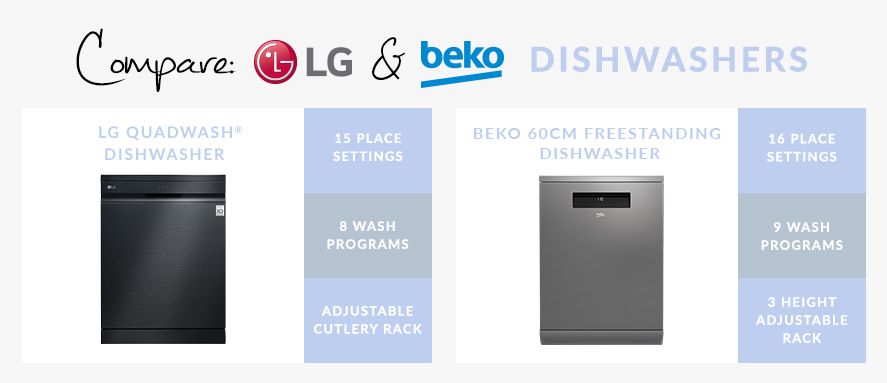 A lifesaver in the kitchen, dishwashers deliver spotless results on your cookware, dishes, cutlery and glasses so that you can spend more time doing the things you love. Whether you're buying your first dishwasher or an upgrade is on the cards, there are many things to consider when buying a dishwasher. In this blog, we'll compare two of the latest dishwashers from LG and Beko to help you make the right choice on the dishwasher that's best suited to your needs.
LG 60cm Freestanding Dishwasher – Matte Black – XD3A25MB
Best suited for: busy kitchens that need versatile washing options
Washing up has never been so easy than with LG's 60cm Freestanding Dishwasher with QuadWash® technology. Ideal for growing families, this powerfully efficient dishwasher features 15 place settings, eight wash programs and many other wash options to deliver the cleaning results you need.
QuadWash® Cleaning
The dishwasher's QuadWash® technology cleans with four rotating blades on the bottom spray arm to get into every corner of your dishes.
Hygienic Results
Want to achieve clean and hygienic dishes? Now you can with the LG TrueSteam® cycle which uses the power of steam to remove food residue and kill up to 99.9% of germs, bacteria, and grime 1.
Washing Conveniences
Enjoy many more ways to wash with this dishwasher's incredible washing options such as Energy Saver, Half Load (Top/Bottom) and Express Cycle (38 Minutes). The Dual Zone Wash option lets you independently control the water intensity of the upper and lower racks based on the type of items in the rack, for example, you can use low intensity water spray on delicate wine glasses.
Adjustable Baskets
Every wash will prove to be different based on the dishes your household has produced. This is where LG's EasyRack® Plus will delight; the upper rack boasts three height levels to help create space for items below. Folding tines also lets you place dishes where you see fit. Create space whenever you need with the height adjustable cutlery rack.
Connected Washing
This LG 60cm Freestanding Dishwasher can be monitored and controlled via the ThinQ® app on your compatible smart device, making washing up smarter. On the ThinQ® app, you can also download new wash cycles, diagnose problems and receive notifications on your smartphone.
Efficient Operation
Powered by an Inverter Direct Drive™ Motor, this LG dishwasher performs quietly and efficiently, evident with its 4-Star Energy and 5.5-Star WELS rating.
Elegant Design
With hidden door panel controls and a discreet Micro LED display, this dishwasher exudes luxury and elegance. Finished with a Matte Black front, this LG dishwasher is the perfect addition for darker and Black kitchens.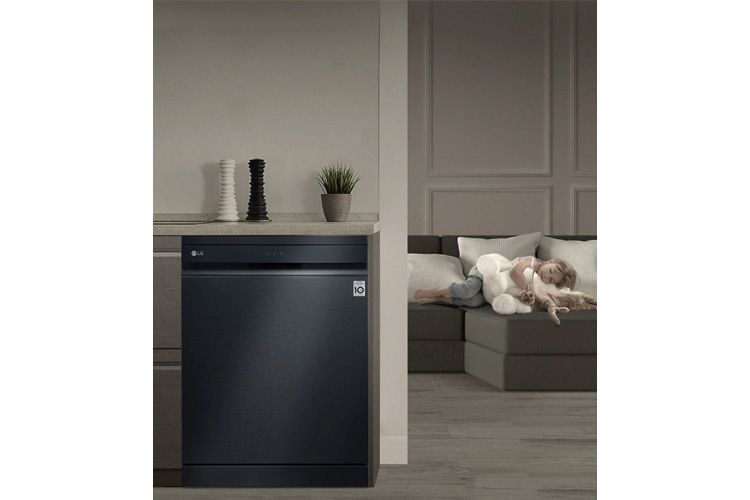 Beko 60cm Freestanding Dishwasher – Stainless Steel – BDF1640AX
Best suited for: large families who want fuss-free washing
Whether you need the service of a dishwasher daily or every so often, washing up will be a breeze with Beko's 60cm Freestanding Dishwasher. This family-friendly dishwasher includes nine programs and is smart connected to make maintaining it even easier.
AutoDose Dispensing
Just fill the dishwasher with gel detergent and let the AutoDose function determine how much detergent to use. What you get are sparkling clean results without the detergent guesswork.
Hygienically Clean
This Beko dishwasher features a range of wash programs to meet every need, these programs include Auto, Eco, Intensive and Delicate. If hygienic results are top of mind for you, you'll love the Hygiene Intense program, which uses high temperatures and steam to kill up to 99.9% of bacteria and viruses 2. The Hygiene Intense program is great for cleaning your baby's bottles or when a family member is sick.
Adjustable Space
Make room for all the dishes, pots and pans and other items you need washed with the easy-fold plate support and sliding cutlery basket. The upper basket also has three adjustable positions so that you're not bound by the limits of the basket, ensuring you can wash everything.
Connected Washing
This Wi-Fi connected Beko dishwasher is compatible with the Homewhiz app to enable remote monitoring and control of your washing. Via the app on your smart device, you can download new programs, set your favourites, monitor and control the dishwasher and even track the detergent level. When the detergent is almost out, you'll get a notification which reminds you to buy more.
Efficient Operation
As you wash, this dishwasher uses the right amount of water and energy to deliver impressive clean results without harming the environment. Rated with a 4-Star Energy and 5-Star WELS rating, wash confidently and efficiently.
Modern Design
This Beko dishwasher is finished with fingerprint resistant Stainless Steel with an LED display and inner door touch control panel that ensures the front of the dishwasher remains beautifully neat.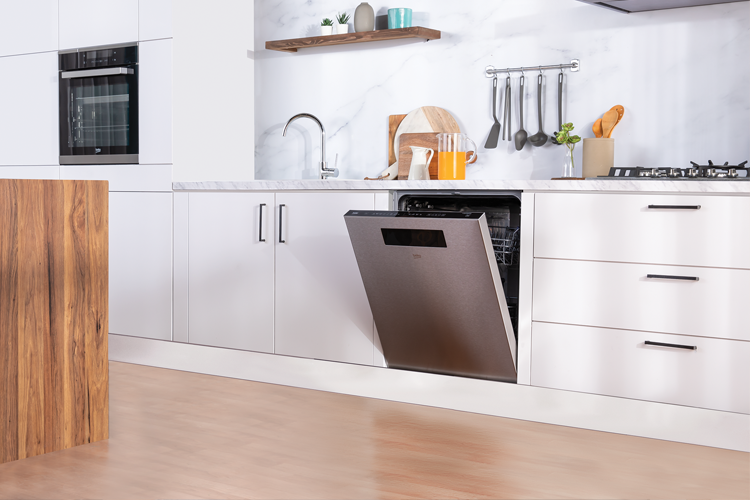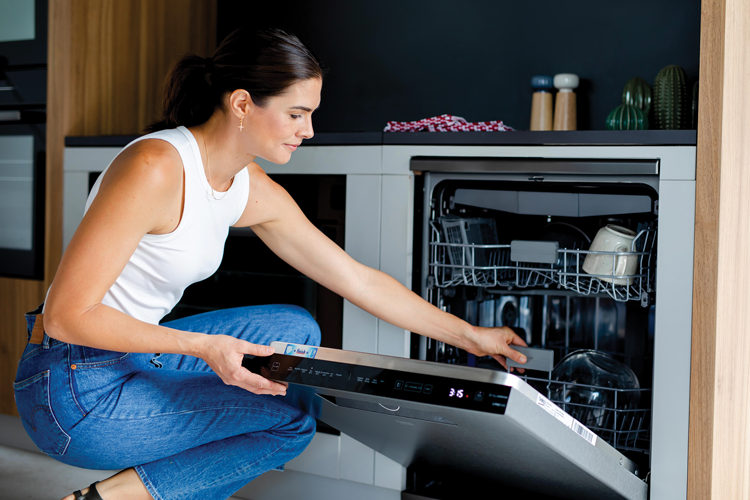 Let's Compare the Pair
 

LG 60cm Freestanding Dishwasher – Matte Black – XD3A25MB

Beko 60cm Freestanding Dishwasher – Stainless Steel – BDF1640AX

Place Settings

15 Place Settings

16 Place Settings

Motor

Inverter Direct Drive

Prosmart Inverter™

Number of Programs

8: Auto, Intensive, Delicate, Eco, Turbo, Rinse, Express, Refresh

9: Auto, Intensive, Delicate, Mini 30', Aquaflex, Eco, Quick & Shine, PreWash, Download Program

Wash Options

Turbo Cycle: 59 minutes, reduced load size, wash only.
Half Load (Top/Bottom)
Express Cycle: 38 minutes, reduced load size, wash only.
Dual Zone
Energy Saver
Extra Dry
Steam
Machine Clean

 

Hygiene Intense
Extra Drying
AquaIntense®
Fast+™
Half-Load

 

AutoDose

No

Yes

Smart Control

Yes: ThinQ® app, Smart Diagnosis

Yes: Homewhiz App

Number of Baskets

3

3

Adjustable Baskets

Adjustable Upper Rack with 3 heights
Height adjustable Cutlery Rack

Adjustable Upper Rack with 3 heights

Control Type

Touch control

Touch control

Display Type

LED

LED

Delay Start

1-12 Hours

Up to 24 hours

Auto Door Open

Yes

No

Noise Level

41dBA

43dBA

Energy Rating

4-Star

4-Star

WELS Rating

5.5-Star

5-Star

Water Consumption per Wash

11.1L

13L

Warranty

2 Years Parts & Labour
10 Year Parts Warranty on the Direct Drive Motor

10 Years Compressor / Motor Warrant
In Summary
Both dishwashers from LG and Beko are great for growing families and regular entertainers with the minimum 15 place settings. The LG dishwasher offers more washing flexibility and versatility when it comes to the washing baskets (loading items) and applying washing options such as Energy Saver or Half Load. On the other hand, the Beko dishwasher has more place settings (16) and more wash programs to meet your needs. Smart connected and controlled, both dishwashers will help make washing up smart and customisable. Finally, when it comes to efficiency, both are high-performers with high energy and water (WELS) ratings.
Want to see other freestanding dishwashers? Whether you're after another brand, colour or just want to browse, click on the link below to view more freestanding dishwashers.
DISCLAIMERS
1 E.coli, Listeria & Salmonella bacteria reduction tested using "Eco" cycle with High Temp and Steam options.
2 Killing; Enterococcus faecium, Bovine Coronavirus, Murine Norovirus