A Comparison: De'Longhi Coffee Machines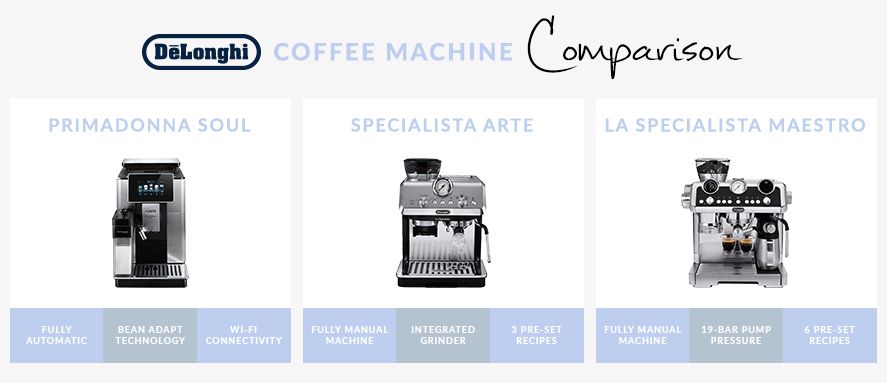 Drinking coffee can be a very personal experience. From indulging in deep black coffee to relaxing with a milky blend, there really is more than one way to drink coffee. To accommodate to every drinker, De'Longhi have created a growing range of coffee machines to meet the demand. Below, we'll run through some of the most popular De'Longhi coffee machines so you can find the perfect one.
La Specialista Arte Manual Pump Coffee Machine – Stainless Steel
Ideal for: the home barista (beginner-intermediate level)
Mood: for slow mornings when you want to enjoy the process of creating and drinking your coffee
Makes: can produce a single or double espresso simultaneously
Coffee type: the space-saving integrated grinder has 8 settings to grind fresh coffee beans
Creamy addition: a side steam milk wand creates creamy microfoam milk for Lattes
Controls: manual dial controls and push buttons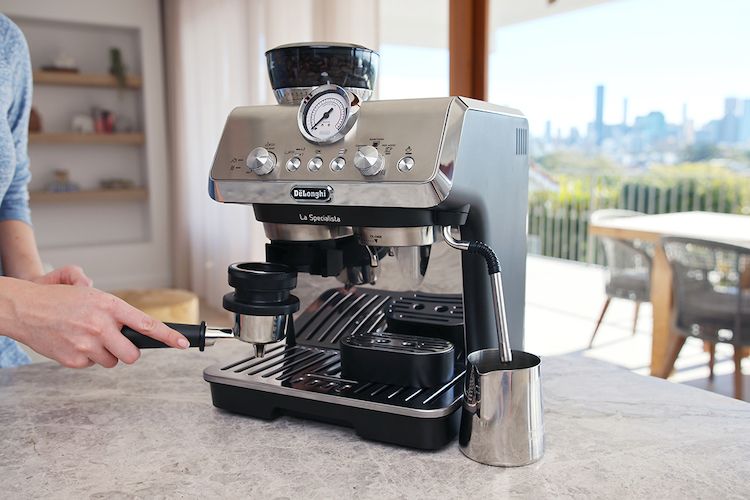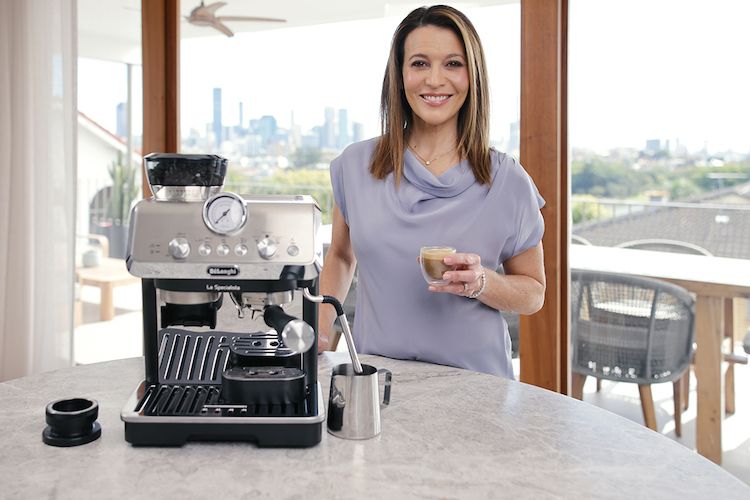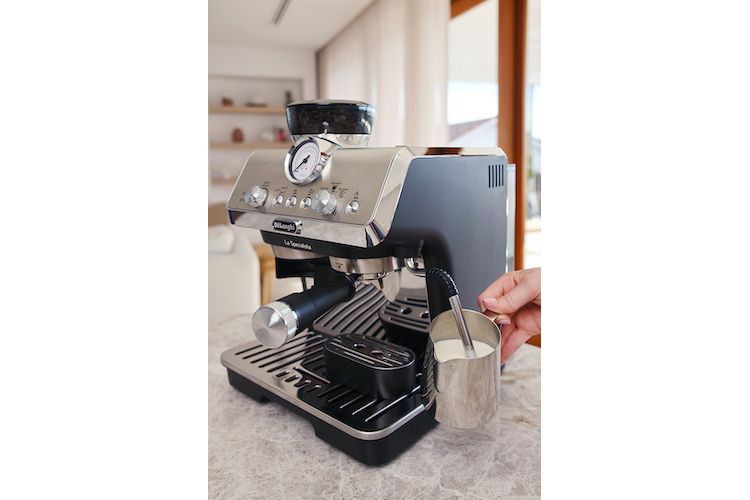 Primadonna Soul Fully Automatic Coffee Machine – Stainless Steel
Ideal for: any coffee lover and entertainers who want the fully automatic experience
Mood: when you need an easy, instant one-touch operation to get delicious coffee
Makes: a large variety of drinks with 21 recipes to choose from including Espresso, Coffee, Flat White and Cappuccino
Coffee type: Beans Adapt Technology adjusts the coffee bean's grind, dose and brewing temperatures based on your drink's chosen recipe, for example, darker blends might use more coffee beans with a stronger dose
Creamy addition: the integrated 500ml LatteCrema system crafts hot microfoam milk to go with your milky drinks like Lattes and Cappuccino
Controls: 4.3" touch screen and app control using the De'Longhi Coffee Link app. Drink personalisation is possible, with 5 user profiles available to be saved, great for families and growing households.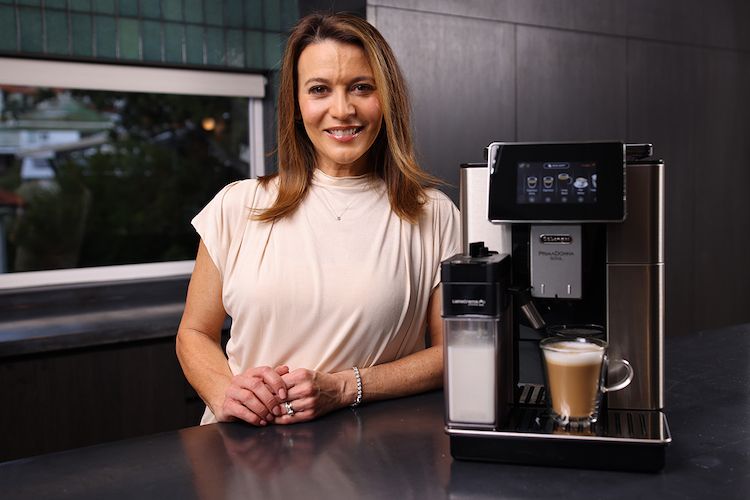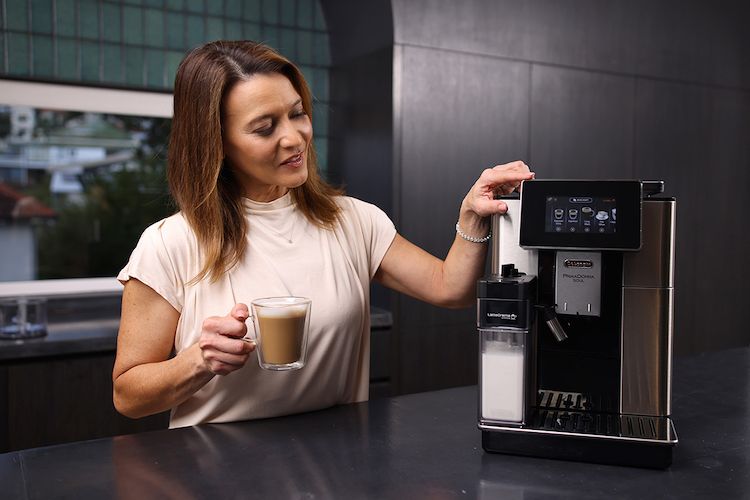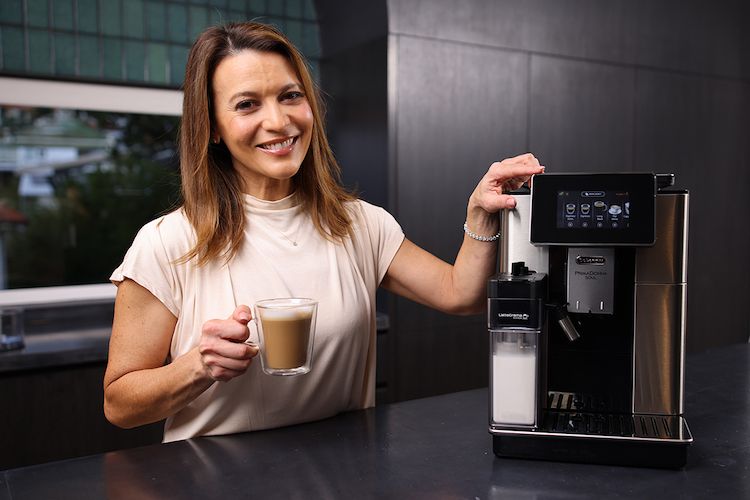 La Specialista Maestro Pump Coffee Machine – Stainless Steel
Ideal for: the advanced home barista
Mood: for perfecting café-quality brews for all coffee drinkers
Makes: a range of drinks, with 6 pre-set drinks including Espresso, Long Black, Latte and Flat White
Coffee type: the integrated grinder with 8 settings grinds fresh coffee. The Smart Tamping station ensures all of the grinded coffee stays in place in the group head to deliver a strong and consistent blend.
Creamy addition: there are two ways to create and enjoy microfoam milk. The side LatteArt steam wand enables manually milk frothing while the LatteCrema System can be used for automatic milk frothing, freeing up your hands for other tasks.
Controls: manual dial controls and push buttons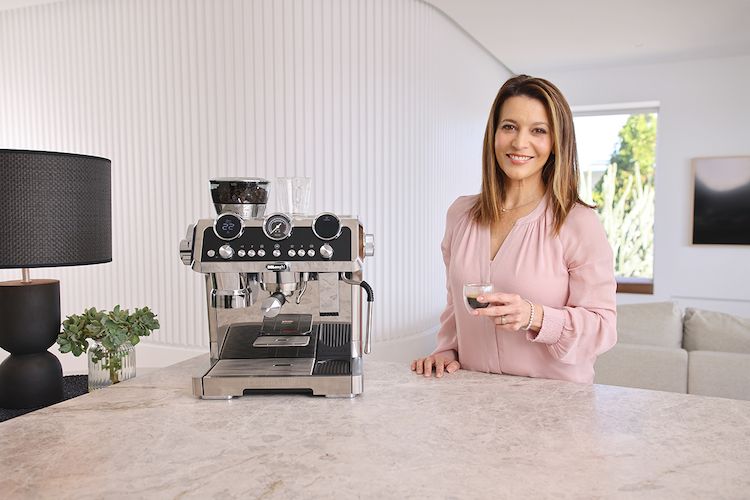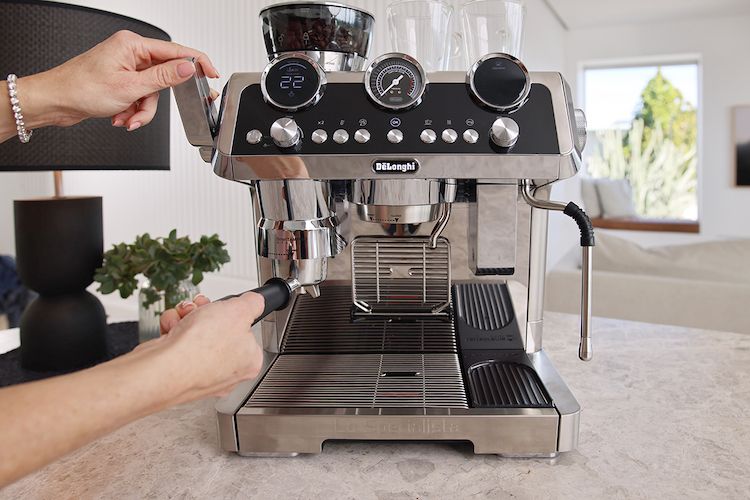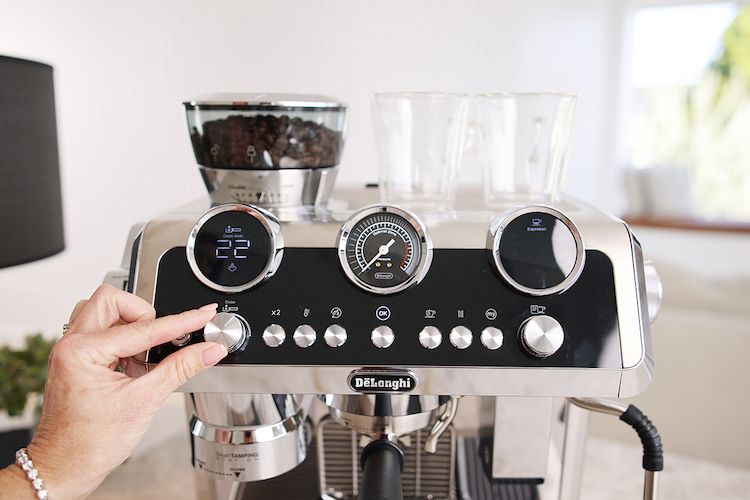 Model

EC9155MB

ECAM61075MB

EC9665M

Name

De'Longhi La Specialista Arte Manual Pump Coffee Machine

De'Longhi Primadonna Soul Fully Automatic Coffee Machine

De'Longhi La Specialista Maestro Pump Coffee Machine

Power (W)

1300

1450

1450

Pump Pressure (Bar)

15

19

19

Integrated Grinder (Y/N)

Yes, 8 settings

Yes, automatic grinder with Bean Adapt Technology

Yes, 8 settings

Coffee Type

Coffee Beans

Coffee Beans

One Remote Control, built-in voice assistants e.g. Google Assistant and Amazon Alexa

Number of Recipes

3 pre-set recipes: Espresso, Long Black and Hot Water

21 pre-set recipes; Coffee recipes: Espresso, Coffee, Long, Doppio+, Coffee Pot, Brew Over Ice, Long Black, Americano.

Milk Recipes: Cappuccino, Latte Macchiato, Cappuccino+, CappuccinoMix, Hot Milk, Caffelatte, Flat White, Cortado, Espresso Macchiato.

Other recipes: Mug To Go, Tea function, Hot water

6 pre-set recipes: Automatic Cappuccino, Latte, Flat White, Coffee, Long Black, Hot Water

Milk Frother Type

My LatteArt Steam Wand (manual)
Automatic LatteCrema System
My LatteArt Steam Wand (manual) and Automatic LatteCrema System

No. of Cups

2

2

2

Memory Function (Y/N)

N
Y – 5 profiles + guest function
N

Display Type

N/A

4.3" Colour Touch Display

LED Display

Control Type

Coffee dose dial, Single/Double Cup, Temperature selector, OK, Beverage selector, Steam Button
Touch Display Controls & via the Coffee Link App
Buttons
 
Did you find your perfect De'Longhi coffee machine? Whether you're after a one-touch operation or need something to complement your barista skills, there's a De'Longhi coffee machine for every need. For more information on each model, to read reviews, view it in your home and more, simply click on the links below.