Air Fryer Recipes to Add To Your List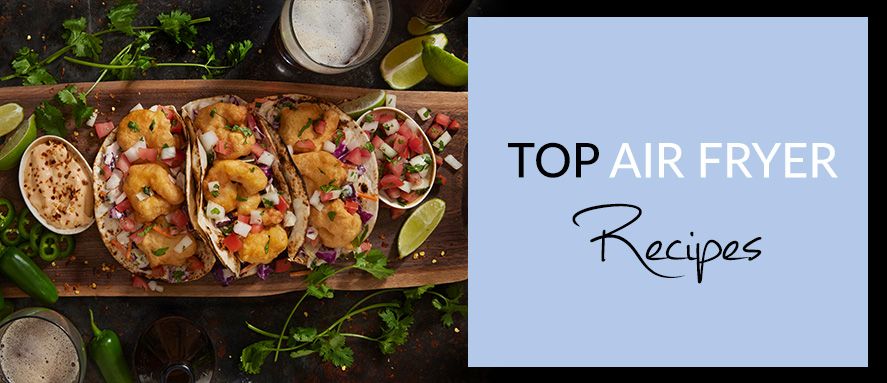 At National Product Review, we love Air Fryers. We love them because they're fantastic benchtop appliances that have been a lifesaver when making dinner or even when snack o'clock sneaks around. Whether you're an experienced Air Fryer user or new to the product, we've got all the top recipes to try to make mealtime a breeze!
Sunbeam
The 4-in-1 Air Fryer and Oven from Sunbeam is as versatile as it gets, offering a variety of cooking functions that include Air Fry, Bake, Roast and Dehydrate; so you can do many tasks from the one unit. This space-saving Air Fryer boasts a large 10L capacity, 360° air circulation and digital controls for super simple control of your cooking.
Prep ahead; and with only 30 minutes cooking time, dinner is sorted with these deliciously easy Asian Pork Rashers recipe from Sunbeam.
Asian Pork Rashers
Serves 4
Prep Time: 1 Hour
Cook Time: 30 Minutes
These air fryer pork rashers are savoury and sweet. It's the perfect recipe to impress your guests.
Ingredients:
1 kg pork rashers cut into fours
½ cup hoisin sauce
2 Tbsp soy sauce
2 Tbsp honey
2 tsp sesame oil
Method:
In a large bowl combine hoisin, soy sauce, honey and sesame oil. Add pork and mix. Cover with aluminium foil and keep in refrigerator for 1 to 24 hours.
Line the three Air Flow Racks with alfoil.
Place the Drip Tray at the bottom of the oven.
Press POWER. Press AIR FRY. Adjust temperature to 200°C. Adjust time to 20 minutes. Press START/STOP. Allow oven to pre heat. Oven will 'beep' when preheated.
Place the pork in a single layer on each of the three Air Flow Racks. Close the door. Press START/STOP.
Cook ribs for 5 minutes on each side, then swap racks around. Cook for 5 minutes, on each side.
Cook's Tip:
Serve with a healthy salad of thinly sliced cucumber and Asian cabbage, mint and coriander leaves and a dressing of 1 Tbsp of white vinegar, soy sauce, olive oil and 2 tsp sesame oil and 1 tsp honey mixed together.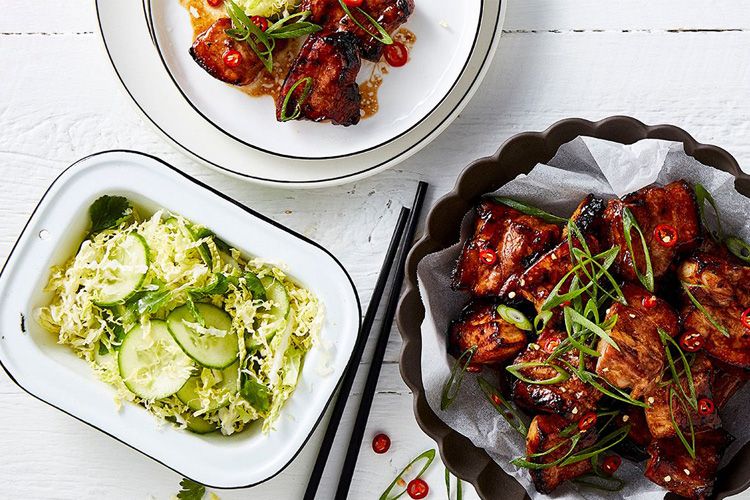 Russell Hobbs
Air Fryers were designed for more than just heating chicken nuggets and chips. Mix up your cooking routine with something new like prawn tacos. Prawn Tacos are easy with the Russell Hobbs Brooklyn Air Fryer, which has 7 pre-set cooking functions, including Fish, Chips and Bake. Variable temperatures can be selected on the digital touchscreen and with dishwasher safe parts, cleaning up is effortless.
Test out the Brooklyn Air Fryer by making prawn tacos with the below recipe from VJ Cooks.
Crispy Prawn Tacos with Chilli Lime Mayo
Cooking Time: 15 minutes
Ingredients:
400g prawn cutlets
2 tsp cajun seasoning
¼ cup flour
½ tsp salt
2 eggs, whisked
1 cup panko crumbs
½ cup coconut
Chilli Lime Mayo:
¼ cup mayonnaise
1 tsp sriracha
1 tbsp lime juice
To Serve:
8 tortillas, toasted
Coleslaw
Cherry Tomatoes, diced
Coriander
Method:
Pat dry prawns and add to a large bowl, sprinkle over cajun seasoning, flour and salt, then mix to coat the prawns.
Whisk together eggs in a bowl. Add panko crumbs and coconut to another bowl.
Dip prawns in egg and then coat in the crumb mixture on each side.
Place the prawns in a single layer in the base of the Brooklyn Air Fryer basket. Spray lightly with cooking spray.
Set Brooklyn Air Fryer to the prawn function and cook for 5 minutes until golden and crispy. Repeat a second time with the remaining batch of prawns.
Mix together the ingredients for the chilli lime mayo and store in the fridge until ready to use.
To serve: top warmed tortillas with coleslaw, tomatoes, hot crispy prawns, coriander and chilli lime mayo.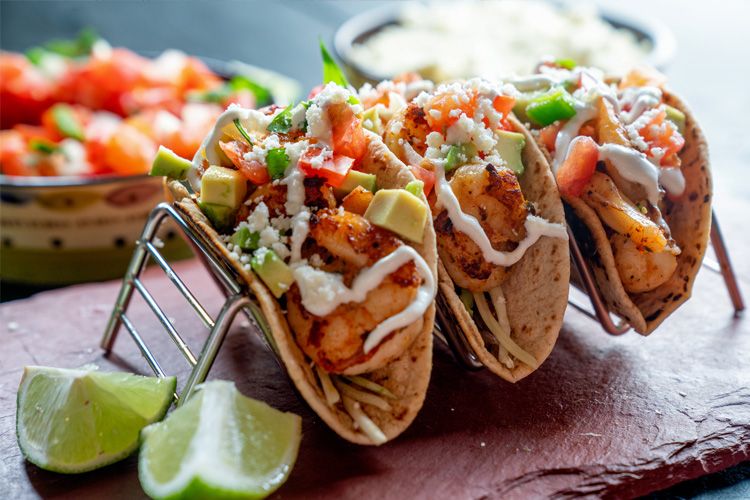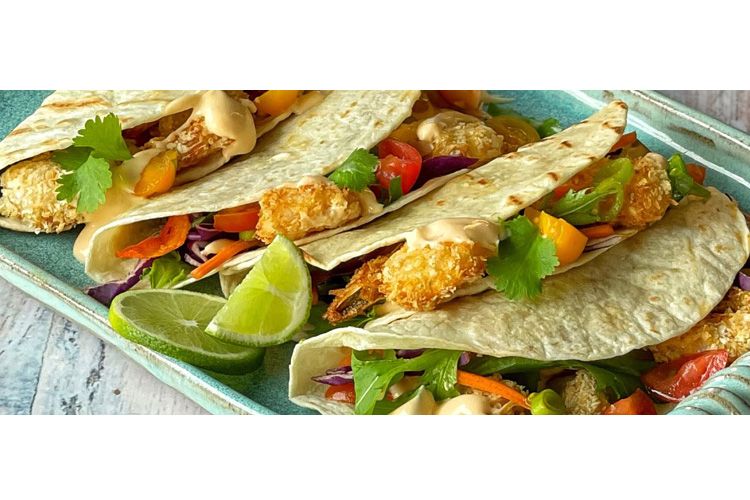 Tefal
In the mood for something sweet? Bake dessert and satisfy your craving with Tefal's multi-purpose Easy Fry Grill & Steam XXL Air Fryer. Just select the 'Dessert' option from the Air Fryer's 7 pre-set cooking programs to bake your sweet treat. When you're not air frying, this Air Fryer also offers Steam and Grill cooking functions. With a XXL 6.5L capacity, this air fryer cooks up to 8 servings, making it ideal for growing families.
Master the art of air frying with this giant choc-chip cookie recipe from Tefal.
Air Fryer Giant Fig, Almond & Choc-Chip Cookie
Serves 4
Prep Time: 15 minutes
Cooking Time: 15 minutes
Ingredients:
¾ cup raw Sugar
2 eggs, large
1 cup Slivered Almonds
1 cup figs, diced
3 cups plain flour
1 tsp baking powder
1 tsp bicarb soda
200g milk chocolate bits
200g butter, lightly salted
Method:
This Ultimate Fry Deluxe air fryer recipe is created by Tefal Brand Ambassador Hoda Hannaway for Tefal. #TefalxHoda
Place sugar and butter in a microwave-safe bowl. Microwave in 60 second increments, mixing in between until butter is completely melted and mixed with sugar. Allow to cool slightly before whisking in eggs. Set aside until needed.
In another bowl add flour, baking powder, bicarb soda and mix well. Add the flour mixture to the butter mixture and mix with a wooden spoon until all well combined.
Add to the cookie dough mix the Silvered Almonds, figs and milk chocolate bits.
Press cookie dough in the large basket of the air fryer, making sure you have an even layer. Select baking setting and bake on 190°C for approximately 15-20 mins or until fully baked.
Serve with your favourite vanilla ice cream.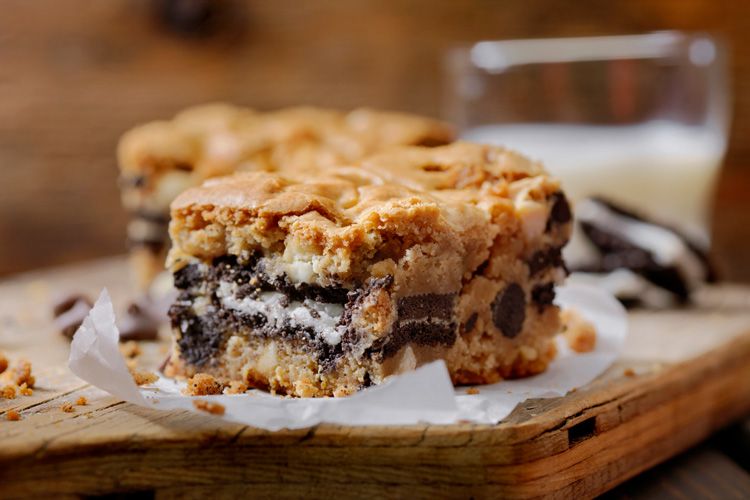 Find The Perfect Air Fryer
Just like home cooks, no two Air Fryers are the same. Find the perfect Air Fryer to meet your cooking and snack-making needs by clicking on the link below.