Aussie Products for Your Home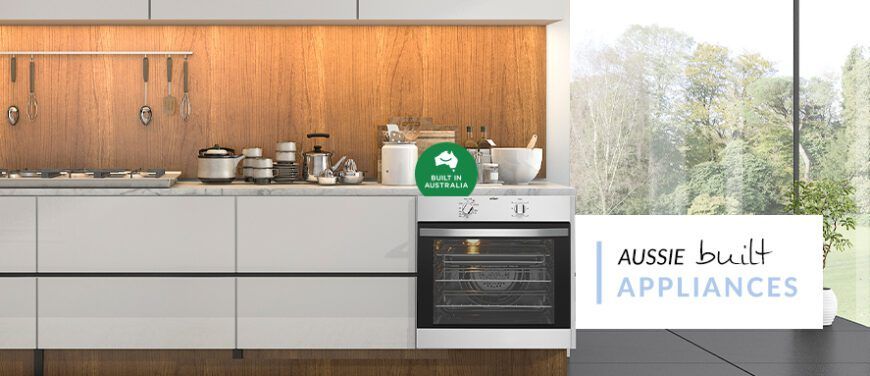 Buying Australian made has never been more vital. Purchasing locally made products not only helps Australians stay in jobs, you'll be supporting local brands and reduce your environmental footprint as well. Since the pandemic begun, declining stock and supply issues were raised, with many consumers making the shift to locally made goods.
From the kitchen to the laundry, there's an Australian-made product to match. Whether you need to make an upgrade or you're doing a complete make-over, why not celebrate and support local makers?
Shop Australian Built with Us
At National Product Review, we're proud to bring you a wide range of products from leading Australian and international brands. Our locally-produced products from home-grown brands offer uniquely styled, highly functional and practical products to ensure life at home is stress-free!
Chef
Classic design combines with practicality that makes Chef so loved in the kitchen. Known for their fuss-free approach to cooking, this thinking is transferred to their range of kitchen appliances, built locally in Adelaide, South Australia!
60cm Built-In Oven in Stainless Steel
Cook dinner daily with the simple-to-use control knobs from this classically styled built-in oven. An 80L cooking capacity, three cooking functions and cool oven door makes this oven perfect for any family home.
60cm Ceramic Cooktop in Black
Master any meal with the four cooking zones on this slim and stunning ceramic cooktop. Enjoy control of heat levels with the right-hand control knobs while the heat indicator ensures safe cooking at home.
Westinghouse
Families and home chefs will adore the quality and convenience that Westinghouse offers. Built in a local factory in Adelaide, South Australia, Westinghouse are best known for their refrigerators and cooking appliances.
90cm Freestanding Dual Fuel Cooker in Dark Stainless Steela
Ideal for growing families, this modern freestanding cooker offers an array of functions that will meet any demand. A 125L oven with AirFry and EasyBake +Steam takes care of cooking while pyrolytic cleaning makes cleaning up effortless. The cooker's 5-zone cooktop ensures plentiful space for making dinner or entertaining. The additional bottom storage drawer will please home chefs!
681L FlexSpace French Door Fridge in Stainless Steel
Find a spot for essential grocery items and more with the spacious storage capacity of this 681L French Door Fridge. If more freezer space is required or you need to chill drinks before guests arrive, the flexible FlexSpace™ Convertible Drawer is the perfect place to do this, thanks to its customisable -23°C to +7°C temperature range.
ZIP
Having a reliable tap in the kitchen is vital for everyday activities like washing hands, rinsing produce and meeting your water-drinking targets. ZIP makes it easy to access water with its refined collection of kitchen taps. ZIP taps are still manufactured where they were first founded, in Sydney, New South Wales.
HydroTap G4 Tap in Chrome
Access clean filtered drinking water as the HydroTap G4 Tap filters water down to a minute 0.2 microns. Boiling and chilled water can also be enjoyed instantly from the tap with a simple touch of a button. With 3 energy saving modes in a compact and classic design, this tap goes well with any kitchen design.
HydroTap Cube Tap in Chrome
The perfect tap for active families and entertainers, this square-shaped HydroTap offers filtered drinking water as well as boiling, chilled and sparkling water – so you can meet all your needs in the kitchen. From day to night, enjoy water any way you like with this stunning and easy-to-clean tap.
Oliveri
Stylish and durable, Oliveri's range of taps and sinks will make food preparation and cleaning up effortless. Experience the Oliveri difference in your kitchen today. Oliveri tubs and sinks are manufactured in Adelaide, South Australia
Sonetto Double Bowl Sink in Stainless Steel
From washing produce to cleaning up after eating, do it all with ease with the large 30L double bowls in Oliveri's Sonetto Double Bowl Sink. Boasting heat and soundproof technology with rounded corners, this durable and stylish double sink is perfect for any busy kitchen.
Electrolux
From the kitchen to the laundry, Electrolux have become a family favourite for its reliable and durable cleaning technologies. Proudly built in Adelaide, South Australia, with Electrolux you can spend less time cleaning and more time doing the things you love.
60cm Built-Under ComfortLift™ Dishwasher in Dark Stainless Steel
Dark Stainless Steel is fast becoming the must-have shade in any modern home. This Electrolux dishwasher offers more than just trending design, it also boasts the ComfortLift™ lower rack that can be lifted towards you, eliminating the need for awkward bends when loading and unloading your dishwasher.
9kg Front Load Washing Machine in White
Pack the whole family's laundry and wash in just one go with the large 9kg washing capacity. Enjoy perfect results as SensorWash technology applies optimum washing time and consumption levels to suit your load. With 15 wash programs to choose from, this washing machine is nothing short of impressive.
In the market for a new appliance for your home? Whether it's a cooktop, fridge or a washing machine, our Australian brands offer a range of functional and stylish technologies that will please. The next time you're shopping, why not celebrate locally produced products by purchasing from Australian brands. To find out more about each featured product, simply click on the links below.