Baba Ghanoush With Sheep's Milk Yoghurt, Pine Nuts & Burnt Butter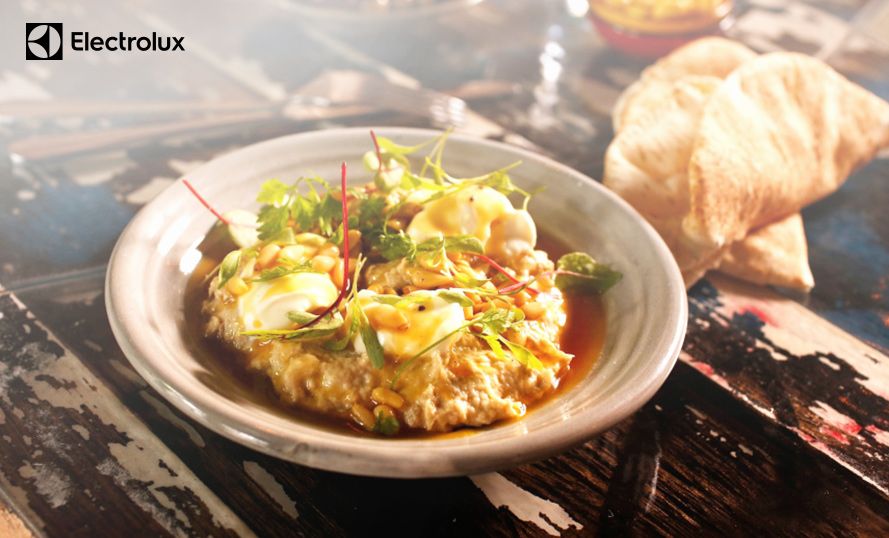 INGREDIENTS
Baba ghanoush
2 eggplants
25g tahini
Juice of one lemon
1 clove of garlic
25ml olive oil
Salt and pepper to taste
Pine nut burnt butter
120g unsalted butter
75g pine nuts
Sheep's milk yoghurt dressing
¼ clove of garlic
100g sheep's milk yogurt
15ml extra-virgin olive oil
Serves 4
METHOD | Baba ghanoush
Step 1.
Prick the eggplants with a fork all over. Over an open flame (using tongs) grill the eggplants whole until tender and soft. Juices should bubble on the surface and start to run off. Alternatively, roast in the oven at 190°C until tender and soft.
Step 2.
Cut eggplants in half lengthways and scoop the flesh out into a bowl. Allow to cool.
Step 3.
Add remaining ingredients to the eggplant flesh in the bowl. Using a whisk gently combine all ingredients together. Keep the texture thick to avoid turning the eggplant into a paste. Season to taste.
METHOD | Pine nut burnt butter
Step 1.
On a medium heat melt the unsalted butter in a saucepan until it starts to turn an amber colour and gives off a nutty smell.
Step 2.
Just before the butter turns brown add the pine nuts, tossing until it turns brown (beurre noisette). Remove from heat.
Step 3.
Set aside and keep warm so that the butter doesn't solidify, allowing the pine nuts to infuse the flavour.
METHOD | Sheep's milk yoghurt dressing
Step 1.
Finely grate the garlic. Combine with sheep's milk yogurt and olive oil. Season to taste.
To finish
Chevril leaves to garnish
Lebanese bread to serve
Step 1.
Place baba ghanoush in a serving bowl.
Step 2.
Dollop sheep's milk yoghurt dressing around it. Stir the pine nut burnt butter and spoon over the top.
Step 3.
Garnish with chervil leaves and serve with warm Lebanese bread.
Recipe by Electrolux
View COOKTOP RANGE