Beko Aeroperfect™: For Perfectly Even Cooking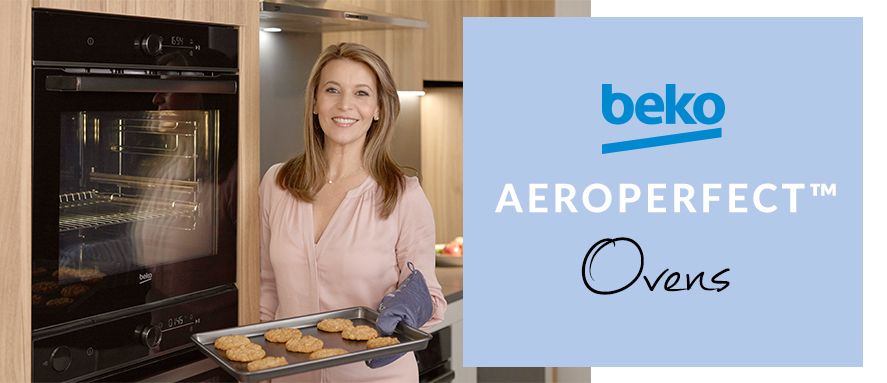 Do you get frustrated by the constant need to check on your oven cooking? Hate having to turn the baking trays around so that both sides are evenly cooked? Now you no longer have to, thanks to Beko's innovative Aeroperfect™ oven technology. Inspired by air current movement, aircraft technology and the study of aerodynamics, Beko have perfected the art of hot air distribution with their new range of Aeroperfect™ ovens.
What is Aeroperfect™?
Aeroperfect™ is an oven fan system that's inspired by aircraft design, with construction and spinning action that evenly distributes hot air – so that perfect cooking results can be achieved, every time.
How does Aeroperfect™ work?
Hot air is evenly spread across the oven cavity so that there's perfect browning across every shelf level. With minimum temperature fluctuations, Aeroperfect™ delivers precise cooking so that you get the desired form and texture in your cooking.
The benefits of Aeroperfect™
With a Beko Aeroperfect™ oven, just select the cooking function, insert your dish and let the oven do the work. When you cook with an Aeroperfect™ oven, there's no need to twist and turn your tray to get even baking results. And since there's less temperature differences, there's reduced impact on your dishes; now you can say goodbye to sinking cake centres!
Meet the Beko Aeroperfect™ Ovens
Let's explore what Beko's Aeroperfect™ Ovens have to offer and how they can make meal creation easy and enjoyable.
60cm Built-In Pyrolytic Oven – Black
Perfect for: home chefs and entertainers with its large range of cooking functions
With its large 85L cooking capacity, Aeroperfect™ hot air circulation and 15 cooking functions, any meal or dish can be created with ease. Cooking functions include defrosting, fan-assisted, pizza, electric grill, keep warm and fan grilling.
A range of features makes using this Beko oven a breeze, they include full extendable telescopic shelves, an LED display with touch and knob controls, as well as a meat probe that will help you get perfect results whether you're after perfectly rare, medium, or well-done meat. At the end of cooking, cleaning up is simple thanks to the Clean Zone oven door which resists grease build up and the pyrolytic self-cleaning cycle – so that you need to do is wipe away the burnt ash with a soft cloth.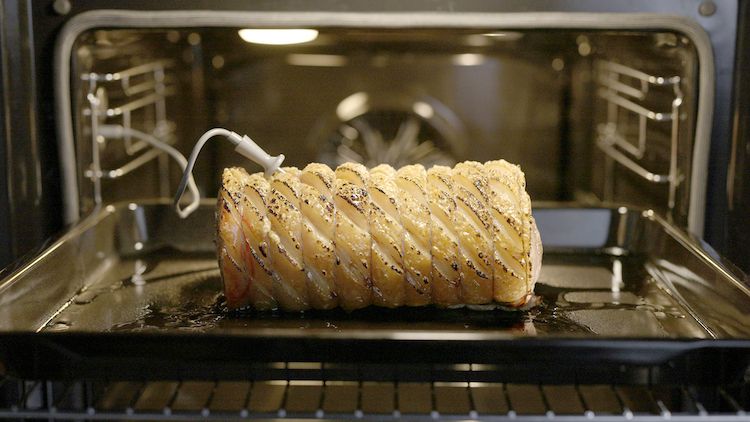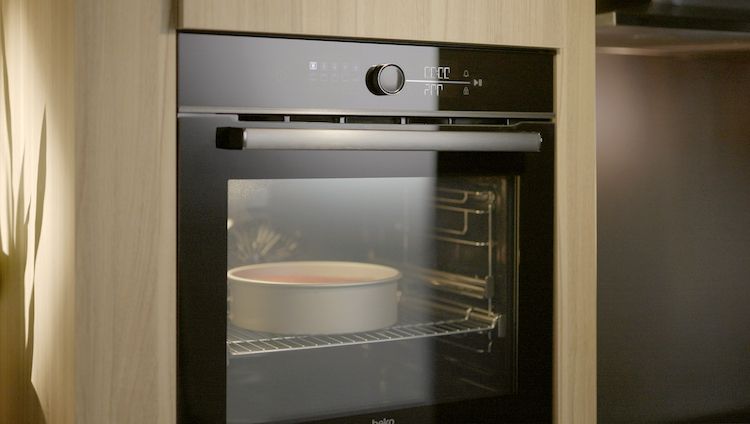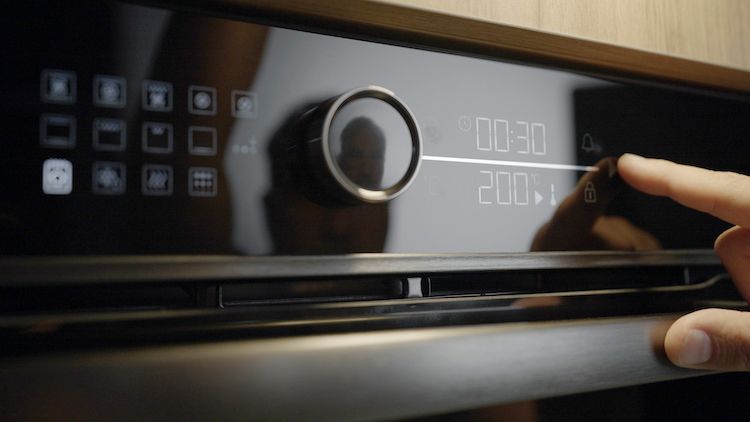 60cm Built-In Pyrolytic Oven – Dark Stainless Steel
Perfect for: avid home cooks and regular bakers thanks to the SteamAdd program
Effortlessly manage any recipe with this Beko oven's spacious 85L cooking capacity and 9 cooking functions which include defrosting, fan-assisted, electric grill and conventional cooking. Powered by the Aeroperfect™ hot air distribution, the oven will help produce perfect baking results, roast a roast professionally or grill a healthy breakfast. Home bakers will appreciate the SteamAdd® Program which uses the power of steam to help produce delicious pastries and bread that's crispy on the outside and incredibly soft on the inside.
Cook and entertain easily with the oven's range of useful and intuitive controls such as the LED display with touch and knob controls, as well as the full extendable telescopic shelves that offers safe retrieval of any dish. At the end of cooking, cleaning up is simple thanks to the pyrolytic self-cleaning cycle which burns food residue to ash, so all you need to do is wipe it away with a soft cloth.
Sustainable Construction
Made in Europe, both Beko 60cm Built-In Pyrolytic Ovens helps reduce your home's environmental footprint just with its existence. The oven's components, such as the door décor plastic, display cover and inner cover are constructed from recycled fish nets and industrial thread waste to help keep our environment cleaner and greener.
Gorgeous Design
Crafted with a flat glass design with slim bar handle, Beko's Aeroperfect™ ovens will fit in with any modern kitchen design, especially those with darker appliances or décor.
Greater Confidence
We know how important having a functional oven is. From preparing meals in bulk for the week ahead, crafting a dinner party favourite or indulging in a new cake recipe, cook confidently for many years to come with the include 5-year warranty.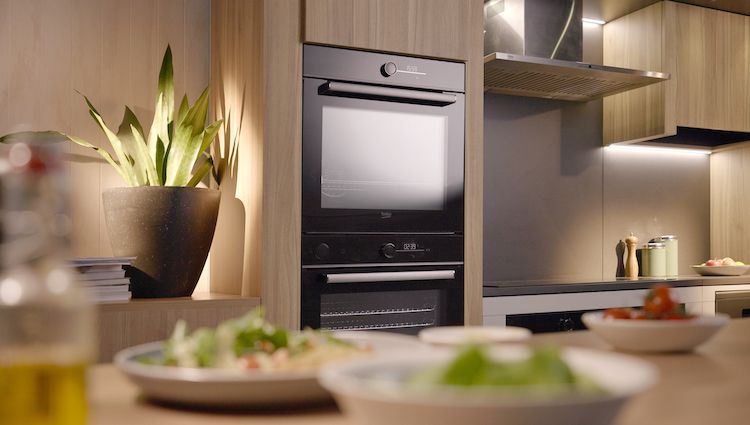 Recipes to try with Beko Aeroperfect™ Ovens
Curious to see how a Beko Aeroperfect™ oven will perform or the type of results you can enjoy? Give it a try with the below recipes from our friends from Beko:
Vegetable Frittata
Serves 6
Total Time: 1 hour
Best served for lunch
Ingredients:
10 eggs
60ml milk
1 zucchini, chopped
20g sun-dried tomatoes
25g basil
60g prosciutto
50g Parmesan
Salt
1 teaspoon of olive oil
1 teaspoon of vinegar
20g rocket
Method:
Preheat the oven to 200˚C.
Whisk eggs and milk together in a large bowl.
Add zucchini, 15 g of sun-dried tomatoes, basil, prosciutto, Parmesan (if using) and spices to the bowl and stir until combined.
Line a baking tray with parchment paper and pour the mixture into the tray.
Bake it for about 40 minutes until the top is golden brown then remove from the oven. Let cool for a few minutes.
Whisk olive oil and vinegar together in a small bowl.
Add rocket and remaining 5 g of sundried tomatoes, toss until combined.
Serve slices of the Vegetable Frittata with the rocket and sundried tomatoes mix.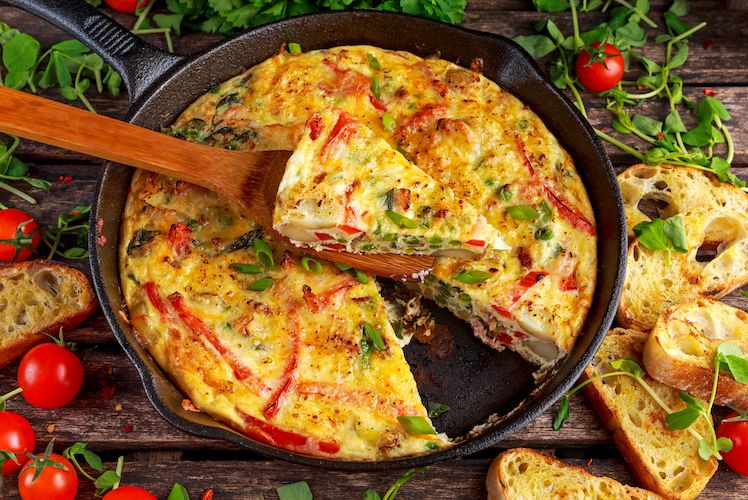 Roasted Chicken with Root Vegetables
Serves 4
Total Time: 1 hour
Best served for dinner
Ingredients:
30g olive oil
Salt
4 smashed garlic cloves
1 onion
1 bunch of carrots (peeled and cut on the base)
1 leek, rinsed and cut into large cubes
700-800g quartered potatoes
4 chicken thighs
Fresh thyme
Method:
Preheat oven to 200˚C.
In a tray, add olive oil, salt, smashed garlic and onion.
Dice the potatoes in cubes and place them in the tray.
Add the carrots, leek, potatoes and fresh thyme in the tray and mix it around.
Add the chicken thighs, skinned side down.
Bake for 45 minutes, uncovered, at 190˚C.
Remove from the oven and let sit for 5 minutes.