The Benefits of Steam Washing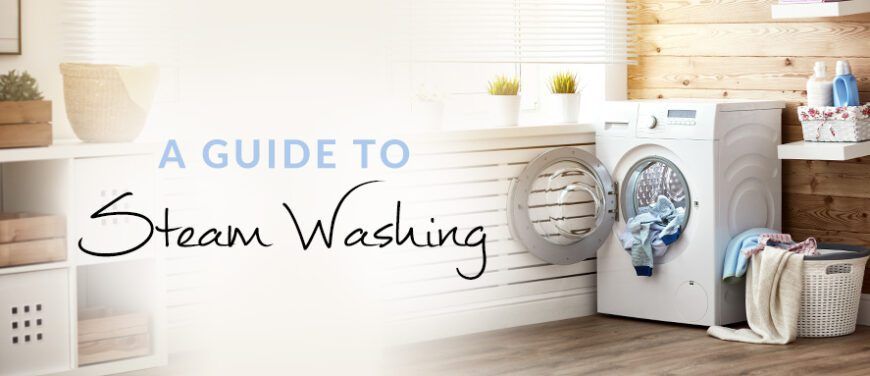 Whether it's everyday essentials like T-shirts, bedding, the kids' school uniform or cherished woollen jumpers, your clothes need the care and attention that they deserve. Steam Washing has become increasingly popular in garment care and the benefits of Steam washing goes far beyond just maintaining the longevity of your garments.
Our Steam Washing guide below answers all your questions about Steam Washing to help you decide if it's right for you and your family.
What is Steam Washing?
Steam Washing is a new function in many front load washing machines whereby steam is added to the wash cycle or at the end of it to remove dirt and other particles. Ultra-high temperature is circulated in the washer's drum to create steam that improves the cleaning power to remove deep in-grained stain and dirt.
Aside from removing stain and dirt, many Steam clean or rejuvenate cycles can be run to eliminate sweat, smoke, household allergens, perfume and other pollution without "washing" your clothes. Some steam wash functions also include an anti-crease cycle that keeps your clothes wrinkle-free thus preventing the need to iron your clothes.
What are the benefits of Steam Washing?
If you need extra peace of mind that your clothes are properly washed, then Steam Washing is ideal for your laundry routine. The deep clean effect from Steam is also perfect for households with allergies or for those suffering from illnesses such as Asthma. The higher the temperature in the wash drum, the more likely it is to kill bacteria, dust mites and other germs that causes respiratory issues.
As mentioned, if the Steam Wash cycle features an anti-crease cycle, then steam will also remove the need to iron your clothes.
What brands feature Steam Washing?
Many leading brands feature Steam Washing, including:
• Miele
• Siemens
• AEG
• LG
• Samsung
• Beko
To help you get an idea of what some of the brands offer when it comes to Steam Washing, we've summarised some popular Steam Wash Cycles:
LG's Steam+
In LG's washing machines, simply add the Steam+ cycle to selected compatible washing cycles to open up fibres which assist in removing common household allergens.
Samsung's Steam Cycle
Samsung's Steam Cycle releases steam from the bottom of the drum to give your garments the powerful clean they deserve and also removes allergens and bacteria.
AEG's Steam Refresh
AEG'S Steam Refresh enables you to give your clothes a refresh without the need for water or detergent. Steam Refresh is great for when you need to wear the same top again with short notice and the cycle means less wear and tear on garment fibres, helping your clothes maintain their texture and shape for longer.
Is Steam Washing right for my laundry needs?
Whether you want extra cleaning power, you have a history of Asthma or perhaps you're always short on time to iron your clothes. Whatever your needs, Steam Washing may prove to be the best solution to add to your laundry routine.
While it's worth noting that washing machines with Steam Washing are more expensive, the return on investment for every Steam cycle you use will pay off.
View our Steam Washing Machines