The Best From SXSW (South by Southwest Tech Festival)
Imagine – a robot to help with your shopping, an app to instantly record your voice into text on video, technology that can help compose music or a rollable High Definition TV that can be hidden away…Sounds very sci-fi doesn't it? Well, we can say that it's all real. At the recent South by Southwest® (SXSW®) Conference & Festival, held in Austin, Texas, all things interactive, film and music was shared. Since then, we've got the inside goss on the new technologies that are going to transform our lives in the very near future.
Artificial Intelligence (AI) and tools for a better life. AI exist as programmes and softwares that imitate human intelligence. The extent in which AI performs 'human-like' activity ranges from speech recognition, decision-making and language translation. Perhaps the most famous example of AI is the rise of virtual agents. Virtual agents are currently used worldwide for customer service, support and as smart home managers. Famous examples include Google Assistant, Apple's Siri and Amazon's Alexa.
At South by Southwest®, LG showcased their new range of virtual agents, called LG CLoi, pronounced "Chloe". CLoi is a robot that uses LG's AI technologies to actively engage with people, providing information and services. Domestic models will assist around the home, for example to stream music and to control your home security remotely.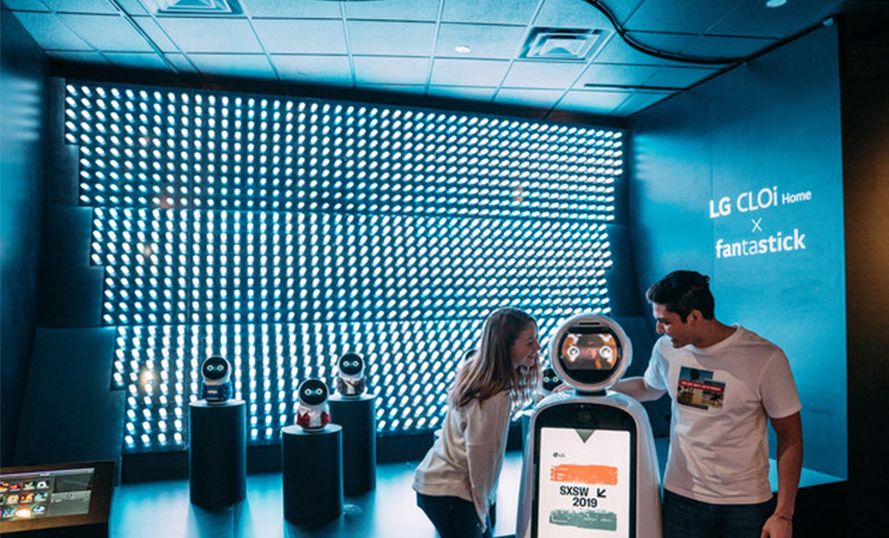 South by Southwest® attendees inspect the LG CLoi range.
Beer lovers rejoice! Brew beer at home with the new LG HomeBrew capsule-based craft beer maker. The all-in-one machine uses conveniently packed capsules and can brew up to 5 litres of beer and with the smart phone app, you can monitor the whole brewing process.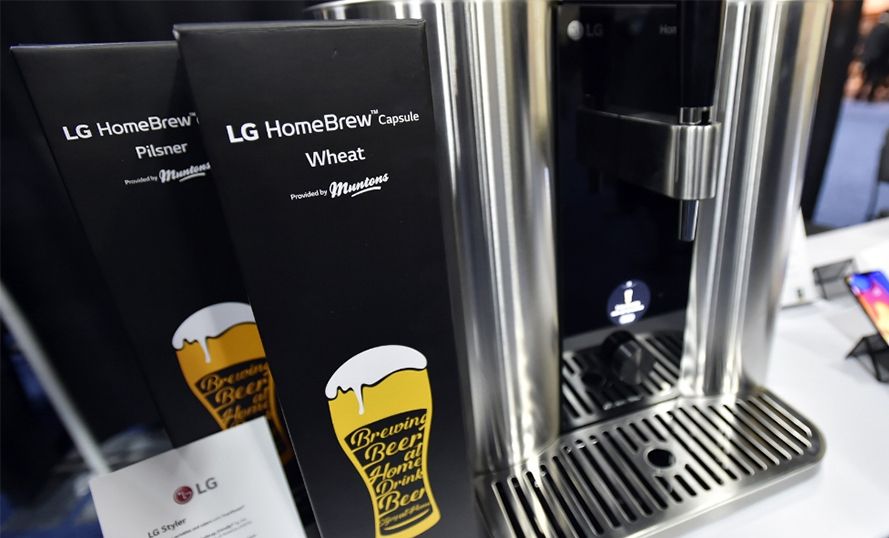 The LG HomeBrew, perfect for beer lovers and the avid entertainer.
The most-awarded TV at the recent CES 2019 will leave you breathless. LG's signature OLED TV R, the world's first rollable TV features a razor-thin 65-inch 4K Ultra HD flexible display. Yes, we said rollable. Flexible and multi-purpose, with the "full view" you can use it like a normal TV, or choose to roll it down for "line view" to only see the time and control music. In the "zero view" you can completely hide the TV inside with just the speaker showing. You can even control smart home devices such as lights with the rollable TV. Great for smaller spaces, you can view the TV or the view behind it at the touch of a button.
If you love to record videos on your smartphone, you'll love Mitsubishi Electric's SwipeTalk Air™. The SwipeTalk Air™ is the world's first user interface (UI) to use augmented reality (AR) technology to display spoken words instantly as three-dimensional text during video recordings. Text positioning is implemented by simply swiping a finger over the tablet or smartphone screen. You'll never have to manually add captions again! Mitsubishi have announced development of the SwipeTalk Air™ app on iOS®, so keep your eyes peeled for the next update.


Bring videos to life with the 3D text thanks to Mitsubishi's SwipeTalk Air™.
Meanwhile, Sony posed the question: Will technology enrich human creativity? Well, we've got good news – AI will soon be a partner for composing music. The Flow Machines installation at South by Southwest showcased how you can set parameters and then the algorithm does the rest of the work! It really is an exciting technological update for all music lovers and composers.
The world of technology, from TV viewing, to smart assistance and creative activities is increasingly advanced and with this sneak peek at South by Southwest®, it's a hint at the bigger things to come. Stay tuned!
*All products mentioned have not yet been released for purchase. Stay tuned and updated with us for their release.