Braun's Healthy Breakfast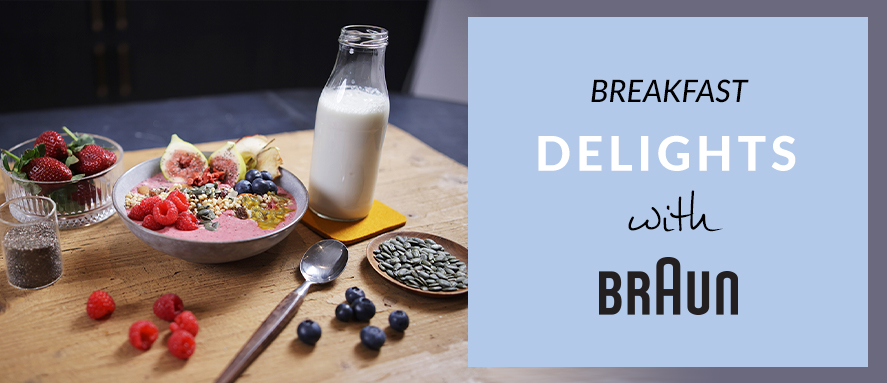 Welcome spring with a cleanse that is tasty and good for you. Create treats that are both healthy and delicious to help celebrate the warmer weather! Packed full of nutritious ingredients, blend your way to a smoothie bowl or whip up some breakfast bars that you and the family can enjoy on the go.
To make these recipes, you'll need Braun's MultiQuick 9 Hand Blender. This multipurpose hand blender features a strong 1200W motor, 3 power modes, SplashControl mechanism and EasyClick attachment system which makes changing the attachment (and task) easy. Chop, mix, blend and even knead dough with accessories including a 2L food processor bowl, whisk, kneading hook and beaker with lid.
Frozen Red Berries & Coconut Smoothie Bowl
This recipe was prepared using Braun's Multiquick Hand blender and its beaker attachment.
Serves 4
Prep Time: 5- 20 minutes
Cooking Time: 0
Ingredients:
For the smoothie bowl
60g frozen raspberries
60g frozen strawberries
60g frozen cranberries
60g fresh coconut flesh
¾ cup coconut milk
1/3 cup plain yogurt
Toppings
1 tsp dry roasted coconut chips
1/4 cup granola
1/4 cup Goji berries
1 fresh banana, sliced
1 tbsp pumpkin seeds
A handful of fresh berries of choice
Method:
Place the frozen raspberries, strawberries and cranberries into the beaker of the Braun MultiQuick Hand blender with blending shaft together with the fresh coconut flesh, coconut milk and plain yogurt. Blend the mixture until smooth.
Pour the smoothie into breakfast bowls and top them with optional toppings of choice.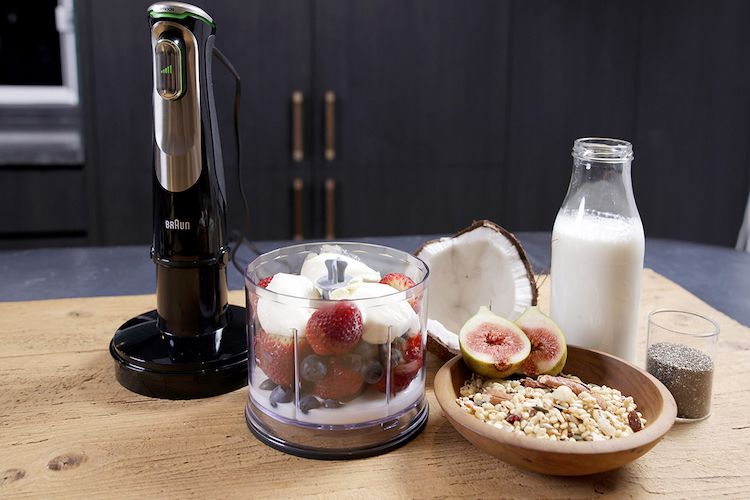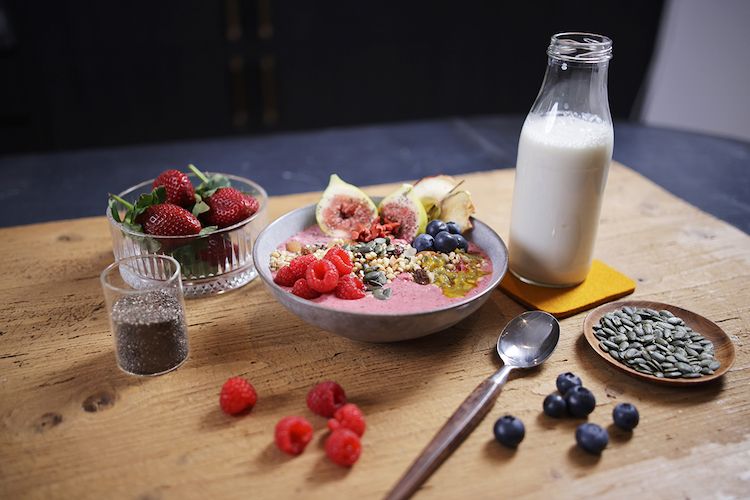 Blueberry, Almond & Quinoa Breakfast Bars
This recipe was prepared using Braun's Multiquick Hand Blender and its chopper and food processor attachments.
Makes 16 Breakfast Bars
Prep Time: 5- 20 minutes
Cooking Time: 30 – 60 minutes
Ingredients:
¾ cup blanched almonds
1 1/3 cups quinoa
2 2/3 cups water
1 tsp baking powder
2 small bananas
½ cup pumpkin seeds
1 cup organic oats
3 tbsp chia seeds
2 tbsp honey
2 tbsp freshly squeezed lemon juice
1 cup fresh blueberries
Method:
Preheat oven to 180°C and line the bottom and sides of a 20cm square pan with parchment.
Chop the almonds with the Braun MultiQuick food processor attachment. Set aside.
Bring the quinoa and water to a boil in a medium saucepan. Reduce heat to low, cover and let simmer for 15 minutes. Let cool for 5 minutes. Place the cooked quinoa in the Braun MultiQuick food processor attachment together with the baking powder, bananas, pumpkin seeds, oats, chia seeds and almonds, and blend to a thick paste.
Add the honey and lemon juice. Pulse to mix everything together until fully incorporated. The batter should be moist and thick. Fold in the blueberries with a spoon or your hands.
Transfer the batter to the prepared pan and smooth with a spatula.
Bake for 25 – 35 minutes until the bars are golden brown and firm to the touch.
Remove from oven and let cool completely in the pan, then remove and slice into squares (or rectangles). You can store the breakfast bars in an airtight container in the refrigerator for a few days.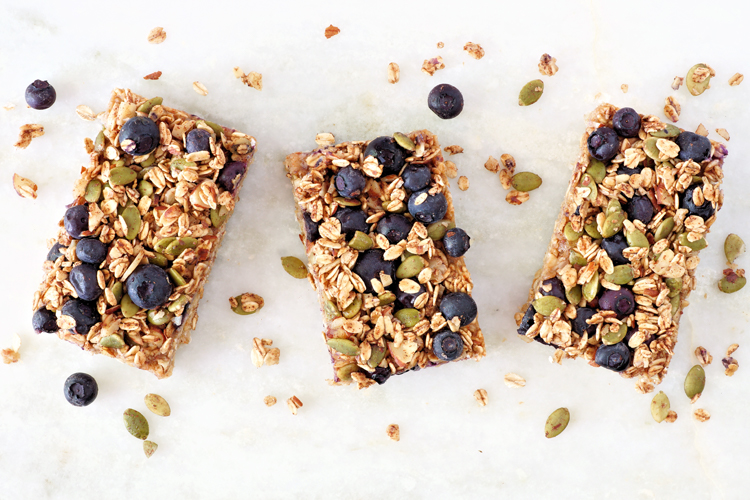 Feeling peckish just reading the recipes? So are we! Grab your hands on Braun's MultiQuick 9 Hand Blender and get started on your spring cleanse. Click on the links below to see more, read reviews, add it to your wish list and find it at your local retailer!