Buttermilk Pancakes with Caramelised Bananas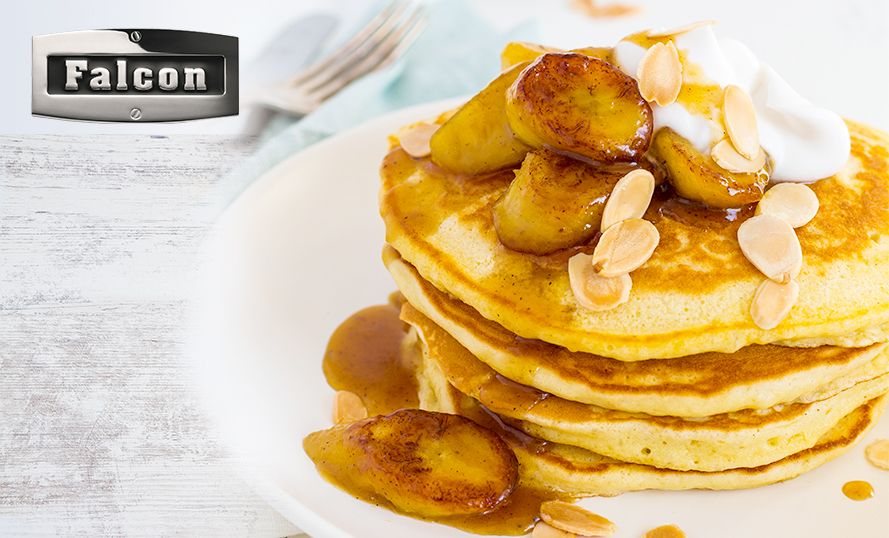 INGREDIENTS
2 cups self-raising flour
½ tsp baking soda
½ tsp salt
½ cup caster sugar
375ml buttermilk
3 eggs, beaten
1 tsp vanilla extract
1 cup coconut yoghurt, to serve
¼ cup flaked almonds, toasted, to serve
Caramelised Bananas
60g unsalted butter, plus extra for greasing
3 bananas, peeled & sliced diagonally
½ cup maple syrup
¼ cup cream
¼ tsp sea salt
Serves 4-6
Prep 15 Min
Cook 20 Min
Easy
METHOD
Step 1.
For bananas, place butter in a non-stick frypan over medium heat. Add bananas and cook for 2 minutes, turning once, until lightly golden and caramelised. Transfer to a plate. Add maple syrup to pan and cook for 2 minutes until reduced and thick. Add cream and salt and stir to combine. Return bananas to pan and coat with sauce. Set aside.
Step 2.
Place flour, baking soda, salt and caster sugar in a large bowl and whisk to combine. Add buttermilk, eggs and vanilla and mix until just combined.
Step 3.
Heat teppanyaki plate or large non-stick frypan over medium heat. Lightly grease with butter and working in batches, pour ½ cup of batter onto the plate for each pancake. Cook for about 3 minutes until bubbles appear on top, flip and cook for another 1 minute. Keep pancakes warm while you repeat with remaining batter.
Step 4.
Serve pancakes in a stack, spoon over some bananas, dollop with coconut yoghurt, sprinkle with almonds and drizzle with maple caramel.
Recipe by Falcon
View Falcon RANGE