Caramel Crumble New York Cheesecake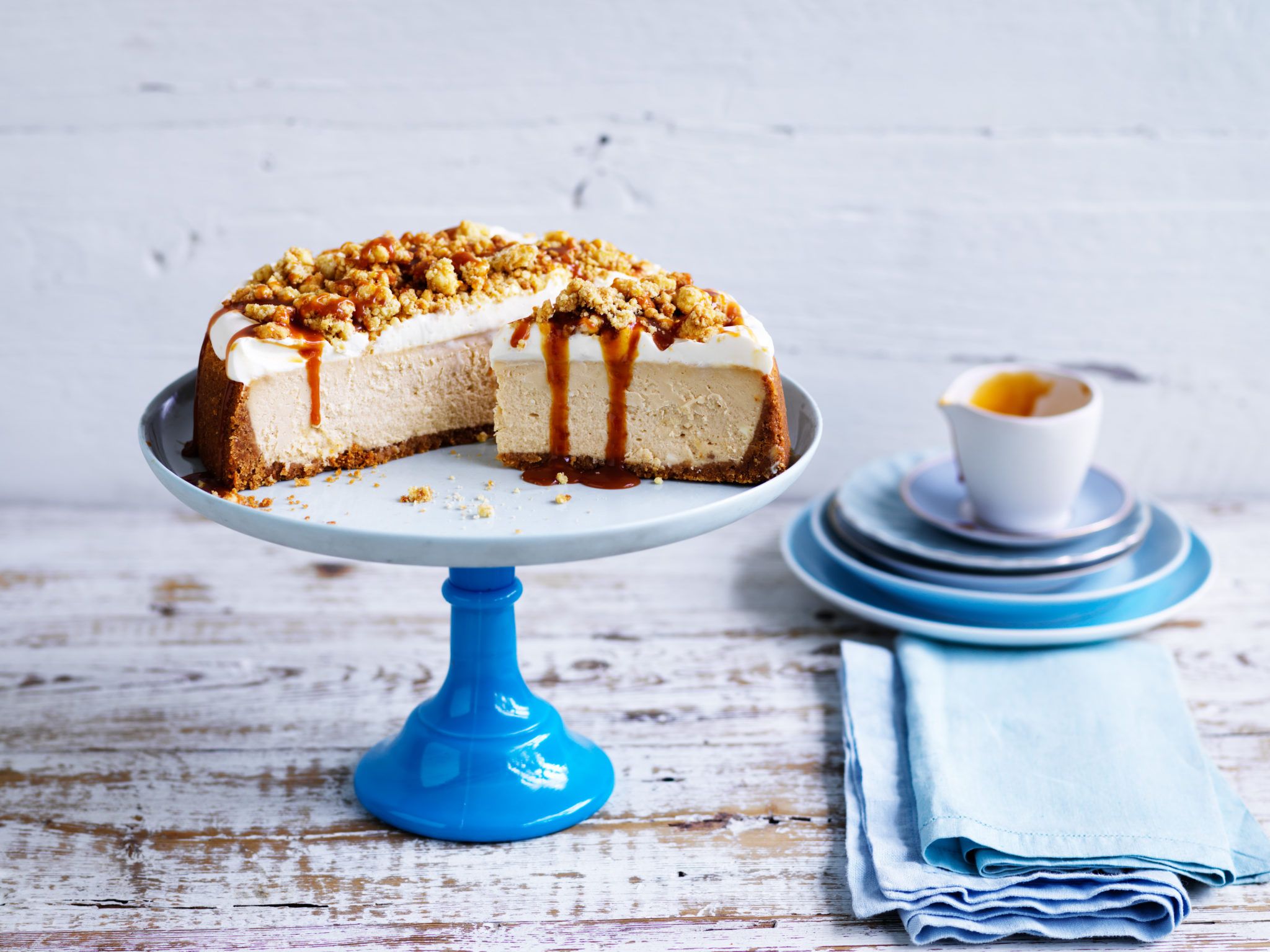 INGREDIENTS
250g plain biscuits
125g butter, melted
750g cream cheese, softened, chopped
¾ cup (165g) caster sugar
½ cup salted caramel sauce
2 tablespoons plain flour
3 eggs
300ml sour cream
200ml thickened cream
Extra salted caramel sauce, to serve
CRUMBLE
½ cup (75g) plain flour
60g butter, chopped
2 tablespoons brown sugar
Serves 10
Preparation: 25 minutes
Cooking time: 1½ hours, plus chilling time
METHOD
Step 1.
Preheat oven to 150°C fan forced. Grease and line the base of a 22cm (base) springform pan with baking paper.
Step 2.
Blend or process plain biscuits until finely crushed. Combine the biscuit and butter in a bowl and mix well. Press over the base and up the sides of the prepared pan, leaving a 1cm gap from the top edge. Place in the fridge to chill.
Step 3.
Attach the Flat Beater to the KitchenAid® Stand Mixer and add the cream cheese and sugar into the mixing bowl. Mix on speed 4 until smooth. Add the caramel sauce and continue mixing on speed 4 until combined. Add the flour then eggs one at a time, beating after each addition. Add the sour cream, and mix gently for 2-3 seconds on speed 1, or until just combined. Do not over mix.
Step 4.
Pour the cream cheese mixture into prepared pan. Place on a baking tray and bake for about 1¼ hours or until just set in the centre. Turn oven off. Leave the cheesecake in the oven, with the door ajar, until cooled completely. Place in the fridge to chill.
Step 5.
For the crumble; preheat oven to 170°C fan forced. Combine the flour and butter in a bowl, use fingertips to rub butter into flour until it starts to form clumps. Add the sugar and mix well. Spread crumble over a baking tray. Bake 12-15 minutes until light golden. Set aside to cool.
Step 6.
Just before serving, pour the cream into the KitchenAid® Stand Mixer and attach the Wire Whisk, whisk on speed 6 until cream is thick. Spread the cream over the top of the cheesecake. Sprinkle over crumble, drizzle with extra salted caramel and serve.
Recipe by KitchenAid
View kitchenaid RANGE