Celebrate World Pizza Day with Breville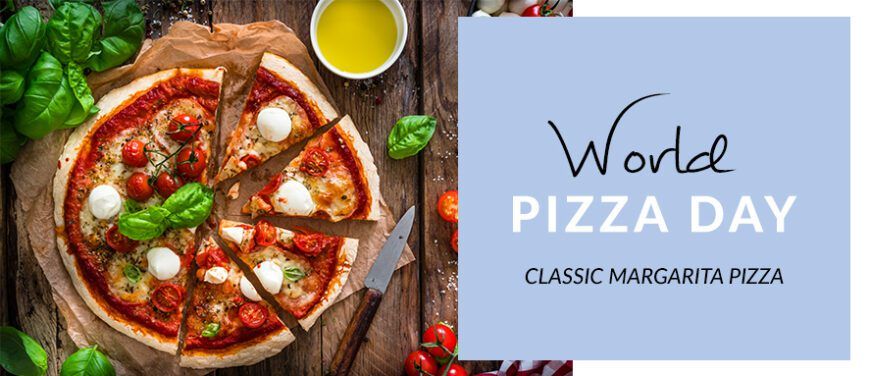 Today, February 9 is World Pizza Day! There's so much to love about pizza – it's easy to make, super customisable and did we forget to mention delicious? Be inspired to bake pizzas at home with this Margherita Pizza recipe from Breville. Cook it in a matter of minutes with the Smart Oven Air Fryer
Margherita Pizza*
Makes: 3 Pizzas
Prep Time: 5 hrs 25 mins (includes 4-5 hrs rest)
Cooking Time: Up to 45 minutes
Ingredients:
DOUGH
300ml warm water
¼ heaped teaspoon dry yeast
3 teaspoons fine sea salt
500g "00" (strong bakers) flour, sifted
TOPPING
400g can whole
San Marzano tomatoes
150g buffalo mozzarella
18 basil leaves
Extra virgin olive oil
TO SERVE
Method:
DOUGH
Combine water, yeast and salt in a large bowl, stir until dissolved.
Fold through flour until just combined, turn out onto a lightly floured surface and knead for 5–10 minutes or until a smooth ball forms.
Place dough ball into a lightly oiled bowl, cover with cling wrap. Set aside in a warm drought free place for 4–5 hours or until dough has double in size (this can take up to 10–12 hours).
Turn dough out on a floured surface and knock back (punch) the dough to remove excess air, lightly knead.
TOMATO SAUCE
Place tomatoes in a food processor and process until combined.
COOKING THE PIZZA
Power on Breville's the Smart Oven Air Fryer and turn the FUNCTION dial to the right until the indicator reaches the PIZZA function.
Press the START/CANCEL button to begin PREHEATING.
To prepare your pizzas, divide dough into three 220g balls. Roll out one piece of pizza dough onto the included 30cm non-stick pizza pan.
Prick base with a fork or pizza docker.
Spread base with 2 tablespoons tomato sauce.
Divide toppings evenly into three. Top base with mozzarella and basil. Drizzle with oil.
Once the oven is ready for use, the blinking 'PREHEATING' will go out, the oven alert will sound and the timer will start counting down.
Transfer pizza pan onto the wire rack in the centre of the oven and close the lid.
The oven's preset PIZZA function has a temperature of 210°C and 20 minutes cooking time. Suggested cooking temperature is 180°C and cooking time of 10-15 minutes or until topping are cooked and golden and base crisp and brown. To make changes, simply twist the TEMPERATURE and TIME dial.
Open oven lid carefully with oven mitt and remove pizza onto chopping board.
Garnish with extra basil leaves.
Cut into wedges and serve immediately. Repeat cooking steps for the remaining two pizza dough.
*Originally for 'the Crispy Crust', this recipe has been modified for cooking with Breville's 'the Smart Oven Air Fryer'