Chilled Tofu & Lump Crabmeat Salad with Creamy Salted Egg Yolk Sauce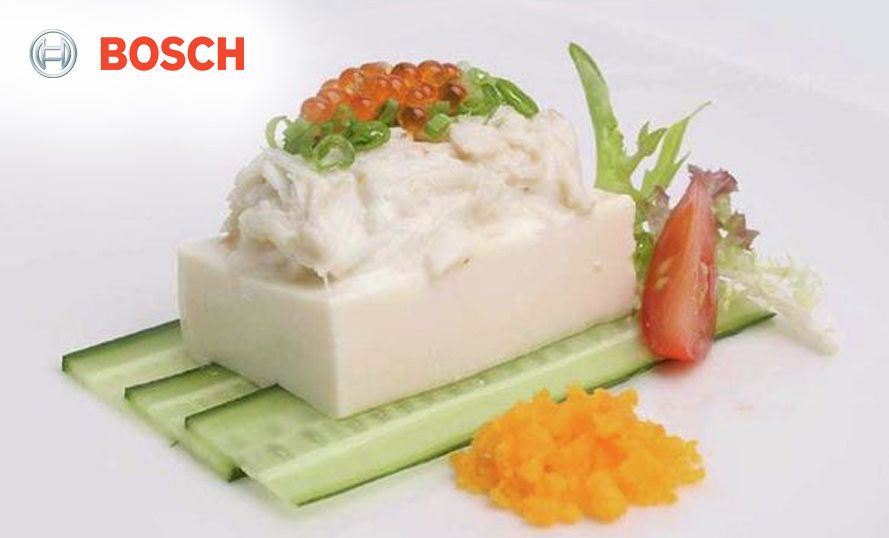 INGREDIENTS
Main:
1 tube of silken tofu (250g), cut into 4-pc lengths
1 piece of Japanese cucumber, thinly sliced
4 tablespoons of rice vinegar
2 tablespoons of sugar
A pinch of salt
120g of cooked crabmeat
½ teaspoon of Shaoxing wine
Sauce:
2 tablespoons of mayonnaise
3 salted egg yolk
A pinch of Five Spice powder
Garnish:
2 stalks of spring onions, diced
Salmon Roe or Ebiko Roe
Difficulty: Medium
Servings: 4
Preparation Time: 60 mins
Cooking Time: 20 mins
METHOD
Step 1.
Chill silken tofu until ready to serve. Toss cucumber slices with vinegar and sugar. Allow it to marinate for an hour.
Step 2.
Drain cucumbers and season with a pinch of salt. Mix crabmeat with some Shaoxing wine.
Step 3.
Combine ingredients for sauce together and whisk in the Bosch kitchen machine till the mixture turns smooth. Thin out with a little water if the sauce is too thick.
Step 4.
Arrange pickled cucumber on tofu. Spoon some crabmeat on the cucumber and add the salted egg yolk sauce.
Step 5.
Garnish with spring onions and salmon roe before serving.
View Bosch Range