Chocolate Espresso Brownies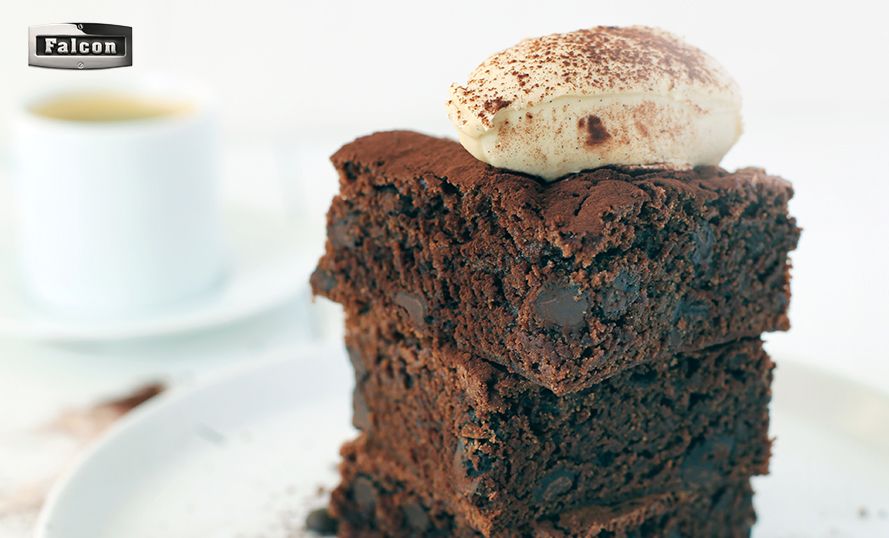 INGREDIENTS
250g unsalted butter, chopped
250g dark chocolate chips, plus 1 cup extra
1 cup (220 gm) caster sugar
½ cup (100 gm) brown sugar
4 eggs
1 tbsp vanilla extract
1 shot espresso coffee, 40 ml
½ tsp fine salt
½ tsp baking powder
1 cup (160 gm) wholemeal spelt flour, plus 1 tbsp extra
1 tbsp cocoa powder for serving
Espresso Cream
250g mascarpone
1 tbsp icing sugar
1 shot espresso coffee, 40 ml
1 tsp vanilla paste
Cooking Level: Easy
Prep Time: 15 mins
Cooking time: 50 mins
Serves 9
METHOD
Preheat oven to 160°C Fan.
Grease and line a 23cm square cake tin with baking paper. In a bowl over simmering water, add the butter and 250gm chocolate and stir until melted. Remove from heat and cool slightly before whisking in the sugars, then the eggs; whisk until smooth and glossy. Mix in the vanilla, espresso, salt, baking powder and 1 cup of flour until combined. In a small bowl, toss the 1 cup of chocolate chips with the extra flour to coat, then stir through the brownie mixture. Pour into prepared tin and smooth the top. Bake for 50 minutes until set but still moist in the centre. Cool completely in the tin before lifting onto a board and cutting into squares.
For the espresso cream, whisk together all the ingredients until soft peaks form. Serve the brownies with a dollop of espresso cream and dust with cocoa powder.
Recipe by Falcon
View COOKER RANGE