Chocolate Strawberry Ghosts And Monsters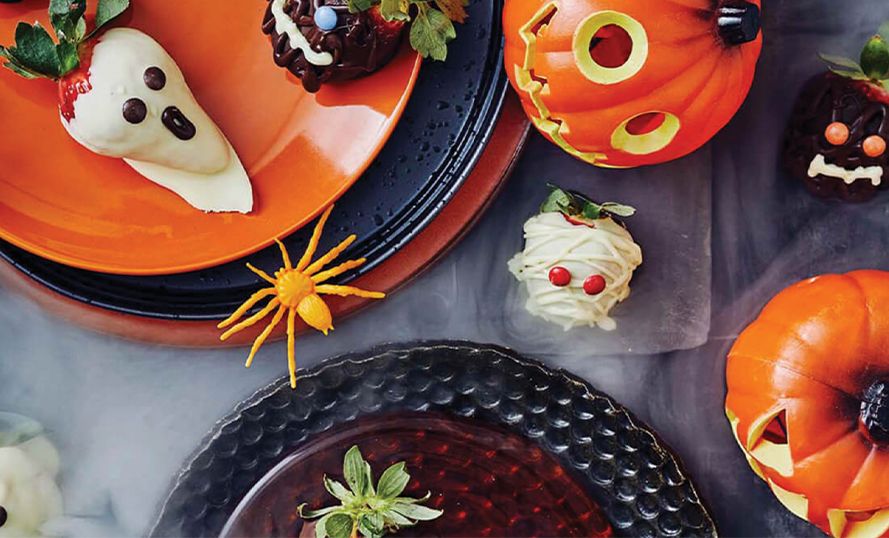 INGREDIENTS
1 punnet of strawberries
200g white chocolate
200g dark chocolate
Choc minis, for eyes
METHOD
1.
Line a baking tray with baking paper.
2.
Break chocolate into small pieces and place into separate microwave-safe bowls. Microwave the chocolate in 30-second bursts until just melted.
3.
Hold the stem of each strawberry and dip into either white chocolate (for mummies and ghosts) or dark chocolate (for monsters) and place on lined tray. For ghosts, dip heavily in white chocolate and drag slightly as it is placed on the lined tray to create a trail to represent a ghost.
4.
While the chocolate is still melted, carefully place two choc minis of the same colour on each chocolate covered strawberry to represent eyes.
5.
Place the strawberries in the fridge for five minutes, or until chocolate is set.
6.
Re-melt the remaining white and dark chocolate, and transfer each to a separate piping bag. To decorate mummies, pipe overlapping lines of white chocolate across the white chocolate-covered strawberries, avoiding the eye area. For the monsters, pipe zig zags of dark chocolate around the face area, and pipe a zig zag of white chocolate for teeth. Place back in the fridge for five minutes to set, or until ready to serve.