Christmas BBQ Favourites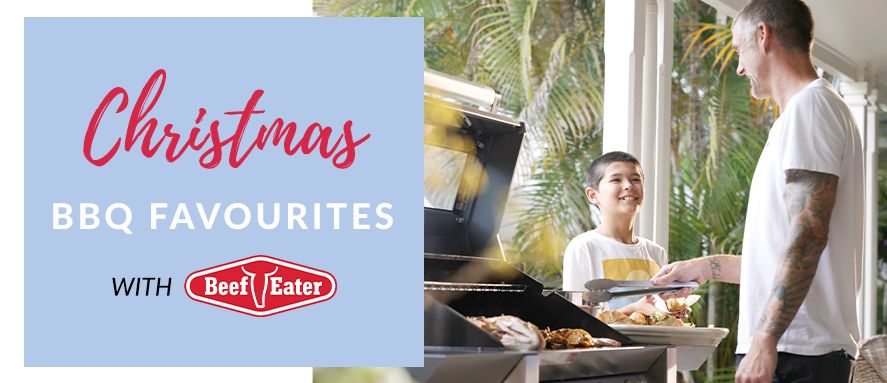 Gather the whole family around the BBQ for a long-awaited catch up over delicious grilled creations. Be inspired by the below recipes from our friends at BeefEater.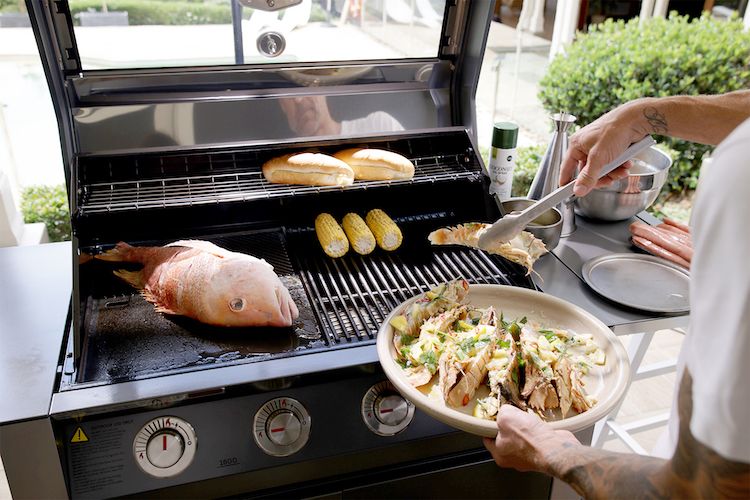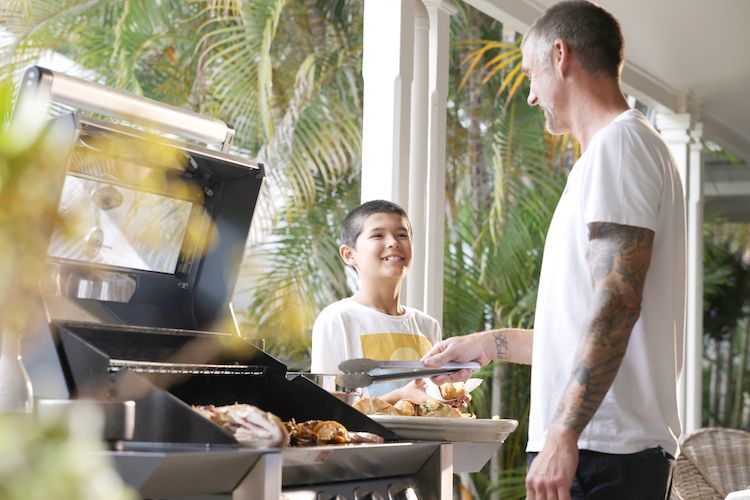 BBQ Glazed Leg of Ham with Golden Syrup & English Mustard
Total cooking time: 130 minutes
Ingredients:
1 smoked leg of ham
20 cloves
300ml golden syrup
200g English mustard
400ml water
½ onion, chopped
1 bay leaf
1 garlic clove, chopped
3 sprigs thyme
Method:
Preheat BeefEater® BBQ to 190°C
Cut excess fat layer from ham.
Score remaining fat in a criss-cross fashion and then use the cloves to stud the ham in the centre of each square.
Cover leg with foil and bake for 1 ½ hours, or until a meat thermometer inserted into the thickest part of the ham registers 42°
In a small saucepan combine remaining ingredients and bring to the boil.
Simmer for about 15 minutes or until the glaze is that of a coating consistency.
Pass through a sieve to remove lumps.
Remove foil from ham and increase the barbecue temperature slightly (to 200°C).
Brush generous amounts of glaze onto the ham and cook the ham, basting it about every 5 mins with the glaze, for a further 25 mins or until the thickest part of the ham registers 52°C on the meat thermometer and the ham is evenly caramelised.
Carve ham and serve with your favourite pickle and fresh rolls.


BBQ Scallops
Total cooking time: 40 minutes
Ingredients:
4 tbsp butter, at room temperature
1 tbsp lemon juice
1 clove garlic, minced
1 tbsp finely chopped parsley, plus extra 1 tbsp
8 large scallops, cleaned (keep the shells)
1 tbsp baby capers, roughly chopped
½ eschalot, finely chopped
Sea salt flakes and freshly ground black pepper, to season
Method:
Heat BBQ to medium-high. Put butter, lemon juice, garlic and parsley in a small bowl, season and stir until well combined.
Combine capers, eschalots and extra parsley in a small bowl and set aside. Put scallops back in their shells, and top with butter mixture. Put onto the barbecue and cook for 5-10 minutes or until flesh of the scallop is just set, and butter has caramelised.
Plate scallops and sprinkle over caper mixture.
Whole Grilled Pink Snapper, Fragrant Herbs, Lime and Spiced Cashew Pesto
Ingredients:
1 whole snapper- 3-4 kg- scaled and cleaned (If pink snapper is not available, use any other larger white fish)
2 tbsp. cotton seed oil
2 stalks lemongrass
5 kaffir lime leaves
Small bunch coriander
1 red chilli, sliced
1 small bunch mint
2 limes
Salt and pepper
Spiced Cashew Pesto
1 cup lightly roasted cashews
2 garlic cloves
1 coriander leaves, picked
¼ cup mint leaves, picked
1 small birds eye chilli or ¼ large red chilli
¼ cup fish sauce
¼ cup light brown sugar
2 Limes, juiced
Method:
Heat the BBQ to high and rub the fish with the vegetable oil.
Season with salt and pepper and place the lemongrass and kaffir lime leaves in the cavity of the fish.
Place the fish confidently on the grill and let it seal for 2 minutes without disturbing it.
Once sealed nicely on one side with plenty of colour, turn the fish over using the head as the grabbing point with the tongs.
Once turned, close the lid of the BBQ and cook on a medium heat for 10-15 minutes depending on size.
Check if the fish is cooked by finding the thickest part of the flesh and pull it away from the backbone, if it comes away cleanly its cooked.
Place on the serving platter and liberally cover with the cashew pesto, then top with the picked herbs, sliced chilli, and wedges of lime.