Kid Friendly Churro's With Chocolate Dipping Sauce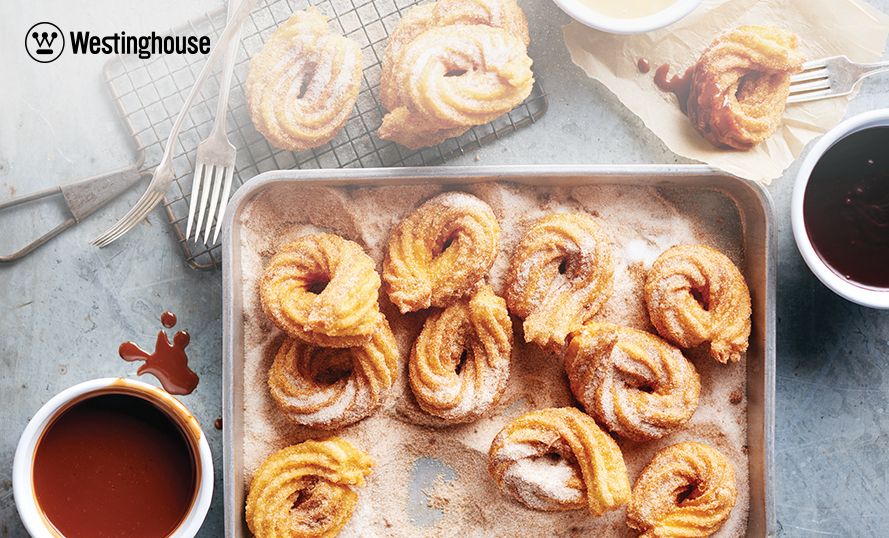 INGREDIENTS
For this mixture you will need a strong piping bag to get the star shaped churros
Churros
250ml water
100g salted butter
1 cup plain flour
2 eggs
To toss in:
1 cup of caster sugar
1 tbsp of cinnamon
For frying:
Dulche De Leche
395g tin sweetened condensed milk
40g butter
1 tbsp golden syrup
¼ cup brown sugar
Chocolate sauce
400g milk or dark chocolate melts
½ cup thickened cream
Serves 4
METHOD
Step 1.
Place water and butter into a small saucepan, bring water to the boil.
Step 2.
Whilst the water and butter comes to the boil. Whisk the eggs and set up a bench top or stand mixer with the paddle or double hook attachment.
Step 3.
As the water has boiled, remove from the heat and add the flour. Stir until the mixture is a ball and comes off the sides. Set aside for a few minutes to cool.
Step 4.
Whilst mixture is cooling make the chocolate and Dulche de Leche sauce.
Step 5.
Dulche de Leche: Place all ingredients into a small saucepan, stir until sugar dissolves and simmer on a low temperature for 6-8 minutes.
Step 6.
Chocolate sauce: Place a small saucepan with 400ml of water to boil. Place chocolate and cream into a small bowl on top of the saucepan with water, stir regularly until chocolate melts.
Step 7.
Once churros mixture has cooled, place into a bowl and turn onto a slow speed. Add egg mixture slowly until well combined.
Step 8.
Place oil into a medium saucepan (it should be 6-8cm deep). Heat to approximately 160°C (you can use a temperature probe, or test the oil with a small piece of the churros mixture). It should rise to the top and bubble.
Step 9.
Whilst the oil is heating, place sugar and cinnamon into a bowl. Line a plate with paper towel.
Step 10.
Fit a piping bag with a star tube. Place half of the churros mixture into a piping bag.
Step 11.
Pipe 10cm lengths of the churros mixture into the oil (cut the churros from the piping bag with scissors). Fry for 1-2 minutes (or until golden) and turn the churros.
Step 12.
Remove the churros from oil with tongs and place onto paper towel. From the paper towel, place into sugar and toss to coat churros.
Step 13.
Repeat step 9 until you have no mixture left.
Step 14.
Pour sauces into separate bowls, serve churros on a plate and allow people to dip their own churros into sauce.
Kids in the kitchen can:
Toss the churros in sugar (just be careful they are not too hot)
Older kids (10+) can help with the sauces
Recipe by Westinghouse
View COOKTOP RANGE