Dyson Stick Vacuums: Effortless & Spotless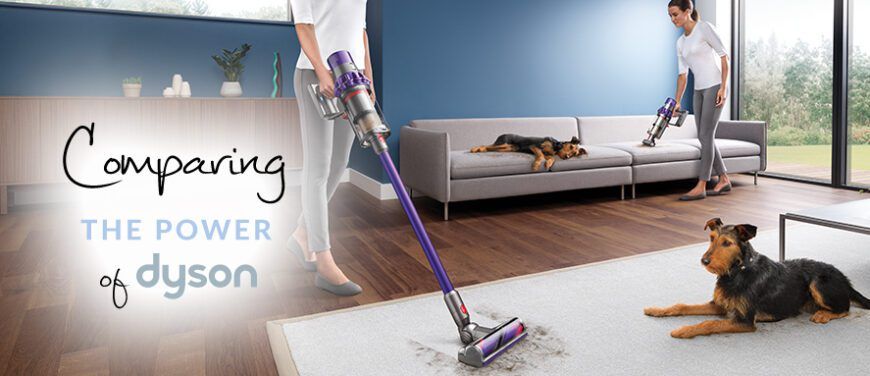 Vacuum cleaners – love them or hate them, cleaning with the right vacuum cleaner will make a world of difference. Whether you need something powerfully strong, effective on trapping dust or you want longer operating times, finding the perfect vacuum cleaner can be challenging.
With so many brands, styles and types of vacuum cleaners on the market, it's hard to know where to start. To help make your life easier, we've put two of Dyson's latest models under the microscope. A comparison reveals the unique features of each model, so you have a clearer ideal of which vacuum cleaner will suit you.
Dyson V7 Cord-free Vacuum:
The Dyson V7 Cordless Vacuum Cleaner is a portable and light vacuum cleaner that is suitable for smaller homes such as apartments or granny flats. From minor spills to daily mess, the V7 is well equipped to clean them all.
Powered by the Dyson V7 digital motor with 15 internal cyclones, this vacuum cleaner is engineered with strong suction that will capture microscopic dirt. Enjoy cleaning with 2 power modes: Powerful or Max and cordlessly clean for up to 30 minutes.
The V7 is ideal for use on most surfaces like carpets, tiles and hard floors and can even be used to clean sofa and car seats when transformed into the handheld model. Aside from the floor, the Dyson V7 can easily reach up high, so you can clean the ceiling and ceiling corners.
Whatever the mess and wherever in your home, the Dyson V7 comes equipped with 2 tools to help make cleaning easier. The 1x Combination tool is great for switching between surfaces while the 1x Crevice tool has been designed for precise cleaning around edges and narrow gaps such as behind the couch. If you're a single or coupled household with no kids or pets and big mess is never a problem, then this Dyson V7 vacuum cleaner is the ideal vacuum cleaner for you.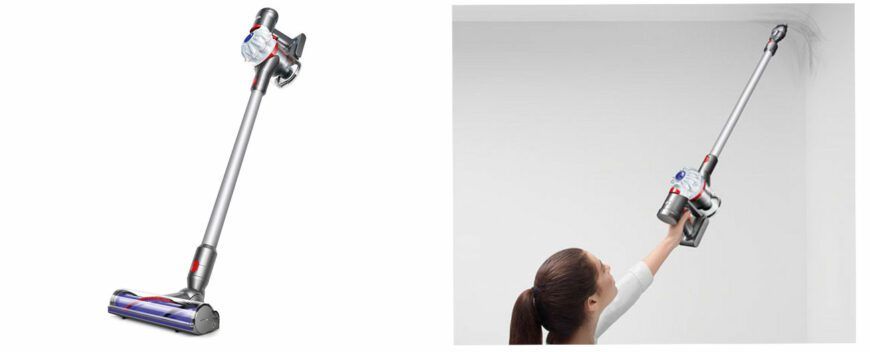 (Above): The Dyson V7 Vacuum Cleaner is a multi-purpose cleaner that easily cleans most home surfaces.
Dyson V11 Outsize Vacuum:
Boasting the most powerful suction of Dyson's range, the V11 Outsize was designed for maximum cleaning performance. Equipped with power to cover big mess, the V11 Outsize is ideal for all types of homes, from apartments to single and double storey freestanding homes.
Powered by the Dyson Hyperdymium™ motor with 18 cyclones and a 25% wider cleaner head, collect more mess in one go. The 150% bigger dustbin with 1.9L capacity means you can keep cleaning without stopping to empty the dustbin.
Achieve whole house cleaning with up to 60 minutes cordless cleaning time and choose from 3 power modes including: Eco, Auto and Boost. Unique to the V11 model is the LCD screen which provides an update on your cleaning progress as well as the battery level and remaining cleaning time.
Whatever cleaning surface, the V11 Outsize will cater to them all, from carpets, hard floors to tiles. Included with the V11 Outsize are 2 cleaner heads like the Fluffy™ cleaner head that's perfect for removing dust and large debris while protecting hard floors. With 5 cleaning tools included, the V11 Outsize can clean more surfaces than ever, from car seats to tabletops, sofas and upholstery.
If you're a family household, then you can't look past the Dyson V11 Outsize. From spills and mess made by the kids to everyday dust build up, eliminate them all with powerful suction that is so effortless to achieve with the new Dyson V11 Outsize.

(Above): Dyson's V11 Outsize boasts a 25% wider cleaner head and a variety of attachments, ideal for cleaning all areas of your home.
Which Dyson is right for me?
V7 Cord-free
V11 Outsize
Motor Type
V7 digital motor
Dyson Hyperdymium™ motor
Cyclone Technology
2 Tier Radial™ cyclones with 15 small cyclones
Radial Cyclone™ with 18 cyclones
Rotation Per Minute
110,000
125,000
Filter Type
Washable lifetime filter
Advanced whole-machine filtration
Cordless Runtime (mins)
Up to 30 minutes
Up to 60 minutes
No. of Cleaning Modes
2 power modes: Powerful & Max
3 power modes: Eco, Auto & Boost
Dustbin Capacity (ml)
540ml
1900ml
Suitable Surface Types
Carpets and hard floors
Carpets and hard floors
Docking Station
Yes
Yes
Charge Time (hrs)
3.5
4.5
Battery Type
Lithium-ion
Seven-cell nickel-cobalt-aluminium
Handheld Option
Yes
No
Included Attachments & Accessories
Includes 1 cleaner head & 2 tools:
Direct Drive Cleaner Head,
Combination tool & Crevice tool
Includes 2 cleaner heads & 5 tools:
High Torque XL, Fluffy™ cleaner head, Combination tool,
Crevice tool, Mini motorised tool, Soft dusting brush,
Stubborn dirt brush
Best Suited For
Low mess homes,
small homes like apartments & granny flats
Families in larger homes
We know every home's cleaning needs are different and there's a vacuum cleaner to suit. Enjoy the squeaky-clean feeling in your home with Dyson. Click on the below link to view more information, read reviews, compare the models, then find them at your local retailer or purchase online.
Find your perfect Dyson vacuum cleaner