Easy Tuscan Meatloaf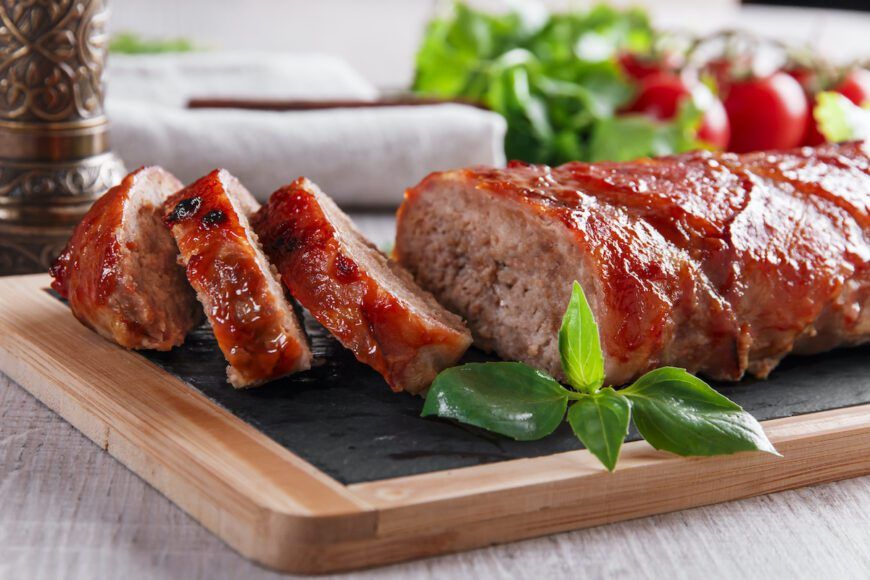 Recipe by Smeg chef Elke Travers
An old-fashioned favourite gets a makeover with delicious Tuscan flavours. Simple preparation and clever cooking provide a full of flavour meatloaf with a rich tomato sauce. Serve with vegetables for dinner or sliced on a sandwich for lunch. We used our temperature probe for fuss-free results, but you could easily cook the meatloaf at 200⁰C for 35 minutes.
Serves: 4
5 slices sourdough bread
2 tablespoons milk
350g veal mince
120g smoked pancetta, finely chopped
1 onion, finely chopped
2 garlic cloves, finely chopped
¼ cup chopped left-leaf parsley
1 lemon, zest grated
1 egg
½ cup grated parmesan cheese
Tomato sauce
2 tins Italian tomatoes, crushed
1 onion, finely sliced
½ cup white wine
Set oven to fan forced and pre-heat to 200⁰C.
Tear two slices of sourdough bread into small pieces and place in a small saucepan with milk. Warm over low heat, mashing to combine. Remove from heat.
Place mince, pancetta, onion, garlic, parsley, zest, egg and cheese with cooled bread and milk mixture in a large bowl and mix until combined. Season with salt and pepper.
Finely chop remaining three slices of sourdough bread and sprinkle on a Smeg baking tray. Place meatloaf on breadcrumbs and gently roll meatloaf in crumbs until well coated.
Place the tray over medium heat on the cooktop, turning to seal the meatloaf and lightly colour the crumbs.
All sauce ingredients to the baking tray, place in the oven and, if using insert the temperature probe, cook until the temperature reaches 80⁰C. Otherwise, cook for 35 minutes until golden and cooked through.
Served sliced with tomato sauce and vegetables.
This recipe was created with the Smeg 60cm Classic Thermoseal Pyrolytic oven with temperature probe.
The Smeg 60cm Classic Thermoseal Pyrolytic Oven